Some of you might have already guessed at the conclusion from the Anti-Defamation League's latest Hate and Harassment in Online Gaming report, but the news isn't good. According to the report, hate, harassment, and most distressingly, white supremacist views, are all on the rise in multiplayer gaming.
According to the report (courtesy of GamesIndustry.biz), 86 percent of adult gamers aged 18 to 45 experienced some form of harassment over the past six months. Teens aged 13 to 17 reported experiencing harassment at a rate of 66 percent (up from 60 percent in 2021), while 70 percent of pre-teens reported experiencing harassment in the past six months, up from 67 percent the year before.
More worryingly, however, is the rise in white supremacist ideologies being expressed online, rising from 8 percent of adult respondents experiencing exposure to white supremacy in 2021 to 20 percent this year. Kids aged 10 to 17 reported experiencing some form of white supremacy at a rate of 15 percent this year.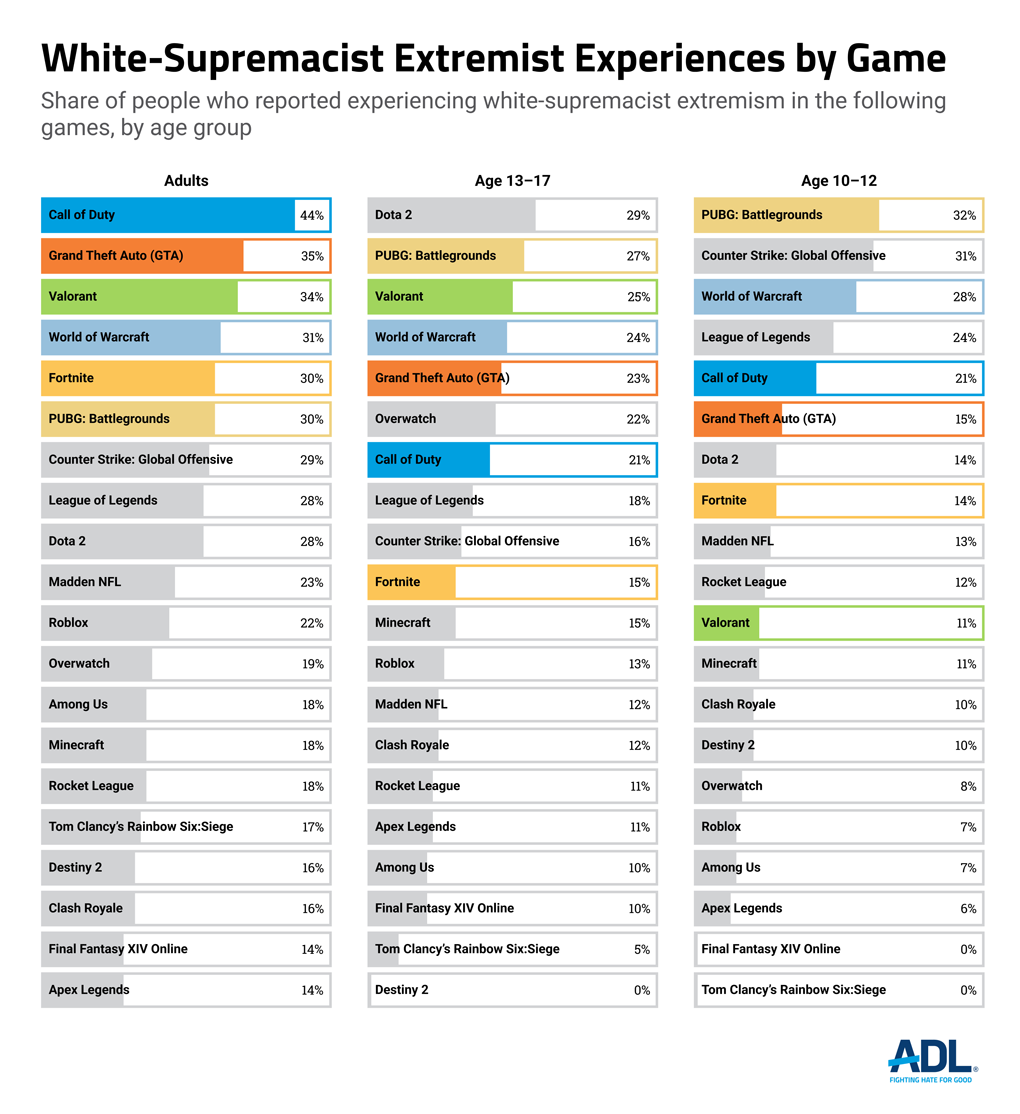 The ADL defined white supremacy as expressing an opinion that other rates are strictly lesser, providing an example of a player saying other races should be enslaved. Simply running around in GTA Online chatting the N-word or Trump 2024 was considered merely harassing speech, but didn't rise to the level of white supremacy.
The report also noted that some games are worse for white supremacy than others. For adults, 44 percent of respondents reported experiencing white supremacy in Call of Duty, while 35 percent reported white supremacy in Grand Theft Auto Online and 34 percent in Valorant. For teens aged 13 to 17, Dota 2 was the worst offender with 29 percent reporting exposure to white supremacist views, and for kids aged 10 to 12, 32 percent reported exposure to white supremacy in PUBG.
On the positive side, the report did note several games were relatively safe from white supremacy, including Final Fantasy 14, Apex Legends, Destiny 2, and Rainbow Six Siege.
Identity-based harassment was largely steady since 2021, except for anti-muslim harassment, which increased from 22 percent of respondents in 2021 to 34 percent this year.
You can read the full report–and its recommendations for the games industry–on the ADL website here.
Source: Read Full Article