In a first for The Game Awards, the video game industry's glitziest awards, the show gave out a trophy for Best Adaptation. It was a hotly contested one even though it was the debut for this category in 2022. There were five contenders in the Best Adaptation category, all of which were nominated as they're movies or TV shows based on video game worlds and characters.
The Game Awards decided to give the nod to Arcane, which beat out The Cuphead Show!, Sonic the Hedgehog 2, Uncharted, and Cyberpunk Edgerunners. Among those who'd been following The Game Awards it'd been a two-horse race, with many believing it was between Arcane and Cyberpunk Edgerunners to take the award.
Fans of these two shows had recognised it as a showdown with much chatter occuring on forums such as Reddit. But Arcane swung it and the show's co-creator Alex Yee came up to the stage at the Microsoft Theater to collect the award.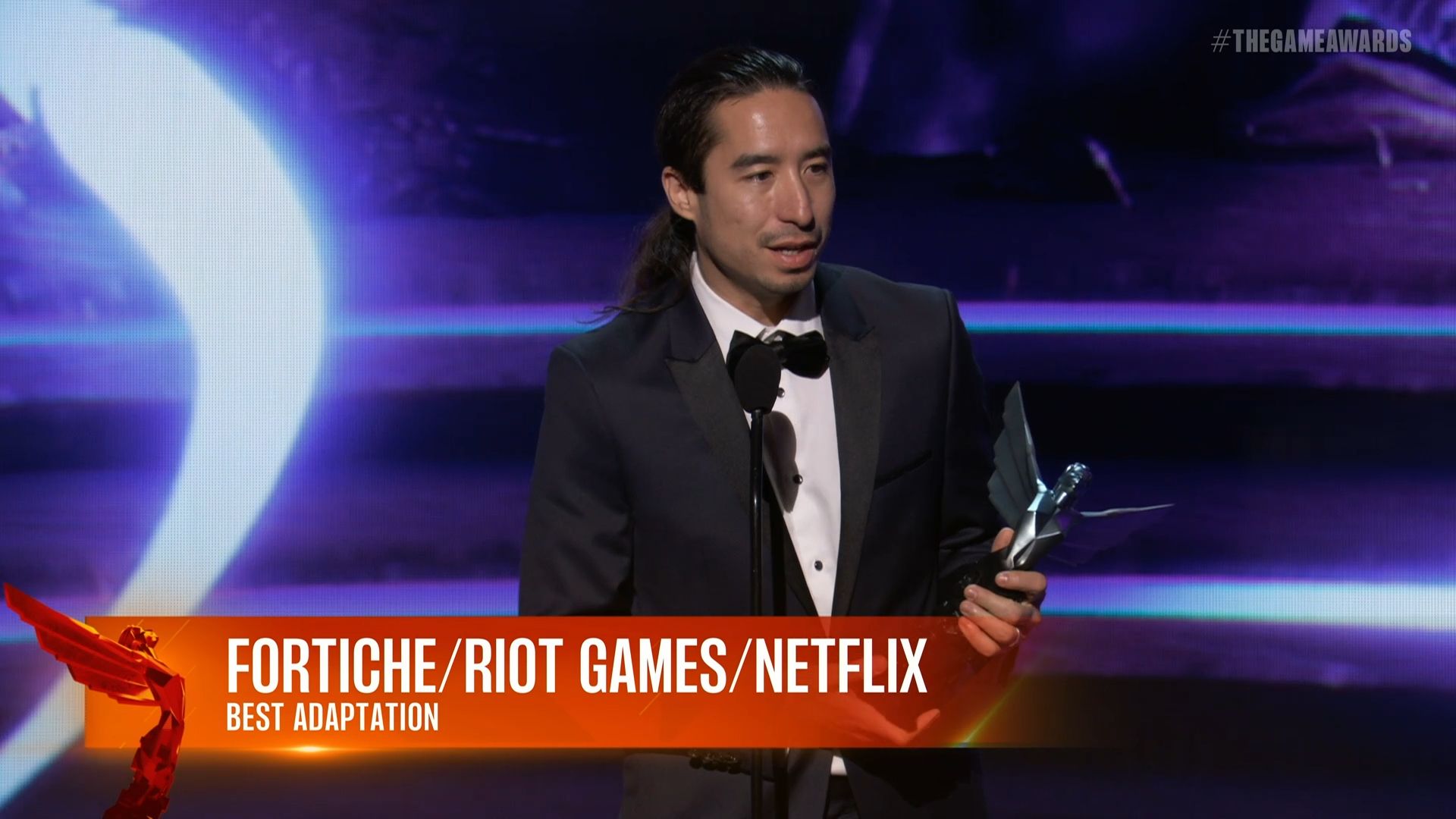 Since Arcane released in November last year, the show has become a phenomenon. The widely acclaimed series is set in Riot's League of Legends universe, but like many successful adaptations it doesn't require prior knowledge of the game it's based on. Produced by French animation studio Fortiche with supervision by Riot Games, Arcane had already picked up three Emmy awards including Outstanding Animated Program and Outstanding Individual Achievement in Animation. Now, it's an award winner for Best Adaptation from The Game Awards 2022.
Snapping at its heels was Cyberpunk Edgerunners. Produced by Japan-based Studio Trigger with supervision by CD Projekt Red this has been another unqualified success for Netflix. It's also been rather helpful to the game the anime is based on, with sales and player counts for Cyberpunk 2077 surging following the show's release.
But it seems Arcane, as many had predicted, won out and the show has won many plaudits for its art style, its world building, its characters, and writing. Hopefully we will see a strong field of contenders for next year, and with the number of games-related media in development this should be an exciting category for future The Game Awards.
Source: Read Full Article