Ark Hunters, time to shake the shtako out of your shorts and suit up for the Defiance 2050 Mayhem and Mutiny event happening now and running until September 28. Major and minor Arkfalls are dropping all over the San Francisco Bay Area, and each one is a chance to grab some Dark Matter, pop open some Mayhem and Mutiny caches, and earn a whole lotta scrip.
The Mayhem and Mutiny event launched on August 31 for PlayStation 4, Xbox One, and PC. During the event, we can take on and complete daily and weekly contracts to earn faction reputation, Purified Gulanite, a guaranteed Legendary weapon with Devouring Essence Fusion Set, and the powerful themed Prototype "Eshkizhiwa" pistol. Collecting Crystals from the remnants of Dark Matter will help us build the Replication Synergy needed to summon those holograms that give us increased dodge chance, increased damage, and that taunt our enemies closer to them, then explode in their faces.
Collecting Dark Matter at the arkfalls is also how we can work on obtaining the Devouring Essence weapons and mods from dropped Mayhem and Mutiny caches, and that can be purchased from the Ex Inanis vendors and the Defiance 2050 store. Getting the 50x Mayhem and Mutiny Cache will get you a free Legendary item, and the 100x Mayhem and Mutiny Cache will get you a guaranteed Legendary item AND a Prime Devouring Weapon.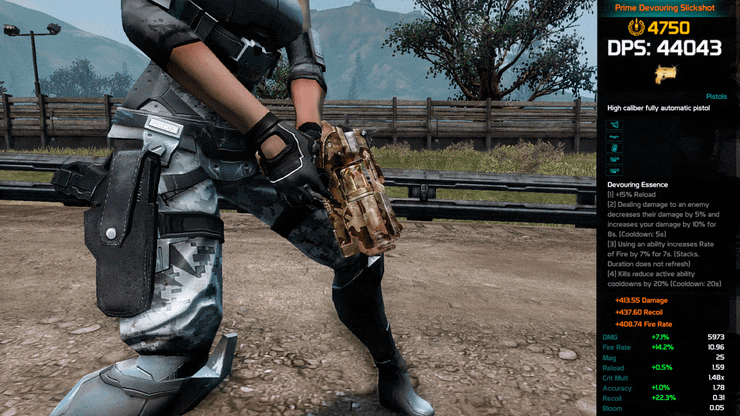 Procuring a Malicious Mirage Supply Crate with the Midsummer Mutiny (PC and PS3) will earn you one Epic or better weapon, and three Rare to Legendary mods (with one Epic or better). All will come with the limited-time Malicious Mirage mod synergy with increased mag capacity, increased rate of fire, dodge roll decoy spawn, and dodge roll damage and move speed increase. Plus, each crate has a chance of spawning one of the 8 Malicious Mirage jackpot weapons, which includes the Freedom (Assault Rifle), Independence (Sniper Rifle), Courage (Pulser), Glory (Auto-Shotgun), Honor (Guided Launcher), Valor (Northstar Blaze), Pride (Auto Lobber), and the Virtue (Special electric charge blade).
During the Mayhem and Mutiny event, the Defiance and Defiance 2050 stores are featuring the Frontier Loyalist Pack. For Defiance, this pack includes Legendary "Malicious Daisy Cutter" Guided Rocket Launcher, Firework Spike x 10, 30-day Patron Pass, "Frontier Loyalist" Title, the MR-KA "Loyalist" T.I.T.A.N. outfit with headgear, and the Duni Shetarru Racer "Loyalist" vehicle. The Defiance 2050 pack includes the MR-KA "Loyalist" T.I.T.A.N. outfit with headgear, the Duni Shetarru Racer "Loyalist" vehicle, and the "Frontier Loyalist" Title.
You can find more details on the Mayhem and Mutiny announcement post and on the Defiance 2050 Facebook, Twitter, and YouTube channels.
Source: Read Full Article