ArenaNet is celebrating the Year of the Ox in Guild Wars 2 with the launch of the Lunar New Year 2021 event. Celebrations are scheduled to last until February 23, during which time you can join your fellow Tyrians all throughout Divinity's Reach in experiencing new celebration activities, rewards, and achievements, and a chance to win a new Lucky Ox Lantern backpack.
To get to Divinity's Reach and participate in this year's Lunar New Year event, look for the official Invitation to Lunar New Year item in your in-game mail. Double-clicking it will port you directly to Divinity's Reach, and the party can begin! Go visit Phaedra to buy the traditional lucky envelopes, Finolla if you want to be ported to the Dragon Ball Arena, and the Celestial Challenge Attendant if you'd like to try to earn the favor of any of the celestial animals.
Numerous activities are happening during the Lunar New Year event, as happens every year, and many of them have been updated, reworked for better gameplay balance, and have had new special action skills added that they haven't had during previous Lunar New Year celebrations. According to the event's Release Notes, the biggest draw this year is that the Lunar New Year Customs meta-achievement "has been updated with a new reward, the Lunar-Enchanted Gloves", which come with "a new shining effect to match your festival weapons."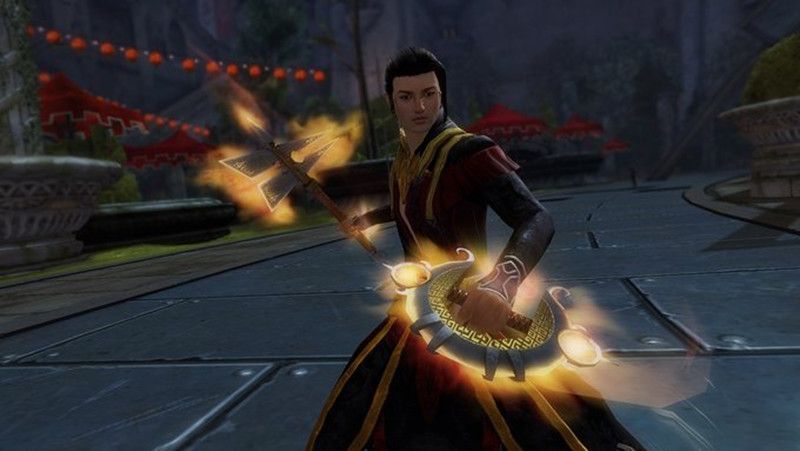 Lunar New Year daily achievements can be earned to win you Shining Aureate weapons. Festival rewards vendors are willing to take your Essence of Luck in exchange for the luck-infused Fortune-Shining Aureate set, which is also available in the "effect-free Refitted Aureate set". Revised goals and reward mechanics have been added to the Celestial Challenge, and numerous events will grant you the Lucky Aura effect, which you can use "to open extra chests during the reward event".
The Celestial Challenge has multiple events to participate in, and taking part in all of them will earn you a new achievement. You can also pick up a new guild decoration just for attending the Lunar New Year event. Pretty much everything here can reward you with something new. For an insider's account of what the Lunar New Year event has to offer, click over to the New Year Festival Achievements Guide by GuildJen, and watch the Lunar New Year 2021 Overview video by YouTuber Rheyo embedded below.
Of course, you can log into the game and experience the event first-hand for yourself. Guild Wars 2 is available to purchase from the Guild Wars 2 Shop.
Source: Read Full Article