Quick Links
The Rising Of The Shield Hero
Equipment And Materia Management
Final Fantasy 14 has a wide range of exciting jobs that serve a specific role in the game's various modes. The Paladin, for example, is one of the game's best Tanks that can dish out melee attacks and cast spells on the enemy while also protecting their teammates.
The Paladin's iconic sword and shield give them one of the more unique ability sets for their role and allow them to shine both offensively and defensively. If you're looking for a job that can hold the fort, protect your team, and deal decent damage to the enemy, the Paladin is practically throwing itself at you.
The Rising Of The Shield Hero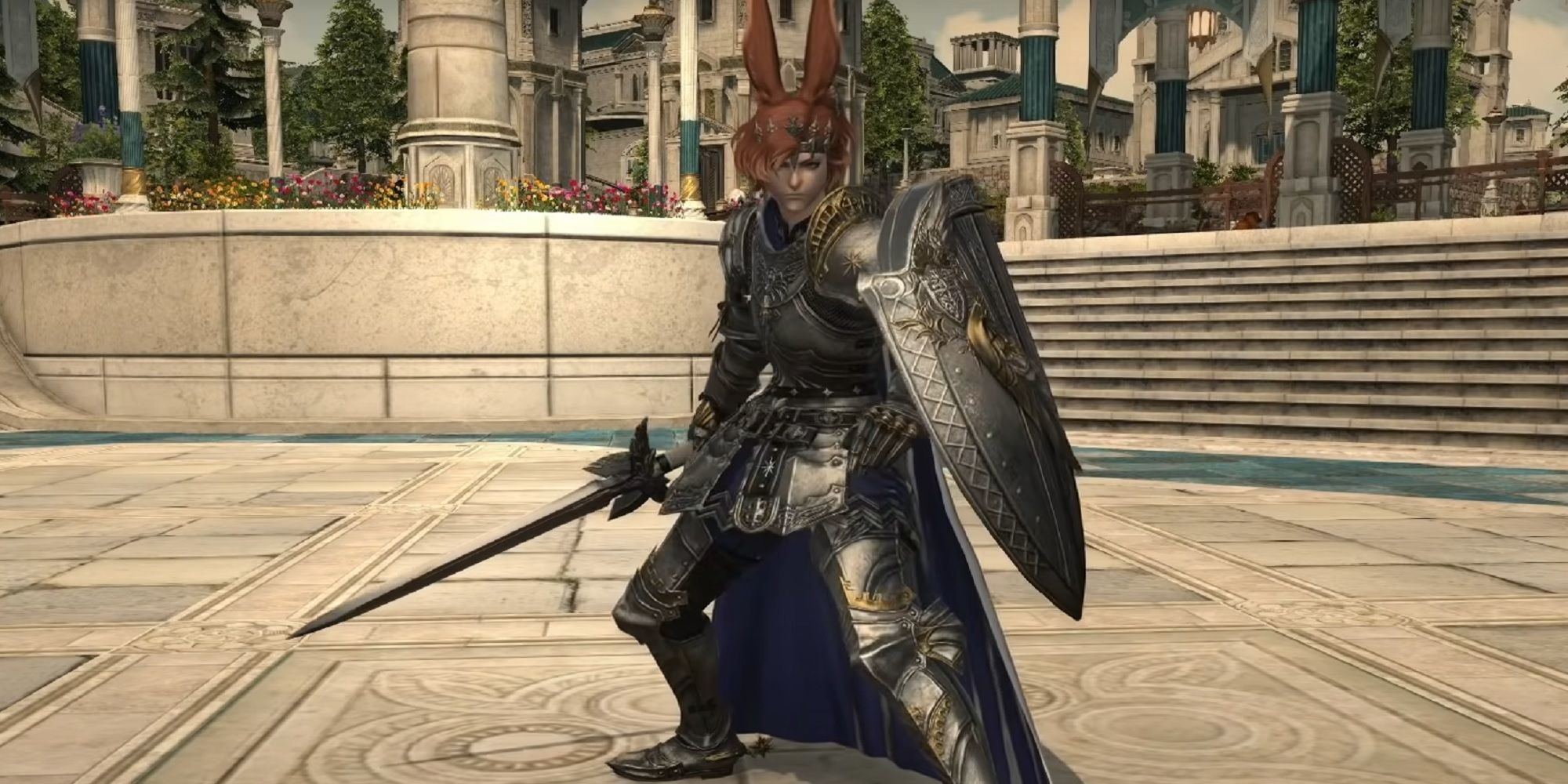 Like most jobs in Final Fantasy 14, the Paladin job requires you to level a prerequisite class up to Level 30 before you can take on the role. In this case, you will have to unlock the Gladiator class and reach Level 30 before switching over to Paladin. The Gladiator is one of the many starting jobs in the game, meaning you can select it after creating your character or learn the class as early as Level 1. If you didn't choose Gladiator as your starting class, you can pick it up by heading to Ul'dah – Steps of Thal and speaking to Lulutsu at the Gladiator's Guild (X:9.2, Y:11.7). Accept and complete the quest "Way of the Gladiator" to become the class!
After obtaining Level 30 with your Gladiator, you can finally become a Paladin. To do this, make your way back to Ul'dah – Steps of Thal and speak with Lulutsu once more at the Gladiator's Guild (X:9, Y:11). Pick up and complete the quest "Paladin's Pledge" to receive the Soul of the Paladin, which allows you to officially become a Paladin! From here, you will have to reach Level 90 to get the most out of the job.
If you need help leveling your jobs in Final Fantasy 14, please follow our detailed guide that breaks down the leveling system and how to approach it! Furthermore, if you're looking for a more fleshed-out guide on how to unlock the Paladin or other jobs in the game, head here to get the full rundown!
Rotations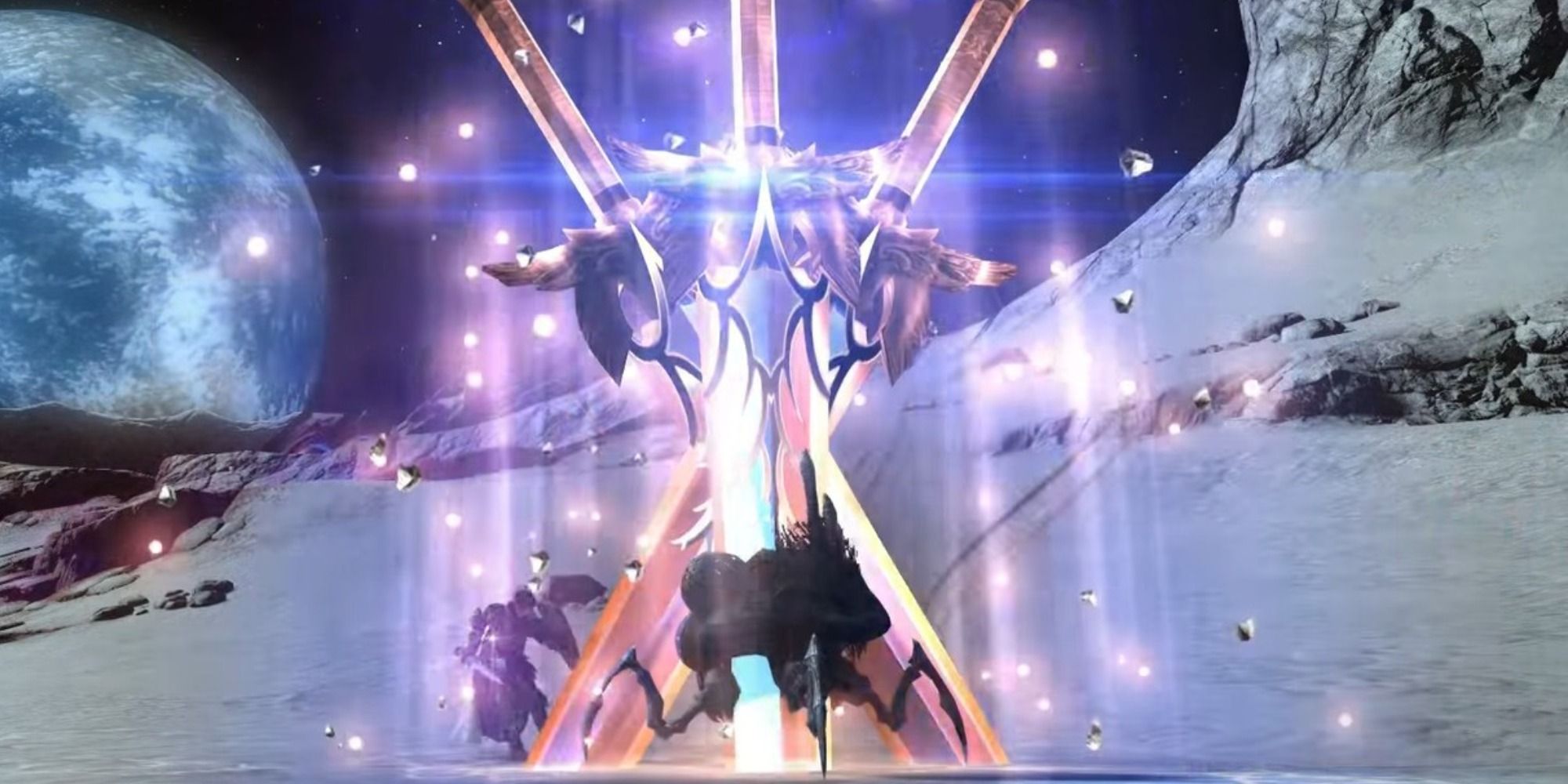 As mentioned earlier, the Paladin's unique sword and shield combo allow the job to access special traits and actions that make them an excellent hybrid of offensive and defensive play. Another bonus to the Paladin is they don't have to ever worry about positional attacks as they're a Tank and will almost always be positioned in front of the target. Below will focus on the basic rotations of the Paladin with no Off-GCD Actions thrown into the mix. That will come a bit later!
Basic Single-Target Rotation
Fast Blade > Riot Blade > Royal Authority
Fast Blade > Riot Blade > Goring Blade
The Single-Target Rotation ending with Royal Authority grants three stacks of Sword Oath and deals significant damage to your target. The Goring Blade rotation, however, deals damage over time to your target and recovers your MP.
Basic AoE Rotation
Total Eclipse > Prominence
Recovers your MP while dealing damage to multiple enemies.
Restoration AoE Rotation
Confiteor > Blade of Faith > Blade of Truth > Blade of Valor
Recovers HP and MP in addition to dealing significant damage to multiple targets.
Off-GCD Actions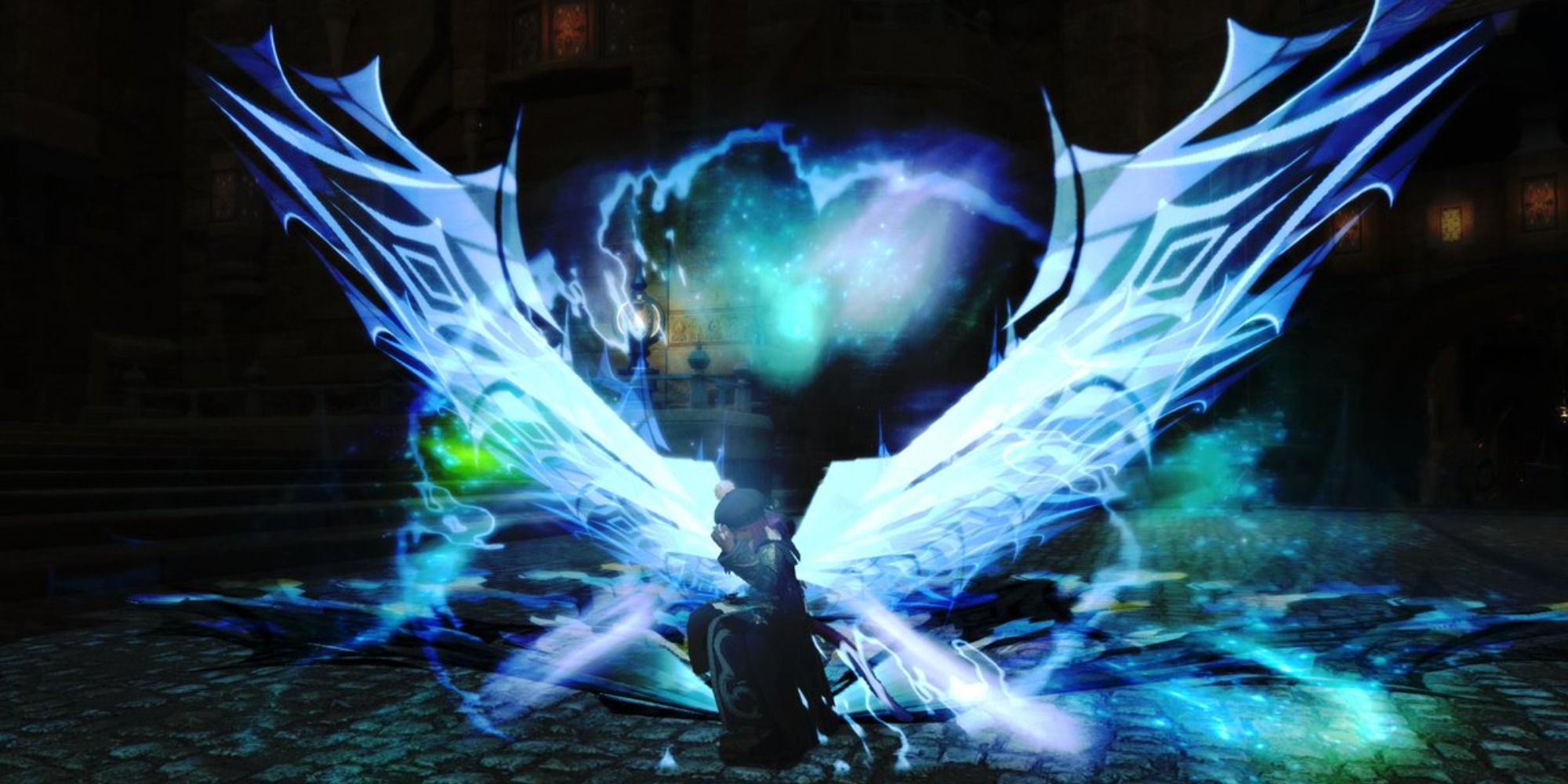 With the Paladin's basic rotation out of the way, it's time to focus on the core Off-GCD Actions that bring the job to life and makes it unique. You can find a breakdown of the Paladin's most essential Off-GCDs for offense and defense below!
Offensive Off-GCD Actions
Action
Recast Time
Information
Fight or Flight
60s
Increases damage dealt for 25 seconds, allowing you to follow the buff up with eleven GCD attacks. (example of eleven-combo attack below)

---

Riot Blade > Goring Blade > Fast Blade > Riot Blade > Royal Authority > Atonement > Atonement > Atonement > Fast Blade > Riot Blade > Goring Blade

Requiescat
60s
Attack with a potency of 400.

---

Grants five stacks of Requiescat and increases the potency of Holy Spirit and Holy Circle with no cast times on spells. When the effect of Requiescat expires, Blade of Faith will be ready.

Intervene
30s
Charge the target with an attack potency of 150. (action has two charges)
Circle of Scorn
30s
An AoE Attack with the potency of 100.

---

Damages enemies over time with 30 potency over 15 seconds.

Expiacion
30s
An AoE attack with the potency of 340 for the first target, dropping by 50 percent for the remaining ones.

---

Expiacion restores MP.
Defensive Off-GCD Actions
Action
Recast Time
Oath Gauge Cost
Information
Reprisal
60s
0
Take 10 percent less damage for 10 seconds.
Rampart
90s
0
Take 20 percent less damage for 20 seconds.
Sentinel
120s
0
Take 30 percent less damage for 15 seconds.
Holy Sheltron
5s
50
All incoming attacks are blocked for eight seconds.

---

Grants Knight's Resolve, which reduces incoming damage by 15 percent for four seconds. It also grants Knight's Benediction, restoring your health over a period of time. The cure potency of Knight's Benediction is 250, and it lasts for 12 seconds.

Intervention
10s
50
Reduces 10 percent of incoming damage to the party member you targeted for eight seconds.

---

If Rampart or Sentinel are currently active, the damage reduction of Intervention is increased by another 10 percent.

Divine Veil
90s
0
Places a protective on all party members after receiving a heal via magic by yourself or another party member. Divine Veil covers a 15 yalm radius and lasts for 30 seconds.

---

Negates 10 percent of damage total to your maximum HP for 30 seconds. Divine Veil also restores 400 of your target's HP.

Passage of Arms
120s
0
Your block rate increases to 100 percent, creating a cone AoE behind you for teammates to stand. Players standing in the AoE will block 85 percent of incoming damage. The duration of this action is 18 seconds.
Hallowed Ground
420s
0
Become impenetrable to most attacks for 10 seconds.
Openers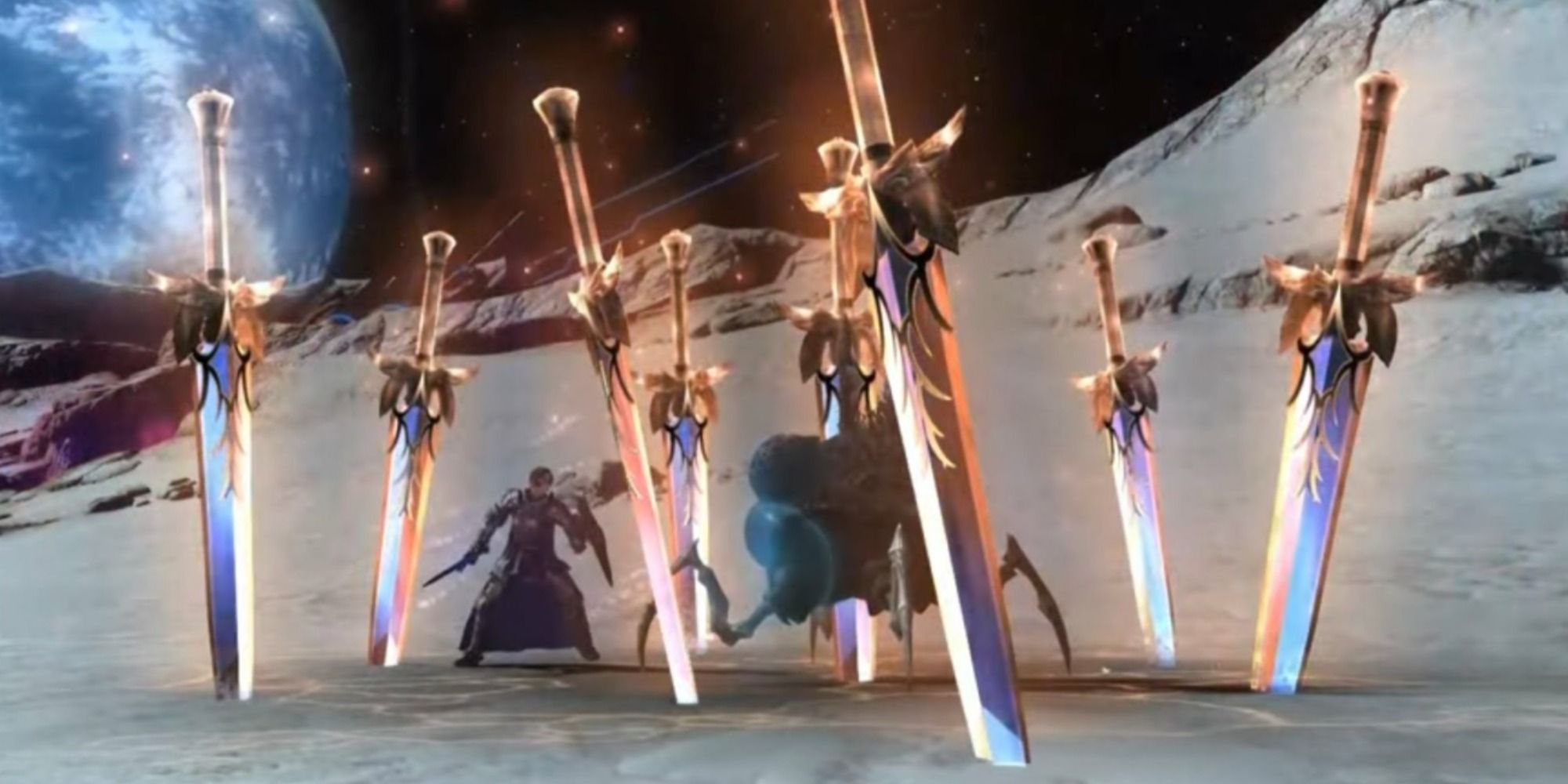 Keeping the actions highlighted in the above section in mind, you should have a general grasp on your basic rotation and how Off-GCDs can open them up to incredibly potent combos. It's essential to go into openers with the concept of maximizing your job's potential and setting up for the rest of the encounter. In the Paladin's case, we will showcase your main opener and what you will transition to once you complete it. The Off-GCD Actions are placed in parenthesis and are bolded to help make them stand out, allowing you to pick them out in the openers!
Basic Opener
(Pre-Pull) Holy Spirit

Begin casting Holy Spirit with ~1.75 seconds remaining in the countdown.

Fast Blade (Fight or Flight) > Riot Blade > Goring Blade > Fast Blade (Grade 6 Tincture of Strength) > Riot Blade (Circle of Scorn + Intervene) > Royal Authority (Expiacion + Requiescat) > Atonement (Intervene) > Atonement > Atonement > Fast Blade > Riot Blade > Goring Blade > Holy Spirit > Holy Spirit > Holy Spirit > Holy Spirit > Confiteor (Circle of Scorn) > Blade of Faith (Expiacion) > Blade of Truth > Blade of Valor

Post-Opener Attack Rotation

Basic Opener End: Blade of Valor
Fast Blade > Riot Blade > Royal Authority > Atonement > Atonement > Fast Blade > (Fight or Flight) Riot Blade > Goring Blade > Fast Blade > Riot Blade (Requiescat) > Royal Authority > Atonement > Atonement > Atonement > Fast Blade > Riot Blade > Goring Blade > Holy Spirit > Holy Spirit > Holy Spirit > Holy Spirit > Confiteor > Blade of Faith > Blade of Truth > Blade of Valor

Equipment And Materia Management

The final piece of the puzzle when it comes to putting together a strong build for your job is the equipment and Materia. This is where things can get rather tricky for players, especially newcomers to the game, role, or job. While the way Materia is implemented in Final Fantasy 14 can seem confusing, it's not all that bad once you learn what each type does and which role/job they're best suited for. If you aren't Level 90 yet, the table below will still be useful to you if you're wondering which stats/Materia type you should focus on when melding your Paladin's equipment.

Equipment
Materia
Stats
Weapon
Asphodelos Longsword

Heavens' Eye Materia X
Savage Might Materia X

DMG +120
STR +217
VIT +229
CRT +192
DET +134

Shield
Asphodelos Shield

STR +87
VIT +91
CRT +77
DET +54

Head
Augmented Radiant's Helm of Fending

Heavens' Eye Materia X
Heavens' Eye Materia X

STR +180
VIT +188
CRT +162
SKS +113

Body
Asphodelos Chiton of Fending

Heavens' Eye Materia X
Heavens' Eye Materia X

STR +285
VIT +299
CRT +257
DET +180

Hands
Augmented Radiant's Gauntlets of Fending

Heavens' Eye Materia X
Heavens' Eye Materia X

STR +180
VIT +188
CRT +162
DET +113

Legs
Augmented Radiant's Cuisses of Fending

Savage Aim Materia X
Savage Aim Materia X

STR +285
VIT +299
CRT +180
DET +257

Feet
Asphodelos Boots of Fending

Heavens' Eye Materia X
Heavens' Eye Materia X

STR +180
VIT +188
CRT +162
SKS +113

Earrings
Asphodelos Earrings of Fending

Heavens' Eye Materia X
Heavens' Eye Materia X

STR +142
VIT +148
CRT +127
DET +89

Necklace
Augmented Radiant's Choker of Fending

Savage Aim Materia X
Heavens' Eye Materia X

STR +142
VIT +148
CRT +89
TEN +127

Bracelets
Augmented Radiant's Bracelet of Fending

Savage Aim Materia X
Heavens' Eye Materia X

STR +142
VIT +148
CRT +89
DET +127

Left Ring
Asphodelos Ring of Fending

Heavens' Eye Materia X
Heavens' Eye Materia X

STR +142
VIT +148
CRT +127
DET +89

Right Ring
Classical Ring of Fending

Heavens' Eye Materia X
Heavens' Eye Materia X

STR +127
VIT +130
CRT +85
DET +121

Even with the above showcasing the "Best In Slot" for the Paladin, there are still a couple of other ways to get even more damage/defense from the job. The first is the most obvious and comes by way of consuming a meal before heading out into a Dungeon, Raid, Trial, etc. The best food buffs for the Paladin are Coconut Cod Chowder, Baked Alien Soup, and Pumpkin Potage. The other method we already highlighted in the "Openers" section is the Grade 6 Tincture of Strength. Weaving this Tincture into your Opener will help you out quite a bit in most encounters.

Source: Read Full Article