Quick Links
Equipment And Materia Management
Melee DPS is an incredibly popular role in Final Fantasy 14 and contains five awesome Jobs to choose from that will surely make you feel like a badass. Amongst those Jobs is the Samurai, which made its debut with the Stormblood expansion, becoming popular amongst the community almost instantaneously.
While the realm of Eorzea is in no shortage of Melee DPS players, diving into the role for the first time is still highly recommended, even if you may have to wait a tad longer in queues. The Samurai Job can seem daunting to newcomers, even more so to players who have yet to play a Melee DPS class in general, but it's not so bad once you get the swing of things.
Updated April 23, 2022, by Seth Parmer: The long-awaited Patch 6.1 is finally out, bringing changes to several Jobs in Final Fantasy 14. With the Samurai being amongst one of them, losing its Hissatsu: Kaiten ability and receiving a few other tweaks. This update adjusts this Job's Opener to account for the changes and adds a section for Equipment and Materia Management, highlighting the Samurai's strengths and recommended build.
Becoming a Samurai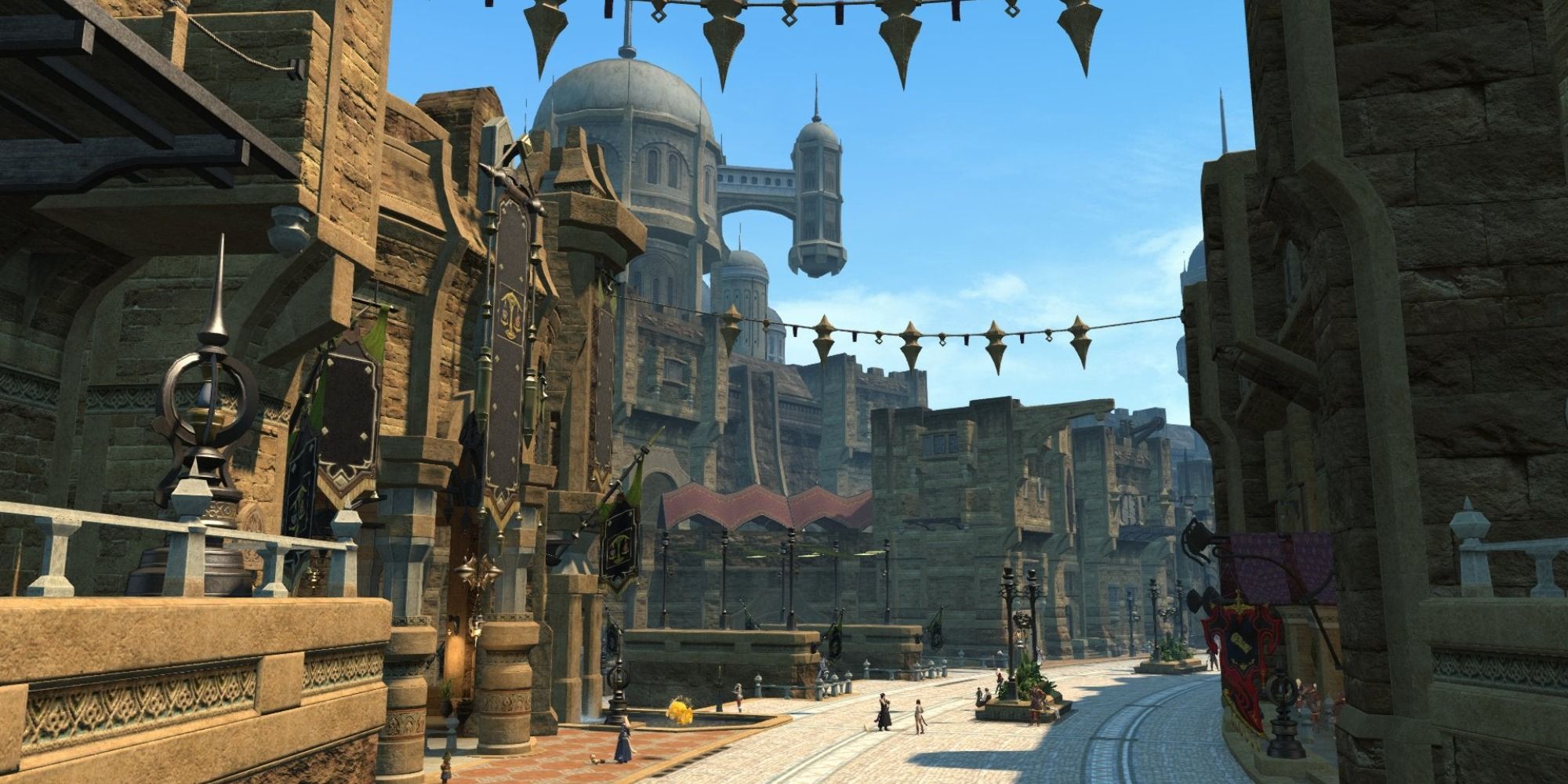 Unlike most Jobs found in Final Fantasy 14, Samurai is not available as a starting Job when creating your character, nor does it have a class that evolves into it either. However, it still has a few prerequisites you must meet before wielding the blade.
Requirements
Own the Stormblood expansion
Level 50 (Disciple of War or Magic)
After meeting the requirements listed above, you will then head to Ul'dah, Steps of Nald, and speak with the Ul'dah Citizen (X:9.2, Y:9.1) to begin the quest "The Way of the Samurai." Completing the quest will unlock the Samurai Job! From there, it's just simply leveling the Job to the current max level, which is 90.
If you need help leveling up classes or Jobs in Final Fantasy 14 or need quick methods, then look no further than our Job Leveling Guide! It can be a bit rough leveling a new Job, especially in the end game content, but there are ways you can alleviate some of the grind and tedium.
Rotations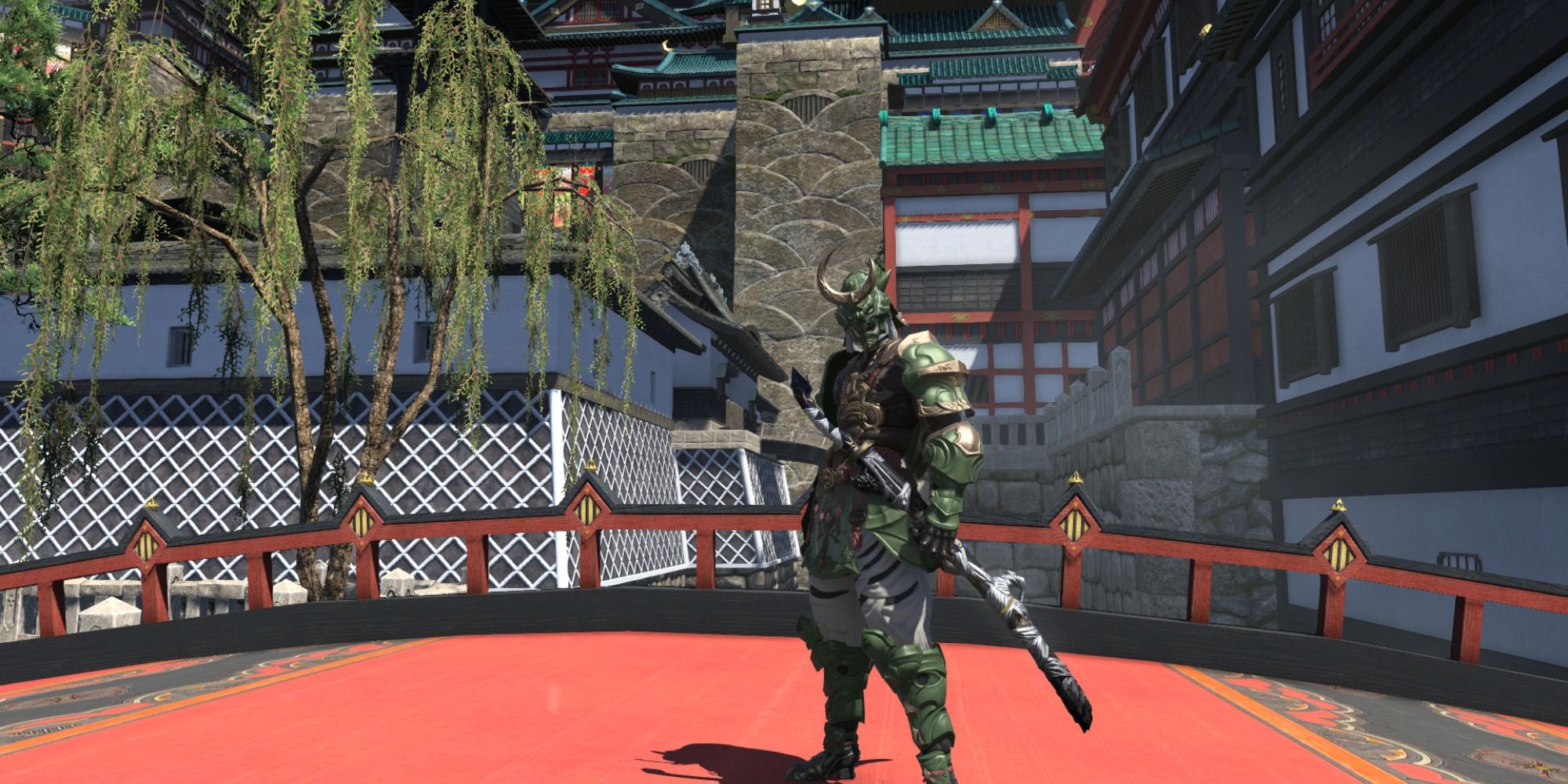 One of the most essential aspects of any role in Final Fantasy 14 is staying on top of your rotations while weaving Off-GCD (Global Cooldown) actions in between attacks to get the most out of your Job.
However, instead of dumping everything on you at once off the bat, we will go over the Samurai's basic rotations now, without any of the fancy stuff thrown into the mix. For that, head to this guide's "Managing Off-GCD Action" and "Opener" sections located further below!
Basic Single-Target Rotation
Hakaze > Jinpu > Gekko

Increases your Kenki Gauge while also increasing your damage dealt and granting Getsu.

Hakaze > Shifu > Kasha

Increases your Kenki Gauge and grants you Ka while also reducing your weaponskill cast time and recast time.
Hakaze > Yukikaze

Grants you Setsu while increasing your Kenki Gauge significantly.

There are three basic single-target rotations available for the Samurai Job. Essentially, using the first two listed will be your default rotations, while the third will be used to fill your Kenki Gauge faster, depending on your situation.

Basic AoE Rotation

Fuko > Mangetsu

Increases your Kenki Gauge and increases damage dealt while also granting Getsu.

Fuko > Oka

Grants you Ka and increases your Kenki Gauge while also reducing your weaponskill cast and recast time.

Unlike most classes in Final Fantasy 14, the Samurai Job has more than one AoE rotation. Depending on your situation, you will need to choose increased damage or reduced weaponskill casting time as both are beneficial in their own way. We recommend using the AoE rotations on groups of three or more enemies and sticking to the single-target ones for anything smaller.

Positional Attacks

When carrying out your rotations, you should also correctly land your positional attacks, which can grant you additional damage, buffs, and will help you and your teammates out in the long run. Missing or ignoring your positionals will leave tons of damage on the table over time, which is never good.

That said, if you know you cannot rotate quick enough to land a positional attack or that area of the arena will put you in harm's way, you can skip them from time to time but should absolutely land them if you are able. Getting the timing of your rotations and positional attacks down is one of the most crucial aspects of the game, especially in late-game content.

Rear

Gekko: +50 Damage Potency when striking the enemy from behind.

Flank

Kasha: +50 Damage Potency when striking the enemy from the side.

Managing Off-GCD Actions

Off-GCD Actions refer to the abilities you use and weave between your primary GCD actions. These traits allow you to get the most out of your Job and will help you and your team out in the long run. Having an optimized Rotation and Opener is a must for the game's later content.

We won't be covering every Off-GCD Action here, but we will highlight the essential ones while explaining how to implement them into your Rotation properly. Keep in mind, however, that these are situational, but the general idea behind when and where to use them will remain the same for the most part.

Using Meikyo Shisui immediately after performing Kaeshi: Setsugekka will maximize damage output and potential.
Using Ikishoten as early as possible (typically after the second attack) will grant you a buff for the duration of the rotation and is an excellent way to increase damage output.
Mixing True North into your pre-pull allows you to temporarily ignore Positional Attack, enabling you to get the highest damage output in the first attack combo without having to worry about rotating around the target.

You can find an example of an optimized Opener for a Level 90 Samurai below, which will show you when you should sprinkle in Off-GCDs into your rotation. Essentially, there should never be a moment where you're doing nothing. You should always be dealing damage, applying buffs, or setting something up. If you are still lost on Off-GCDs, and when to use them, the section below should help you out!

Opener

Your "Opener" is essentially the most optimized sequence of Actions you will perform at the start of every boss fight or significant encounter. A well-optimized opener will allow you to deal a pretty decent chunk of damage at the beginning of the battle and has the added bonus of allowing you to maximize your buffs and manage your cooldowns.

You can find one example of an Opener below for a Level 90 Samurai, with the Off-GCD Actions being bolded and in parentheses, which allows us to make clear distinctions between the primary GCD Actions and the Off-GCD ones. Keep in mind that this is one of – potentially – many optimized Openers for the Samurai and can change with a new patch.

Pre-Pull: (Meikyo Shisui) > (True North)
Gekko (Grade 6 Tincture of Strength) > Kasha (Ikishoten) > Yukikaze > Midare Setsugekka (Hissatsu: Senei) > Kaeshi: Setsugekka (Meikyo Shisui) > Gekko (Hissatsu: Kaiten) > Higanbana > Kasha (Hissatsu: Shinten) > Ogi Namikiri (Shoha) > Kaeshi: Namikiri (Hissatsu: Shinten) > Gekko (Hissatsu: Gyoten) > Hakaze > Yukikaze (Hissatsu: Shinten) > Midare Setsugekka > Kaeshi: Setsugekka

Remember, while your Opener will be different from your main rotation, they will be very similar once you start mixing Off-GCDs into your core Actions. Having an optimized Opener will allow you to better manage your cooldown times on Buffs and other goodies while also allowing you to output the maximum amount of damage throughout the course of the battle. If you can stay on top of your positional attack and rotations, you will excel at the Melee DPS Role!

The damage potion isn't needed for Openers in Final Fantasy 14 but is a decent way to get even more damage out of your opening string of attacks without putting that much extra effort into it. Furthermore, managing your equipment and Materia is another excellent way to squeeze more damage out of your build.

Equipment And Materia Management

Getting the most out of your Job can be tricky, especially when looking into the best gear and its Materia pairing. However, there are situations in the post-game content that call for you to take full advantage of your Job, which typically boil down to having the "Best in Slot" for equipment and Materia, so it's essential to learn what makes or breaks your Job's potential before diving into the more challenging activities the game has to offer. Below is an example of a Samurai build that reflects where most post-game players might be, giving you an idea of what Materia you should pair with each piece along with the Stats provided.

Equipment
Materia
Stats
Weapon
Classical Samurai Blade

Savage Might Materia X
Savage Might Materia X

DMG +115
STR +266
VIT +272
DH +253
CRT +177

Head
Limbo Face Guard of Striking

Heavens' Eye Materia X
Heavens' Eye Materia X

STR +161
VIT +165
DET +154
SKS +108

Body
Classical Secutor's Lorica

Savage Might Materia X
Savage Might Materia X

STR +256
VIT +262
DH +244
DET +171

Hands
Limbo Halfgloves of Striking

Savage Might Materia X
Savage Aim Materia X

STR +161
VIT +165
DH +154
DET +108

Legs
Classical Secutor's Loincloth

Heavens' Eye Materia X
Heavens' Eye Materia X

STR +256
VIT +262
CRT +171
DET +244

Feet
Classical Secutor's Caligae

Quickarm Materia X
Quickarm Materia X

STR +161
VIT +165
DH +154
DET +108

Earrings
Limbo Earrings of Slaying

STR +127
VIT +130
DH +121
DET +85

Necklace
Eternal Dark Necklace of Slaying

STR +127
VIT +130
DH +85
DET +121

Bracelets
Classical Wristband of Slaying

STR +127
VIT +130
DH +85
DET +121

Left Ring
Limbo Ring of Slaying

STR +127
VIT +130
DH +121
DET +85

Right Ring
Classical Ring of Slaying

STR +127
VIT +130
CRT +121
DET +85

For more details on the Materia system in Final Fantasy 14, be sure to check out our complete breakdown and overview on it here! Additionally, if you are looking for a bit more damage, don't forget about the Grade 6 Tincture of Strength, which you can use in your opener to maximize your damage. Eating before jumping into high-level content is also one of the best methods to increase your stats, with the Archon Burger being one of the best options for the Samurai.

Source: Read Full Article