Panasonic is continuing its lucrative partnership with Square Enix with the recent release of the SoundSlayer Final Fantasy 14 Wearable Gaming Speaker. By wearable, I mean that this slender little device slips right around your neck and provides an audio experience that is surprisingly immersive given the absurdity of it all.
As gamers, we are used to bulky headsets and fancy gadgets to help enhance our favourite hobby, whether it be through improved audio, flashier visuals, or simply ways to show how much we just really love gaming. This neck speaker definitely belongs in the latter category, given it isn't something you'd bring to a LAN party or want to be seen wearing by friends and family due to how silly the general design and practicality happens to be.
That being said, during my testing over the past couple of weeks I've been quite enamoured by the Panasonic neck speaker, finding it easy to use and relatively inoffensive when slipped into my existing console setup. It can be used across a selection of platforms so long as they boast a method of USB connectivity and compatibility for similar devices. For example, I was able to plug it into my PS5 and immediately have it be recognised and take over my TV audio and existing headset. Suddenly, all sound was being blasted through the speaker around my neck with a clarity I didn't expect. Ease of use here is very strong, meaning that even casual players can pick this up and not feel overwhelmed – if they can afford it anyway.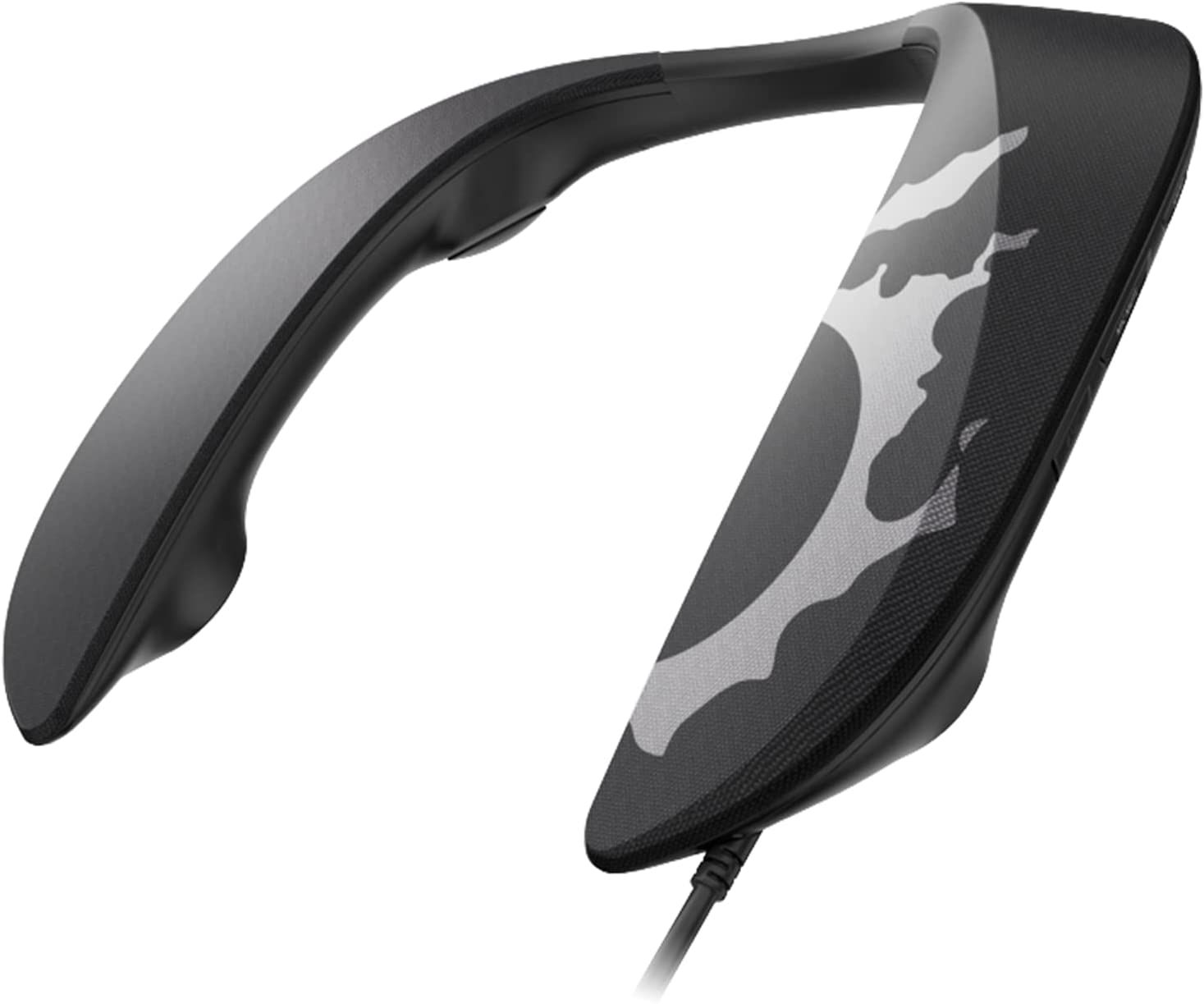 Retailing for £199.99, it occupies a similar space as other high-end headsets with superior audio quality alongside greater comfort and compatibility. It very much feels like the neck speaker is expecting potential buyers to appreciate the novelty it's bringing to the table, given it needs to be strewn round your body like a gamer collar instead of worn more traditionally.
It's loud too, with maximum volume allowing sessions of Horizon Forbidden West to blast throughout my living room and put my kittens on edge. Dialogue was crystal clear, while smaller environmental details like crumbling leaves and distant machines all came through beautifully, immersive 3D audio further emphasizing the sense of place games like this are so fantastic at expressing. It's far superior to traditional audio coming out of a standard television, yet doesn't quite match the quality of a similarly priced soundbar.
Unlike a standard headset, it was nice to play games for several hours without my ears feeling the pressure – especially since I wear glasses – but the long wire protruding from either my controller or the console itself means that those hoping for a slick presentation might be underwhelmed. The SoundSlayer neck speaker comes with some awkward caveats, but ones that are relatively easy to overlook once you're in the thick of things. It's loud, comfortable, and goes beyond its initial novelty to provide an audio experience that I wanted to continue using after concluding my testing.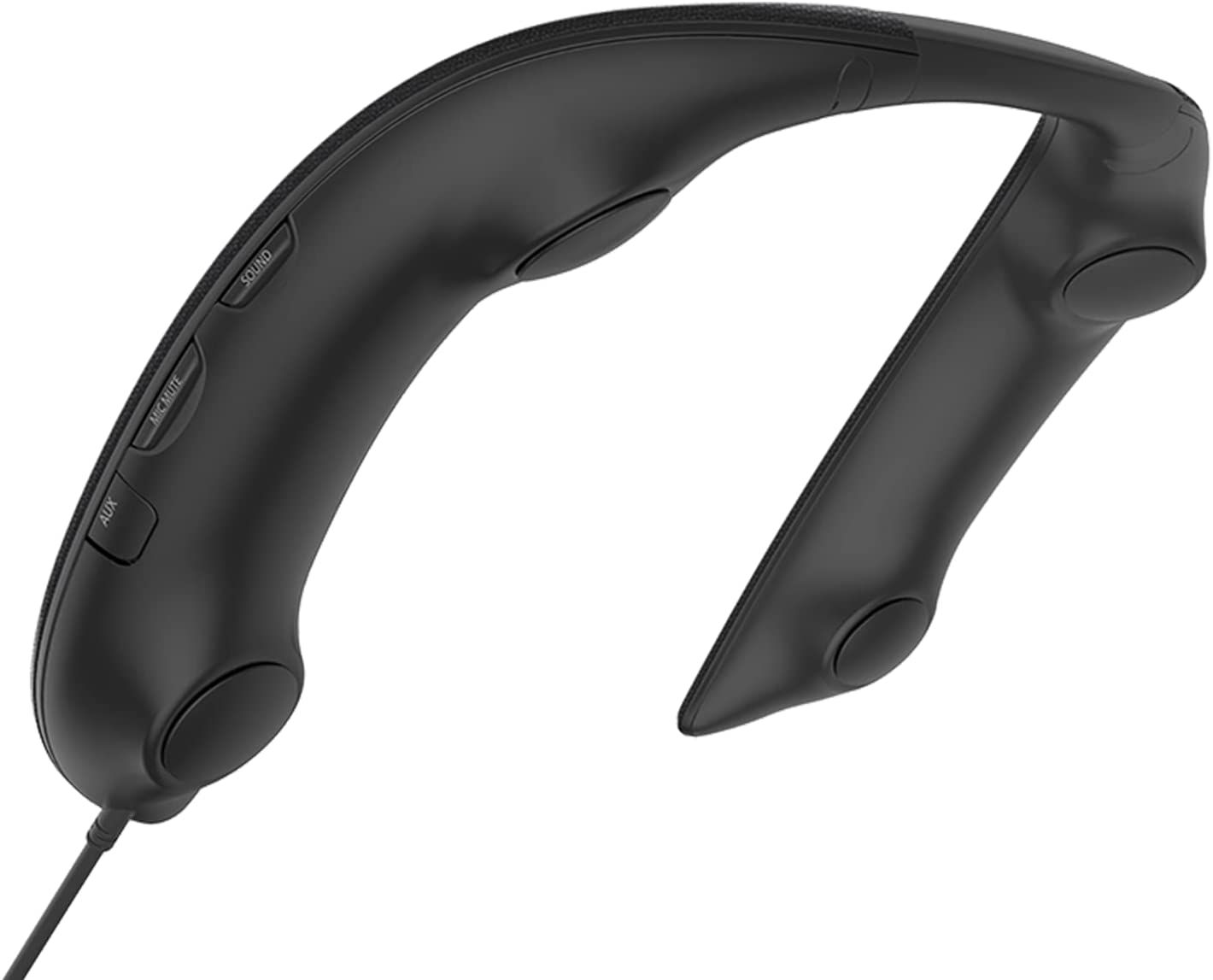 Much like similar gaming products released by Panasonic in the past like its SoundSlayer gaming speaker, this comes with three bespoke modes designed to accommodate different genres. By touching a button on the left of the speaker you can switch between RPG, FPS, and Voice modes. On the surface the differences between these three modes seem rather negligible, but they are designed to bring out specific details in the soundscape. RPG mode will focus on dialogue and environmental details, while FPS mode will help with situational awareness and the fast reflexes required to come out on top. Voice is for general multiplayer usage to help the chatter of friends and allies come out above any other audio being played alongside. Most platforms nowadays allow you to customise this balance on the fly regardless, so I'd suggest sticking to one of the genre modes instead if you prefer.
Sound can also be inconsistent in some circumstances. When playing Horizon Forbidden West or the recently released Soundfall certain bass heavy elements would come through perfectly, while some spoken dialogue from distant characters can sound weirdly echoey, like they're standing in a tight cave instead of atop a mountain in a wide open environment. Issues like this can be overlooked with a normal headset or television speakers, but when the noise is encapsulating your surroundings they become harder and harder to forgive.
I wouldn't recommend the Final Fantasy 14 SoundSlayer wearable gaming speaker to everyone given its high asking price and niche appeal, but those seeking out an immersive audio experience who don't care about dealing with long wires and a lack of bespoke customisation options will find a decent amount to love here.
It's attractive, lightweight, and has the added novelty of being tied to one of the greatest franchises of all time. Yes it's little more than a decal and novelty sound effect, but that's more than enough and provides a getaway for fans of the MMORPG to pick up this speaker and use it across many games and platforms.

A product sample was provided for the purposes of this review.
Source: Read Full Article