Final Fantasy 14 initially launched with so many zones that it's easy to think the expansions ought to have added more. Six per expansion is excellent, however, when one takes a step back and looks at most of A Realm Reborn's signature regions. It's not that they're small, per se; they're simply much smaller than what comes afterward.
Few areas make this more readily apparant than Stormblood's Azim Steppe. Its vast plains and scattered tribes would scarcely fit into the entirety of Thanalan's several interconnected maps. Such size, while lovely to explore, comes with one caveat. Attuning to all of the Steppe's aether currents for the ability to fly through the zone can feel all the more daunting.
While our guide will help to further ease the burden, it's worth noting that the burden's already been eased; Endwalker has affected every expansion zone's total number of field-based aether currents, paring them down from ten to just four.
The Azim Steppe Aether Current Locations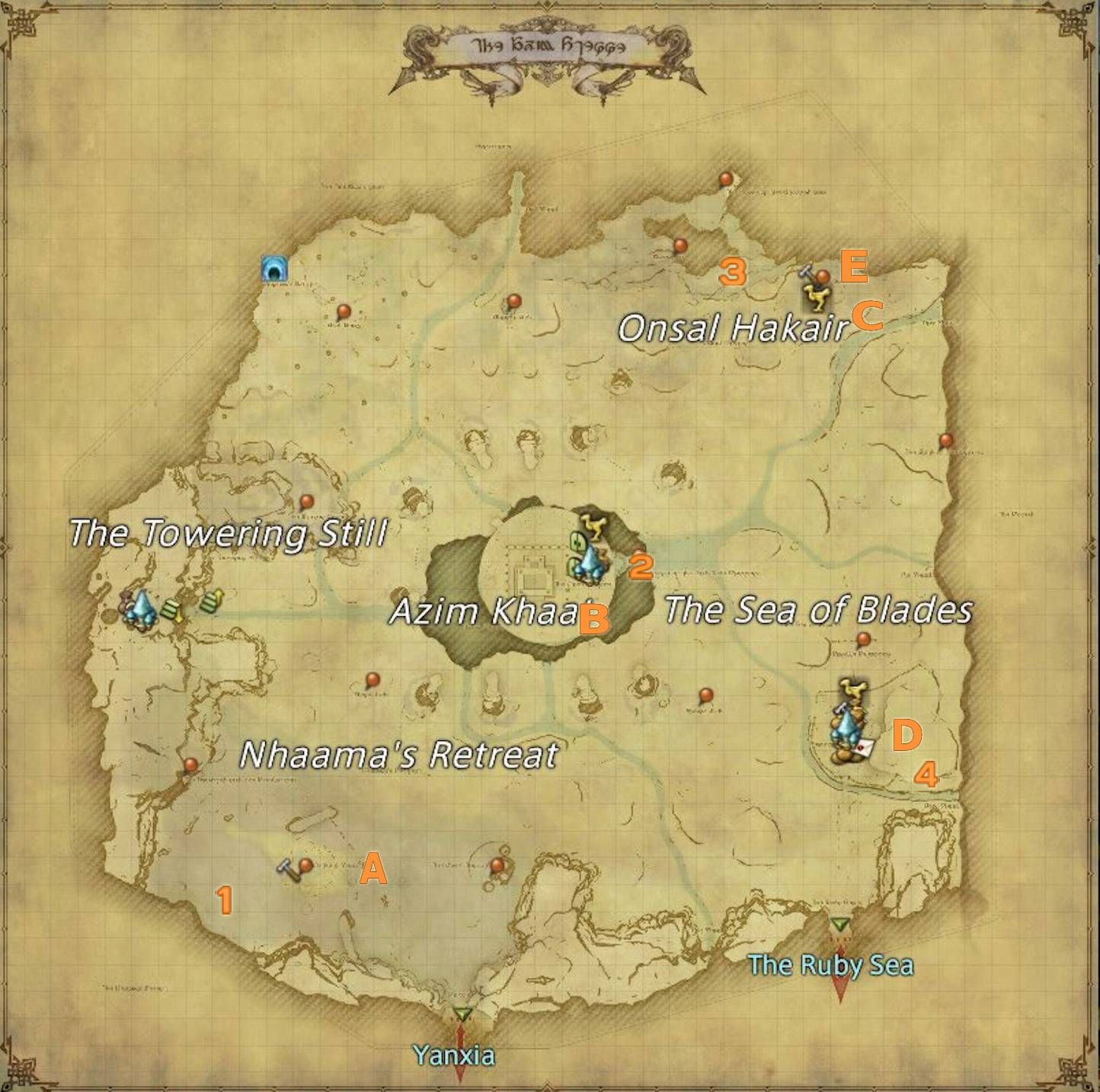 Aether Currents Found On the Map
| | Aether Current Co-ordinates | Notes |
| --- | --- | --- |
| 1 | (X7.5, Y:33.6) | – |
| 2 | (X:23.5, Y:20.4) | Located on the Dawn Throne. |
| 3 | (X:27.1, Y:12.2) | Climb up the cliff and leap down the ledge. |
| 4 | (X:33.9, Y:30.9) | – |
Aether Currents Obtained Via Quests
| | Quest Name | Quest Level | Quest Location | Notes |
| --- | --- | --- | --- | --- |
| A | Mauci of the Seven Worries | 66 | (X:12.7, Y:34.4) | Becomes available upon completing the main scenario quest 'The Undying Ones'. |
| B | Forty Years and Counting | 66 | (X:23.0, Y:23.1) | Becomes available upon completing the main scenario quest 'For Love of the Moon'. |
| C | Sheep Snatcher | 65 | (X:28.2, Y:14.8) | Becomes available upon completing the main scenario quest 'The Heart of Nations'. |
| D | Words Are Very Unnecessary | 65 | (X:32.6, Y:28.3) | Becomes available upon completing the main scenario quest 'A Season for War'. |
| E | Glory to the Khagan | 66 | (X:31.2, Y:12.2) | Becomes available upon completing the main scenario quest 'Nadaam'. |
Source: Read Full Article