Final Fantasy 14 sure has mountains. You have your dusty mountains in Thanalan. Your icy ones in Ishgard. And to avoid spoilers, we'll simply say that neither Shadowbringers nor Endwalker forgets to take some natural elevations along for the ride.
Of all the mountainous regions in Eorzea, there's only one place that's so stuffed with high hills, the locals went and named the entire zone after them: The Peaks. A massif here, a cordillera there — it's fun for a while, but sooner or later you're going to want the game to stop dictating your every trail and unlock flight via attuning to every aether current.
The Peaks, like every other zone in not just Stormblood but Heavensward and Shadowbringers as well, has had its field currents dropped to four from what was originally ten. It's worth noting this since, understandably, many guides that were written prior to the launch of Endwalker still reflect otherwise.
The Peaks Aether Current Locations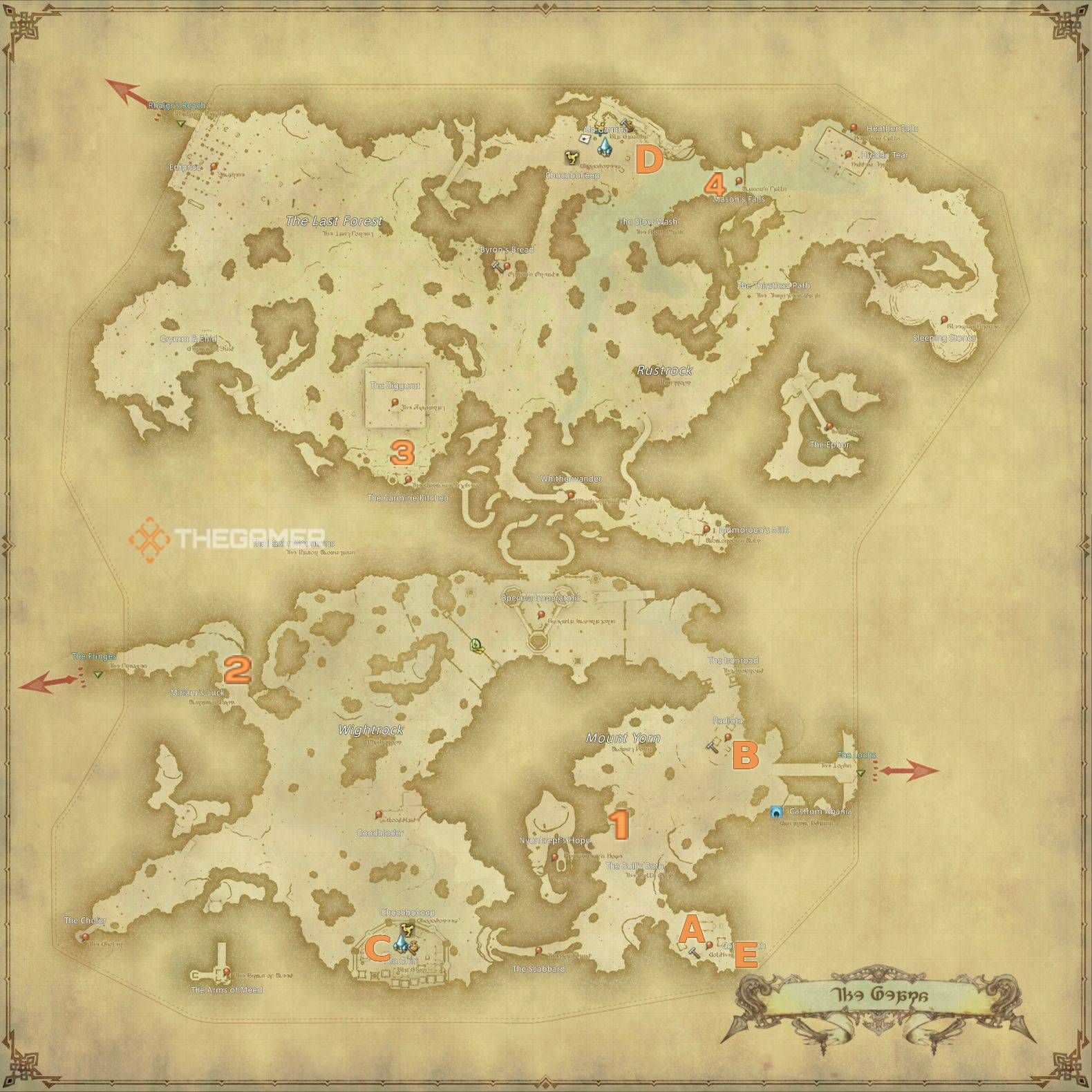 Aether Currents Found On the Map
| | Aether Current Co-ordinates | Notes |
| --- | --- | --- |
| 1 | (X:23.8, Y:31.8) | At the edge of a cliff overlooking the lake. |
| 2 | (X:10.8, Y:26.4) | – |
| 3 | (X:16.0, Y:15.8) | Ascend the stairs most of the way up. |
| 4 | (X:25.5, Y:6.4) | – |
Aether Currents Obtained Via Quests
| | Quest Name | Quest Level | Quest Location | Notes |
| --- | --- | --- | --- | --- |
| A | Closing Up Shop | 69 | (X:27.1, Y:36.5) | Becomes available upon completing the main scenario quest 'Raubahn's Invitation'. |
| B | A Hunger for Trade | 68 | (X:27.7, Y:28.7) | Becomes available upon completing the main scenario quest 'Where Courage Endures'. |
| C | Out of Sight | 68 | (X:14.9, Y:36.6) | Becomes available upon completing the main scenario quest 'The Path Forward'. |
| D | Saint Sayer | 61 | (X:24.3, Y:6.8) | Becomes available upon completing the main scenario quest 'The Fires Fade'. |
| E | Liberty or Death | 69 | (X:26.7, Y:36.1) | Becomes available upon completing the main scenario quest 'Raubahn's Invitation'. |
Source: Read Full Article