Stormblood is where Final Fantasy 14 pivots back toward the struggle against the Garlean Empire. It's a tale of liberation that expands the world in a major way by introducing players to the continent of Othard and its surrounding areas. Here, the inhabitants have spent so long beneath the imperial boot that before the Scions can take the fight to their oppressors, they've got a perilous journey just convincing folks that the fight can be won.
Just beyond those shackles lies the Ruby Sea. It's a place of beauty, connecting subjugated Othard with thriving Hingashi, and that beauty is on full display in all the places players must go in pursuit of the region's aether currents.
To unlock flight, every one of these aether currents must be found. Four lay hidden in precise locations — down from ten prior to the launch of Endwalker — with five more tied to quests.
The Ruby Sea Aether Current Locations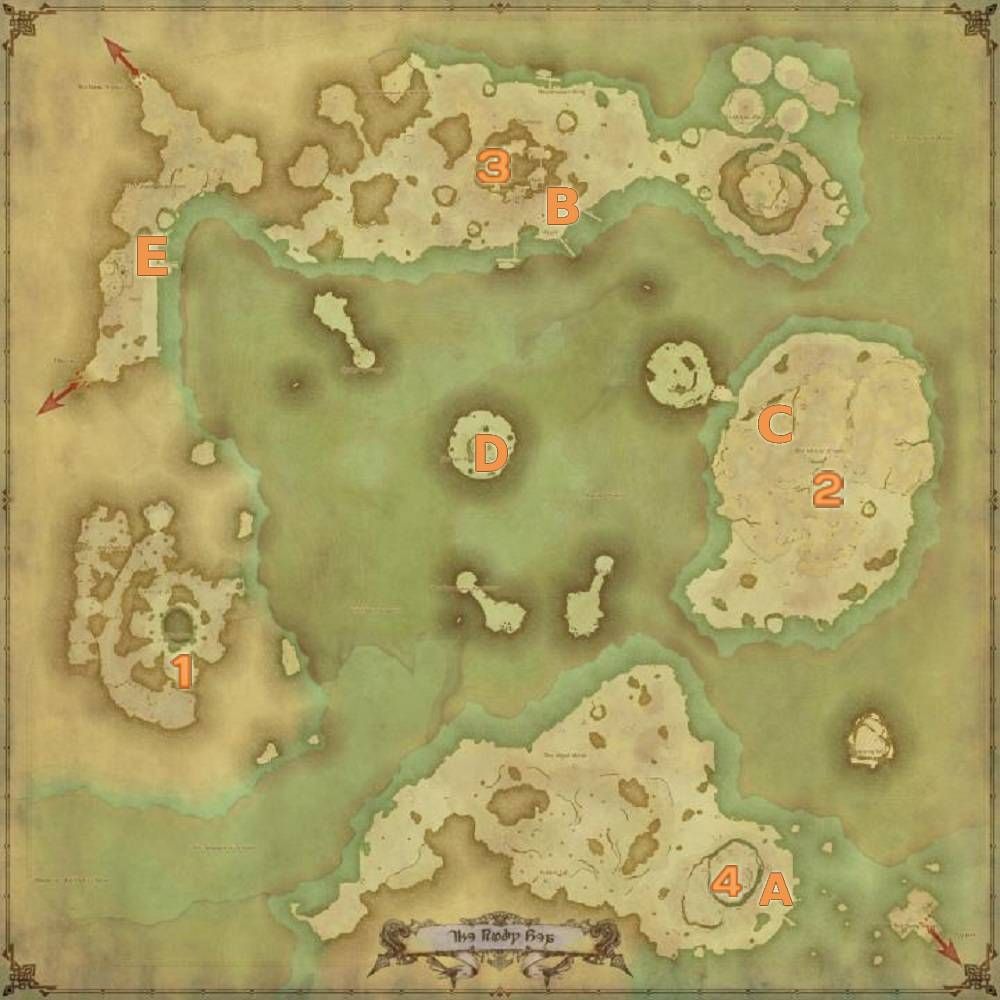 Aether Currents Found On the Map
| | Aether Current Co-ordinates | Notes |
| --- | --- | --- |
| 1 | (X:5.3, Y:26.1) | Swim to an underwater cave. |
| 2 | (X:35.5, Y:20.5) | – |
| 3 | (X:21.9, Y:9.0) | On the roof of a hut. |
| 4 | (X:29.9, Y:38.8) | – |
Aether Currents Obtained Via Quests
| | Quest Name | Quest Level | Quest Location | Notes |
| --- | --- | --- | --- | --- |
| A | The Price of Betrayal | 62 | (X:31.4, Y:37.1) | Becomes available upon completing the main scenario quest 'Boys with Boats'. |
| B | Pulling Double Booty | 62 | (X:23.4, Y:9.1) | Becomes available upon completing the main scenario quest 'Alisaie's Stones'. |
| C | The Sword in the Stone | 62 | (X:32.7, Y:18.5) | Becomes available upon completing the main scenario quest 'Of Kojin and Kami'. |
| D | The Palace of Lost Souls | 63 | (X:20.2, Y:20.1) | Becomes available upon completing the main scenario quest 'Forever and Ever Apart'. |
| E | Tide Goes In, Imperials Go Out | 63 | (X:6.2, Y:12.3) | Main scenario quest. Becomes available upon completion of 'The Lord of the Revel'. |
Source: Read Full Article