Five years later, For Honor is finally getting crossplay. A standard feature of many online multiplayer games, including Destiny 2, Halo Infinite, and Rainbow Six Siege, now For Honor will let players on Xbox disembowel PlayStation players in a truly medieval console war.
But crossplay won't hit For Honor all at once. Ubisoft will be rolling out For Honor's crossplay features in two phases. The first phase arrives March 17 and enables crossplay in PvP and PvE game modes, "unifying the three player pools for all PC, Playstation, and Xbox players." Ubisoft notes that this should greatly reduce matchmaking time thanks to the gigantic pool that the matchmaker will be able to draw from to create matches.
However, there are a few caveats to phase one of the crossplay rollout. For starters, in-game voice chat won't work. PC players and anyone who's got access to a keyboard will be able to text chat, but "technical challenges" will keep Ubisoft from enabling in-game voice chat until a later date.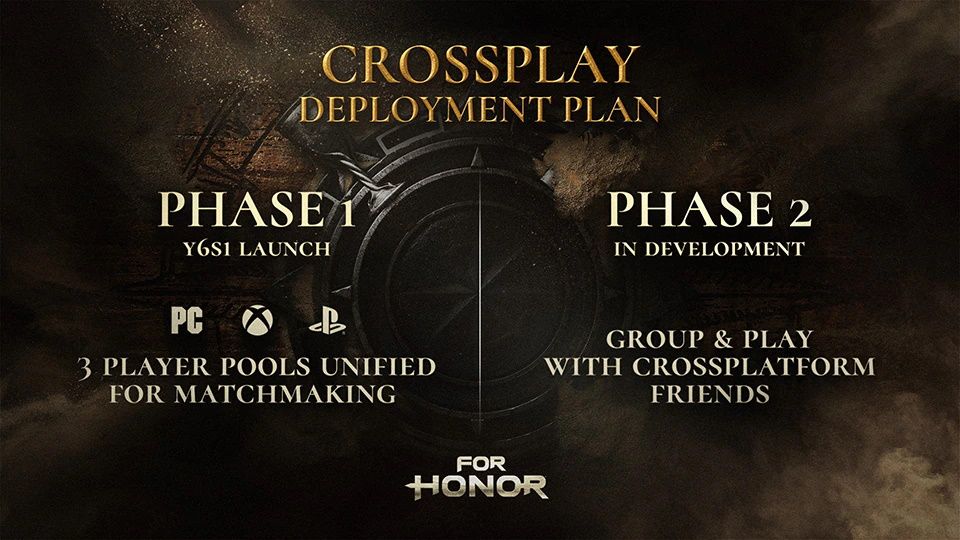 Also, a skill reset will be necessary once the pools are all mushed together. You'll probably see a few janky games starting March 17, but things will stabilize the more you play and start creating a new player skill score.
Phase two of For Honor's crossplay rollout will extend crossplay's functionality "to group play with your cross-platform friends and/or players." That is to say, Xbox players will be able to form groups with PlayStation and PC players, which they won't be able to do in phase one. Ubisoft promised more details on phase two at a later date.
Noted that crossplay does not include For Honor's campaign mode, training mode, custom matches (in phase one at least), arcade mode, and ranked mode. Finally, if you don't like crossplay, you can disable it in the game's new "Online" option in the settings menu.
"Crossplay has been an ambition of our team for a very long time," wrote Ubisoft. "There have been many technical challenges to bring crossplay to For Honor because the core technical game components were not originally designed to support it. Thanks to the hard work of the team, we are now proud to bring crossplay to our Warriors. We believe crossplay will benefit For Honor and its long-term vision."
Source: Read Full Article