Genshin Impact introduced a housing system in version 1.5 and it offers a lot of customization. One thing that you will need to concentrate on when building your dream realm is Tubby. Tubby is your cheerful assistant that floats beside the entrance to your house. By using Tubby, you can do everything from making furniture to buying blueprints. Tubby is also the way you are going to expand your land, make money, and earn more furniture-making spots.
To get some of these perks though, you are going to need to befriend Tubby and raise his trust level. Doing this isn't as simple as popping in to say hi, and will take a bit of work.
How Friendship Works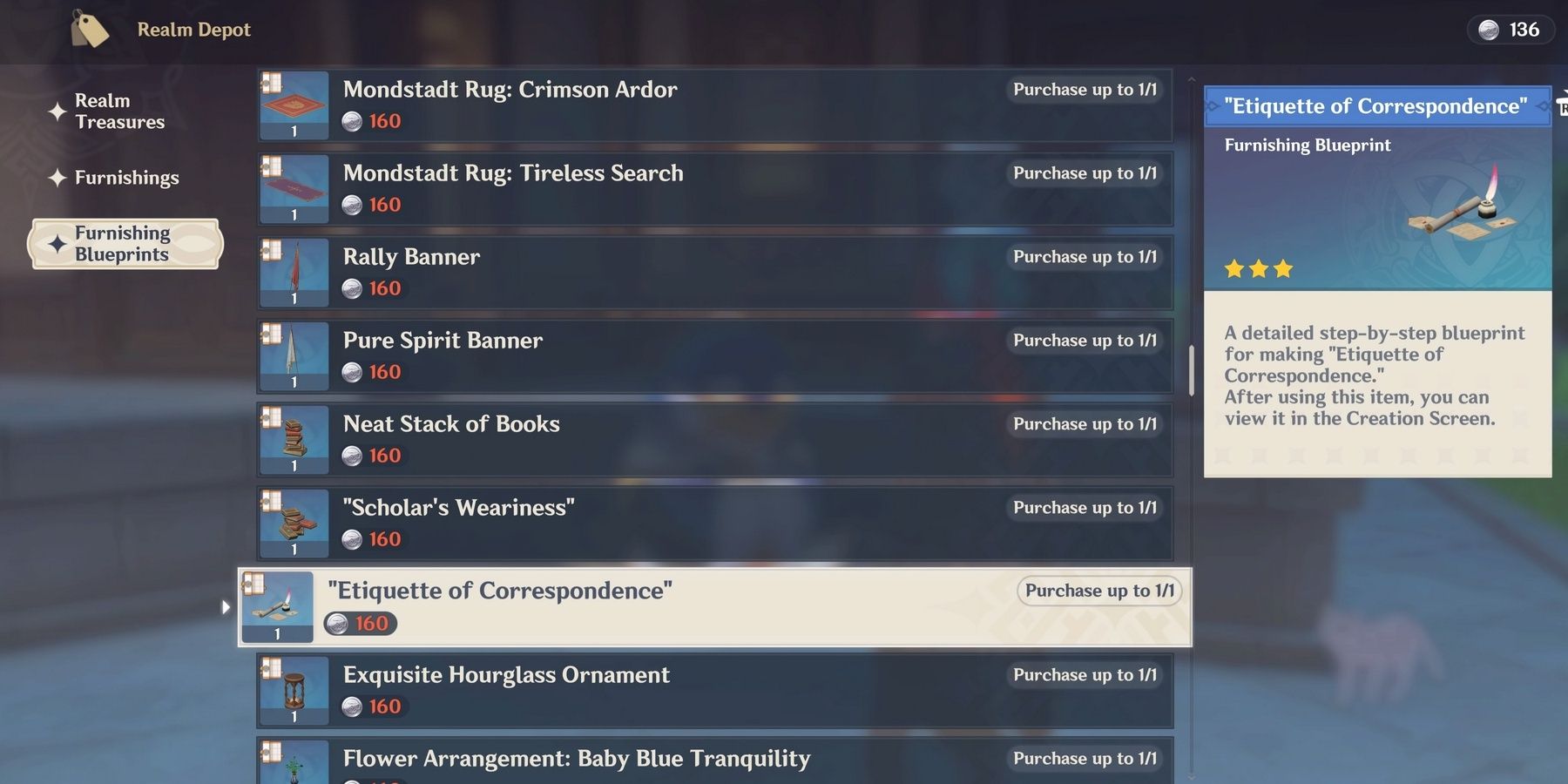 Tubby is a very strange bird who gets closer to people by using furniture. In order to raise his trust level, you are going to spend a lot of time crafting different pieces of furniture. You will get a trust boost every time you finish crafting a new piece of furniture. That means that you are going to need to spend a lot of time collecting materials; for assistance, check out this guide on collecting the seven different types of wood.
Tubby will also gain trust when you obtain a brand new piece of furniture. This can be done by shopping with Tubby or the elusive Chubby. Completing Adeptal Mirror tasks and getting new furniture also counts towards your reward rank, so make sure you are completing every single task.
Overall, you can expect it to take a few weeks for the trust rank to grow. Every piece of furniture takes several hours to make, which greatly slows down the reward process. This means that you are going to need to spend quite a bit of time befriending Tubby in order to get the most out of your realm.
Trust Rank Rewards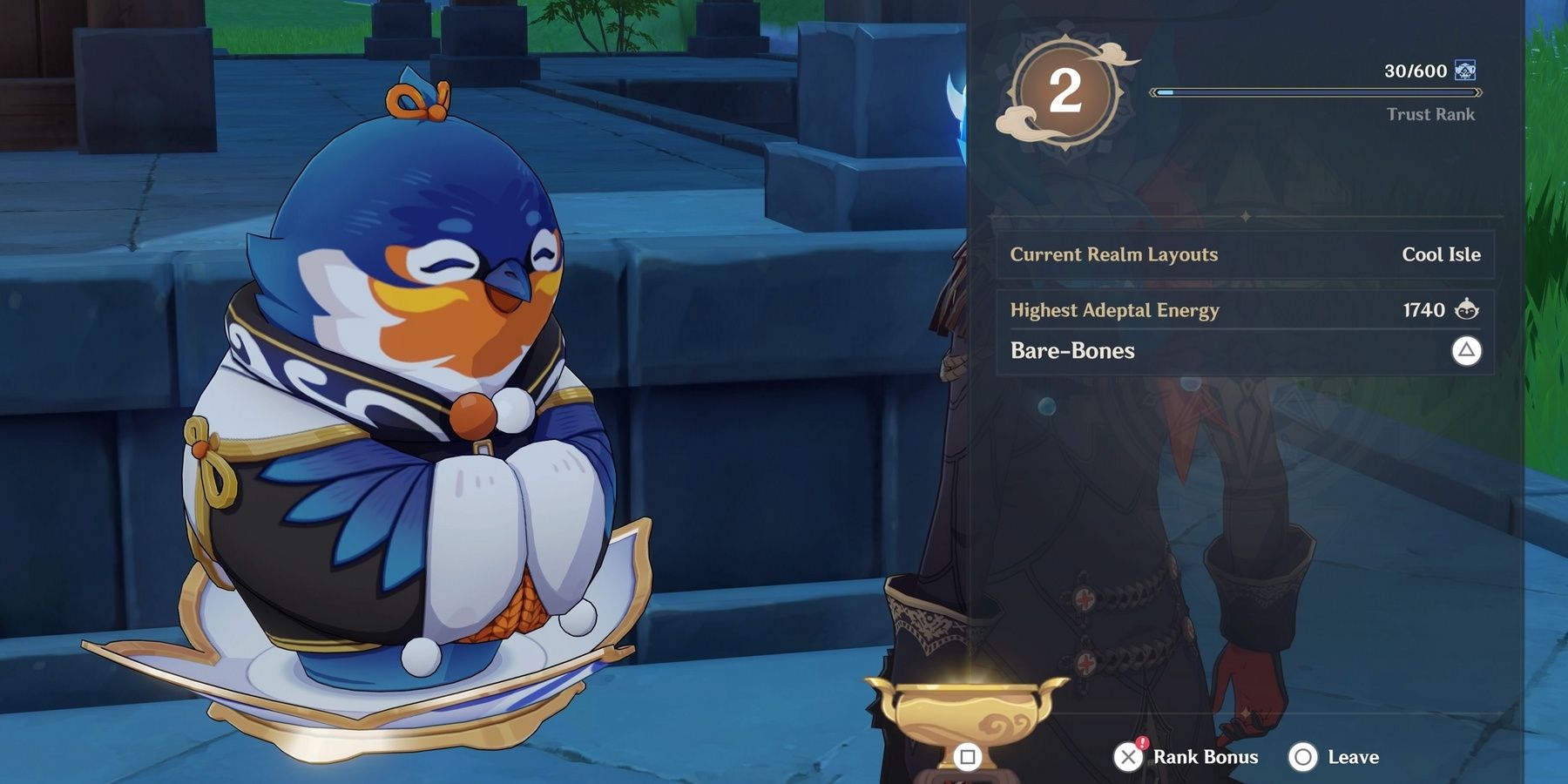 Tubby has ten levels of trust and several trust rank rewards that players are going to want to unlock. Players will get 60 primogems for every rank they unlock, combining for a total of 600 primogems. Along with a trove of primogems, players will get the following rewards at the following trust rank levels:
Rank 1:
Ten Vials of Adeptal Speed
Multi-Arched Mondstadt Building Blueprint
Realm Currency Storage Increased to 300
Furnishing Queue Increased by One
Realm Layouts Increased by One
Rank 2:
Ten Vials of Adeptal Speed
Liyue House: Of Timber and Stone Blueprint
Realm Currency Storage Increased to 600
Furnishing Queue Increased by One
Rank 3:
Ten Vials of Adeptal Speed
Mondstadt House With Overhanging Attic Blueprint
Realm Currency Storage Increased to 900
Rank 4: Tubby Transformation
Ten Vials of Adeptal Speed
Liyue Pitstop: Tea Fragrance on the Old Road Blueprint
Realm Currency Storage Increased to 1,200
Furnishing Queue Increased by One
Chubby Sells Five Items
Rank 5:
Warm and Dry Mondstadt Apartment Blueprint
Hilichurl Straw Hut Blueprint
Realm Currency Storage Increased to 1,400
Seconded Outdoor Area Unlocked
Rank 6:
Liyue House: Moon-Crested Eaves Blueprint
Hilichurl Outpost Hut Blueprint
Realm Currency Storage Increased to 1,600
Furnishing Queue Increased by One
Rank 7: Tubby Transformation
Old Wind-Resistant Mondstadt House Blueprint
Hilichurl Spiral Watchtower Blueprint
Mondstadt Mansion: Windward Manor
Liyue Estate: Exquisite Mansion
Realm Currency Storage Increased to 1,800
Furnishing Queue Increased by One
Chubby Sells Six Items
Third Outdoor Area Unlocked
Rank 8:
Liyue House: Amity Abounds Blueprint
Two-Story Hilichurl Sentry Tower Blueprint
Realm Currency Storage Increased to 2,000
Realm Layouts Increased to Two
Rank 9:
Bird and Blossom Design Fountain Blueprint
Hilichurl Chieftain Hall Blueprint
Realm Currency Storage Increased to 2,200
Furnishing Queue Increased by One
Fourth Outdoor Area Unlocked
Rank 10: Tubby Transformation
Liyue House: Time Waits for No-One Blueprint
Ballad-Spinning Windwheel Blueprint
Realm Currency Storage Increased to 2,400
Realm Layouts Increased to Three
Source: Read Full Article