Gran Turismo 7 sees the return of the proper old-school Gran Turismo License Centre and, just like the series' early titles, you will need to obtain the licenses to progress through the game. Certain sections of the game will be blocked off until you complete them and, again just like the series' early titles, while this all seems easy – there are certainly some hair-tearing moments. Enjoy!
Related: Gran Turismo 7 Review Completing the licenses rewards you with credits and a new car (potentially two new cars if you achieve gold in them all), so here's a guide on how to obtain the first license you can do: The National B Licence.
National B License Lessons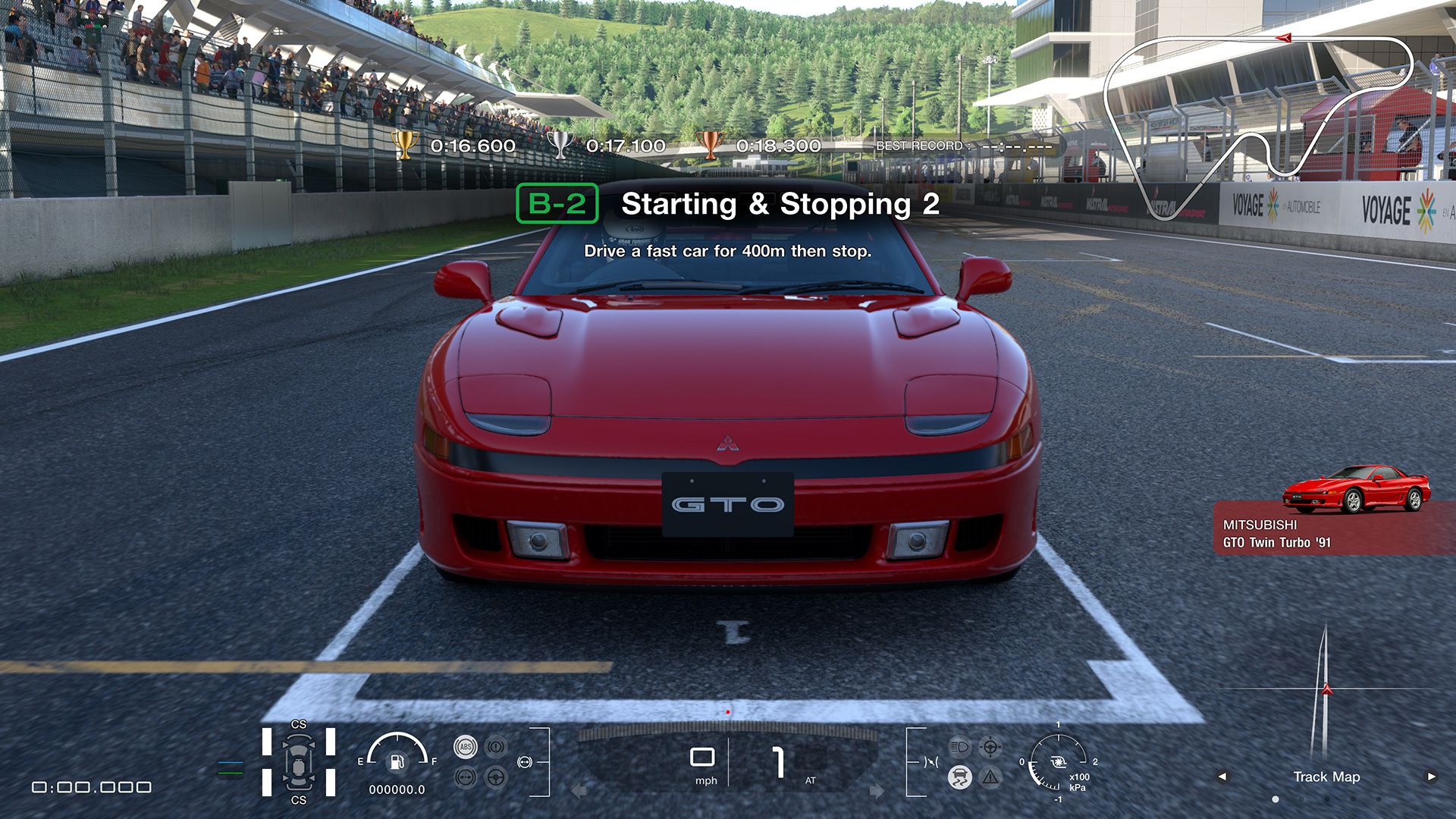 | | | |
| --- | --- | --- |
| Lesson | Tips On How To Complete | Car Used |
| B-1: Starting & Stopping 1 | Squeeze R2 as hard as you can, then brake a few yards before the stopping area. The area is huge, so you shouldn't miss it, but the brakes on the Mazda aren't great so to get gold you'll need to time the stop correctly. | Mazda Demio XD |
| B-2: Starting & Stopping 2 | Same as before, but with a faster car so you'll need to hit the brakes sooner. If you struggle with getting gold on this one, switching your assist to manual can help you shift the gears faster. | Mitsubishi GTO Twin Turbo |
| B-3: Cornering Basics 1 | Nice and smooth turn to the right around the hairpin. Stick to the racing line, and you'll be fine. | Daihatsu Copen |
| B-4: Cornering Basics 2 | Same as B-3 but with a faster car. | Audi TT Coupe Quattro |
| B-5: Cornering Basics 3 | You now need to corner right and left. Watch out for this one as the car handles like a dog and isn't very fast. You'll need to be precise, watch your braking zone, and not stray off the racing line to get gold. | Autobianchi A112 Abarth |
| B-6: Cornering Basics 4 | Nearly the same as B-5 with a faster car, but you start mid-corner so make sure you keep a smooth racing line and get a good exit – otherwise you will compromise yourself for the right-hander. | Nissan Fairlady Z |
| B-7: Cornering Basics 5 | This is a left-handed hairpin corner, so to get gold you must be dead on with the braking zone and maintain a smooth line through the corner. | Toyota GR 86 RZ |
| B-9: Cornering Basics 7 | This is a square corner after a long straight and is easy to understeer, thinking that your speed is fine when you're too fast. So watch that braking zone! | Mitsubishi Lancer Evolution IV |
| B-10: Final Exam | Two right-handers, one fairly quick and one slow where you'll be braking into the second as you turn through the first. Unless you have the ABS switched off in the assists, this should be easy as the Civic is a quick and nimble car. | Honda Civic Type R |
A general rule in motor racing (in video games and real-life) is that you enter a corner slowly and exit quickly. You shouldn't be putting the brakes on mid-corner to correct your speed as this costs you time. Instead, you should be slow enough to take the corner as you start to turn in so that you can put the throttle down on the exit.
Source: Read Full Article