Quick Links
How To Unlock Club Canach
How To Obtain Canach Coins
Within Arborstone, you can find Club Canach. This elite social club in Guild Wars 2: End of Dragons is a popular hangout, run by Canach himself. Here, you can order food and drinks, earn Canach Coins, and bet on a moa race. Club Canach will not be available when you first travel to Arborstone; you will first need to unlock it.
In this guide, we are going to take a look at everything you need to know about Club Canach. This will include how to unlock it, as well as everything you can do inside. First, let's take a look at the requirements to visit this club.
How To Unlock Club Canach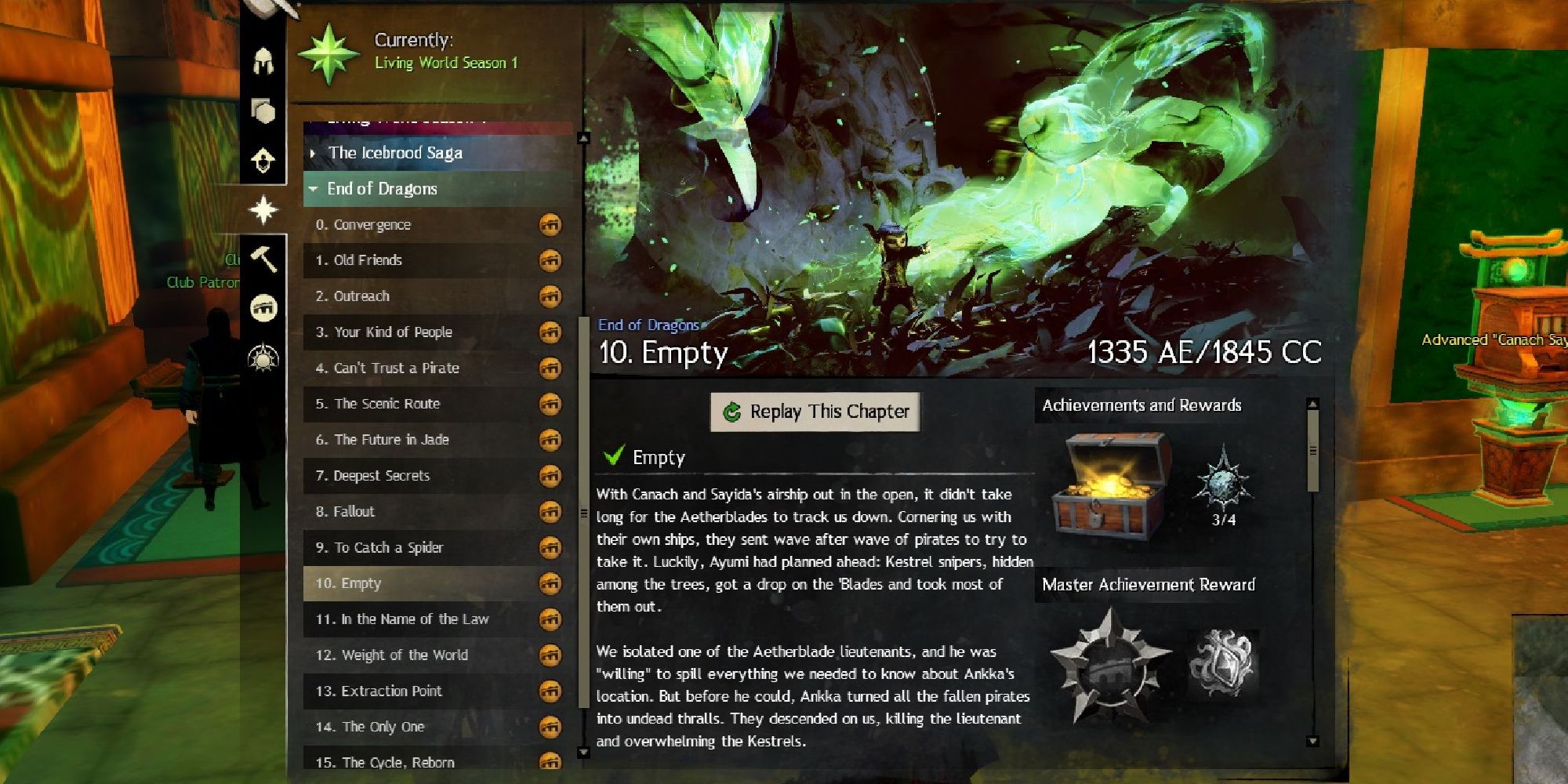 Club Canach will unlock once you complete the instance 'Empty'. This is the tenth chapter in the End of Dragons story. Once this has been completed, Club Canach will be accessible.
Getting To Club Canach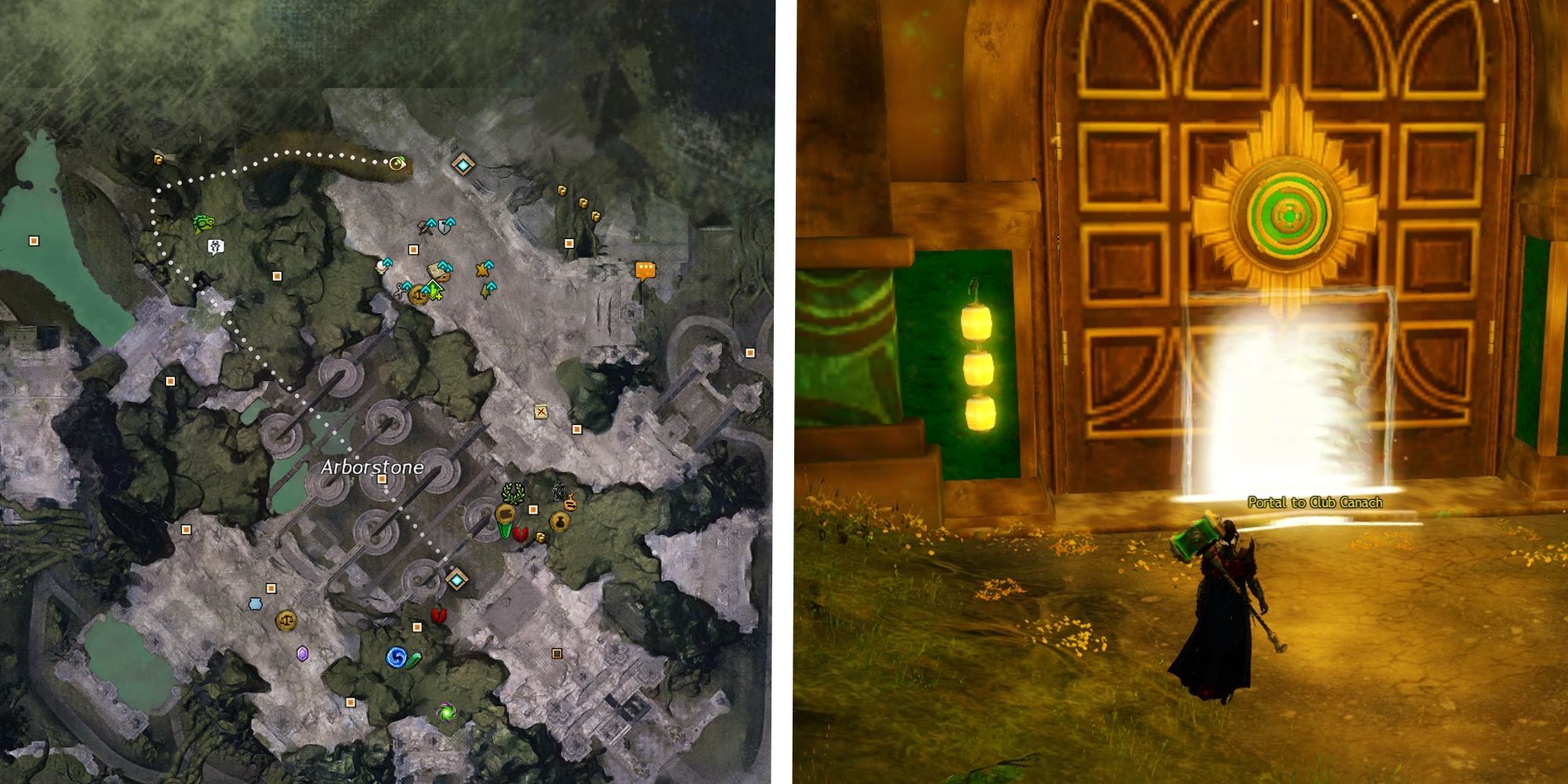 Club Canach can be reached by heading through a tunnel in the northern part of Arborstone. In the image above, you can check out the route to the club. To enter the club, you will need to go through the portal, which brings you right to the Club Canach Waypoint. After you visit Club Canach for the first time, you can unlock this Waypoint, allowing you to fast travel there.
Now that you know how to get there, let's go over what you can do inside.
Merchants In Club Canach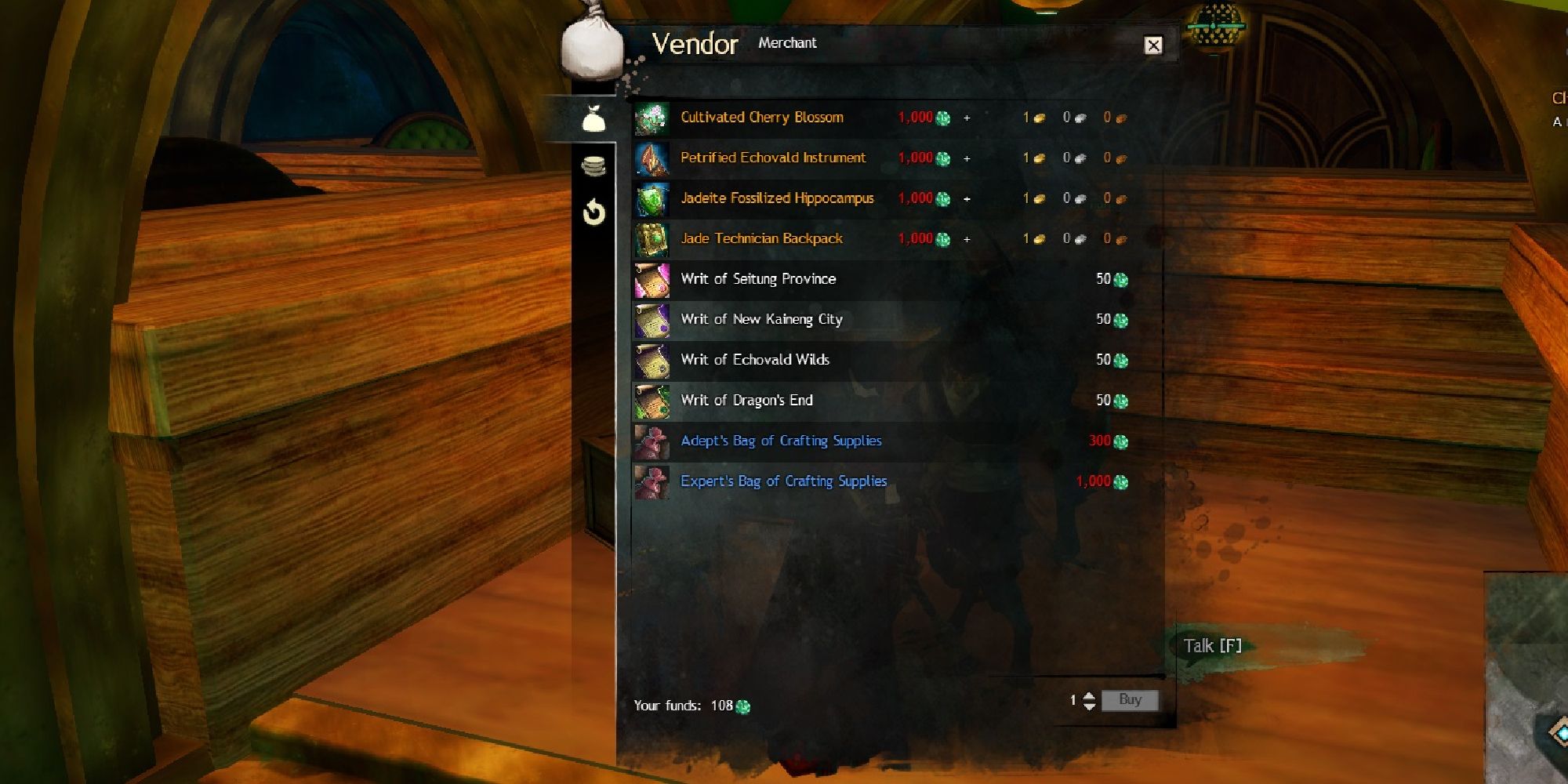 There are three different merchants that you can find in Club Canach. Let's take a quick look at each, as well as what they sell.
Club Canach Rewards Vendor
This vendor will sell a variety of items for Canach Coins and gold. Below, you can check out what this vendor sells.
Item
Price
Preserved Lucky Four-Leaf Clover

This will only be available in the Albax, the Unlucky achievement collection is active.

80 Canach Coins
Cultivated Cherry Blossom
Petrified Echovald Instrument
Jadeite Fossilized Hippocampus
Jade Technician Backpack
Echovald Spire Backpiece

This will unlock once you get the Echovald Spire Backpiece.

Map Specific Writs (limited to 3 per day)

Seitung Province
New Kaineng City
Echovald Wilds
Dragon's End

50 Canach Coins each
Adept's Bag of Crafting Supplies
300 Canach Coins
Expert's Bag of Crafting Supplies
1,000 Canach Coins
Daxx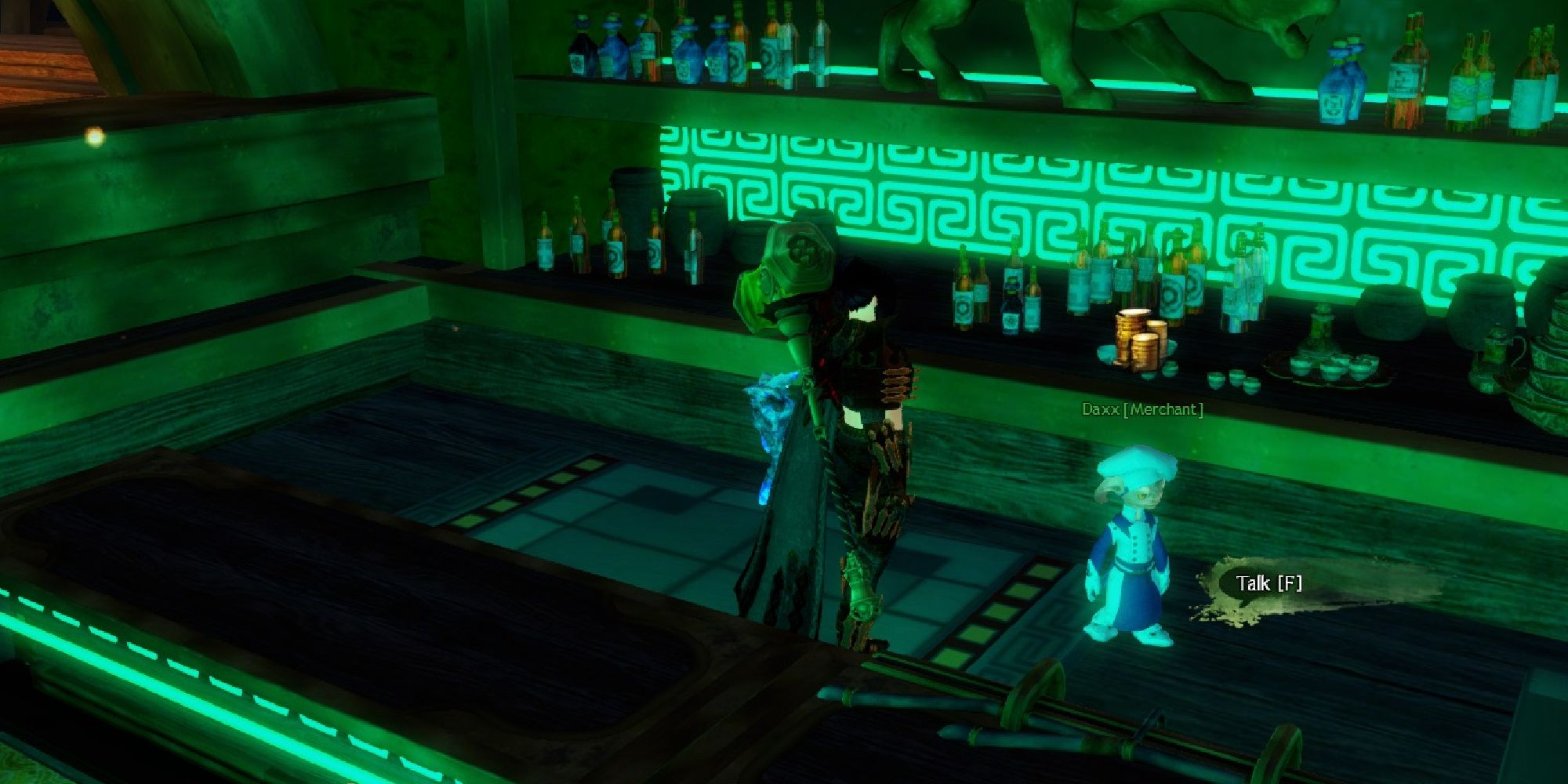 Daxx is the chef of Club Canach, selling a variety of foods and recipes that can be found below.
Item
Price
Fine-Tier Food Items

Spicy Meat Kabob
Cheeseburger
Grilled Poultry
Grilled Steak
Meatball Dinner

4 Silver Each
Recipe: Bowl of Fish Stew
50 Silver
Recipe: Fishy Rice Bowl
50 Silver
Recipe: Kimchi Pancakes
50 Silver
Recipe: Kimchi Tofu Stew
50 Silver
Recipe: Meaty Asparagus Skewer
50 Silver
Recipe: Meaty Rice Bowl
50 Silver
Recipe: Bowl of Echovald Hotpot
Recipe: Plate of Crispy Fish Pancakes
Plate of Imperial Palace Special
Bowl of Jade Sea Bounty
Winn Schwartzmeier
The last merchant you can find in Arborstone is Winn Schartzmeier. This NPC will sell the same recipes as Daxx, along with the following beverage items.
| Item | Price |
| --- | --- |
| Bottle of Rice Wine | 16 Copper |
| Bottle of Juniberry Gin | 16 Copper |
| Draught of Hunter's Ale | 16 Copper |
| Flask of Blood Whiskey | 16 Copper |
| Bottle of Red Wine | 32 Copper |
"Canach Says" Consoles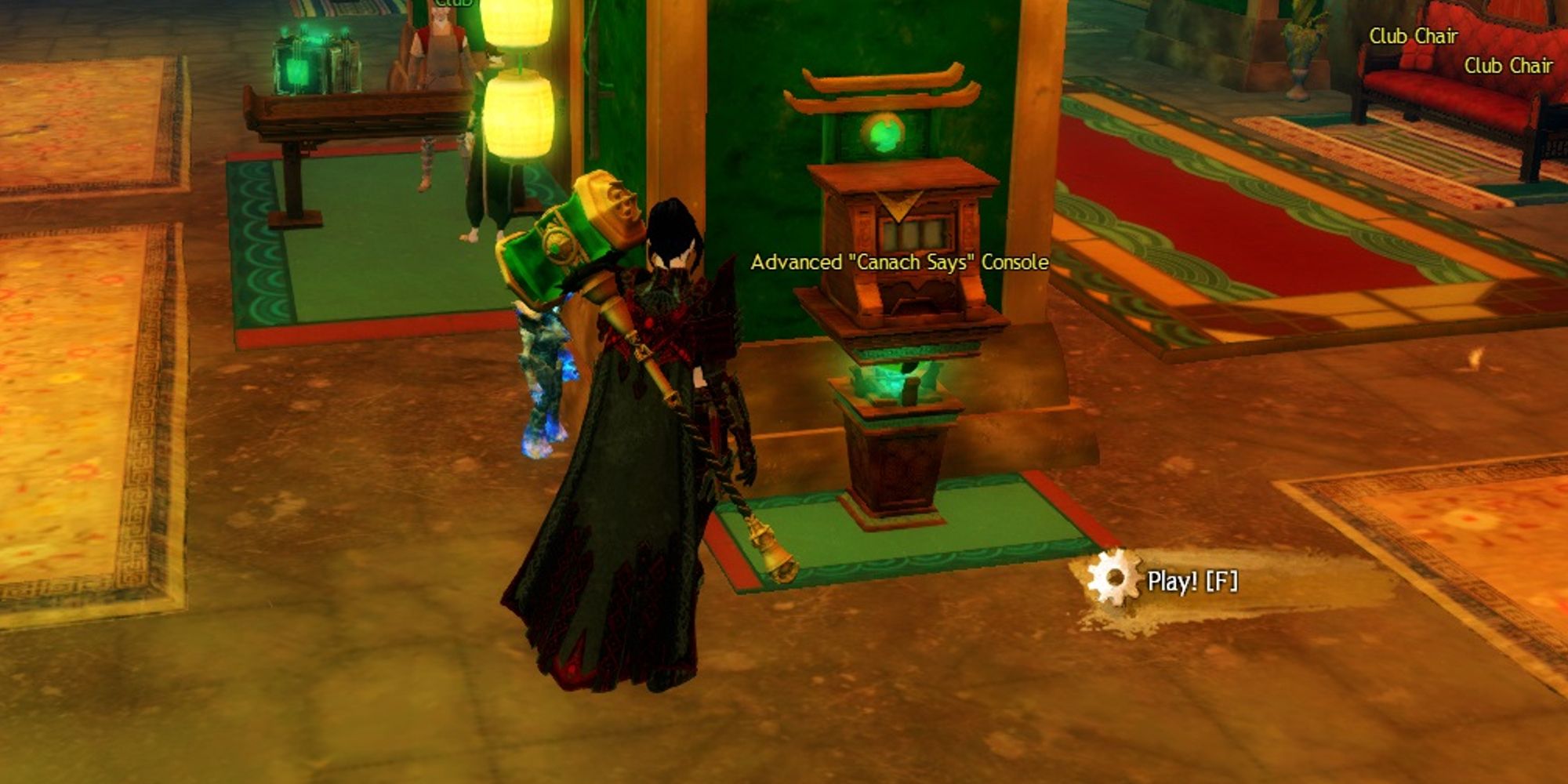 "Canach Says" Consoles are small machines that can be found around the club. At a console, you can participate in a memory game; the console will display a symbol that you must repeat back, with the string of symbols gradually becoming longer. There are different difficulties, allowing you to work your way up to harder memory games.
If you successfully complete a game, you will be rewarded with Canach Coins. Below, you can check out how many coins you will earn based on the console's difficulty.
Beginner: 10x Canach Coins
Advanced: 20x Canach Coins
Expert: 30x Canach Coins
Events At Club Canach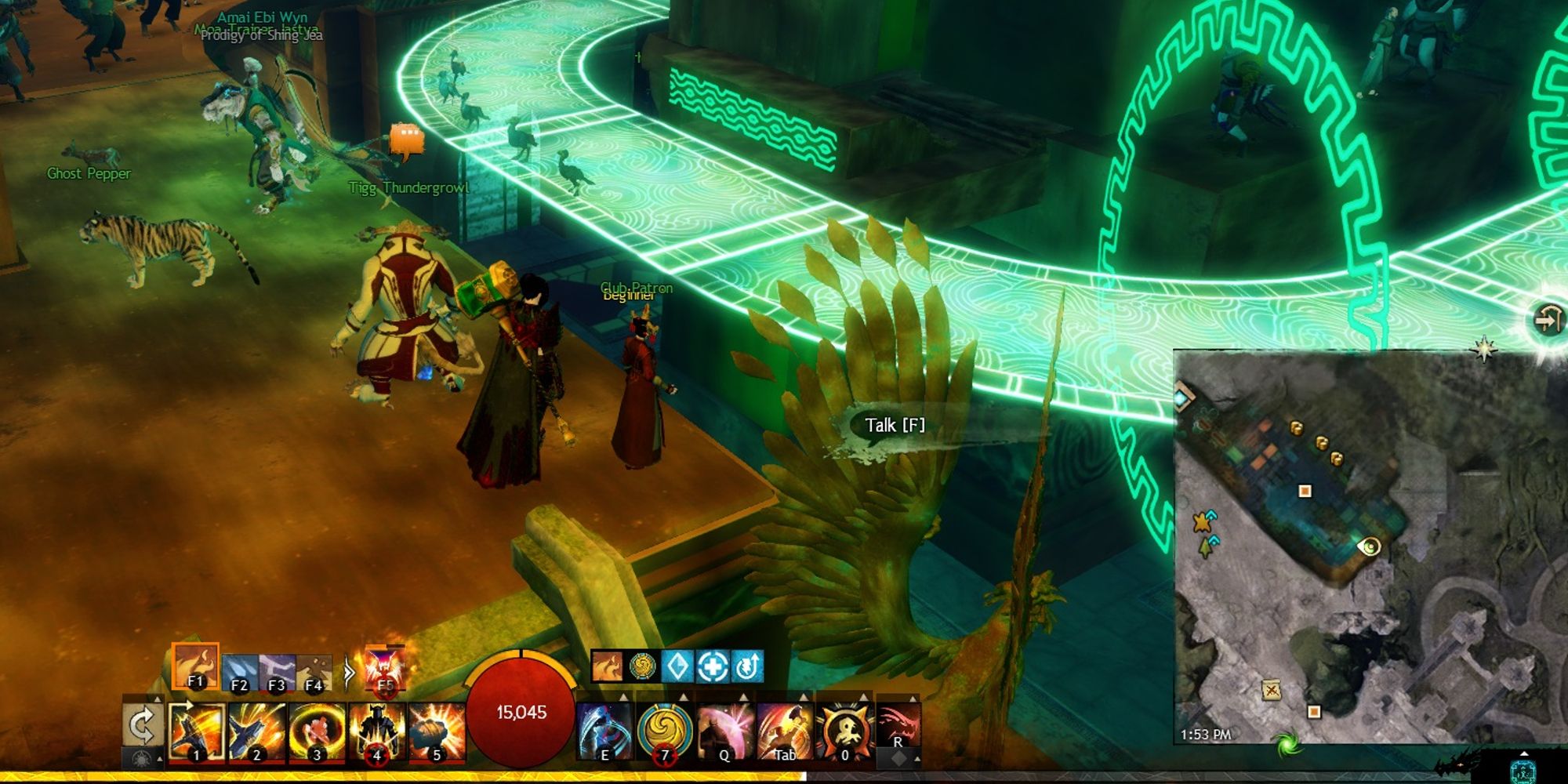 There are two events that happen at Club Canach. First, is the moa race. This is a simple event where you must pick a moa that you think will win the race. After the choosing period is over, the race will begin. To get to this area, head to the far right side of the club and head up a staircase. Once up here, you will see the course, with several moa standing at the starting line. If the event is about to begin, you can speak with Tigg Thundergrowl to pick your moa.
The reward you receive for the event depends on the moa that you chose. For example, if you chose the first place moa, you will receive a Gold tier prize. Additionally, if you pick the winning moa, you will receive the Exotic Canach Stash, which contains 100 Canach Coins.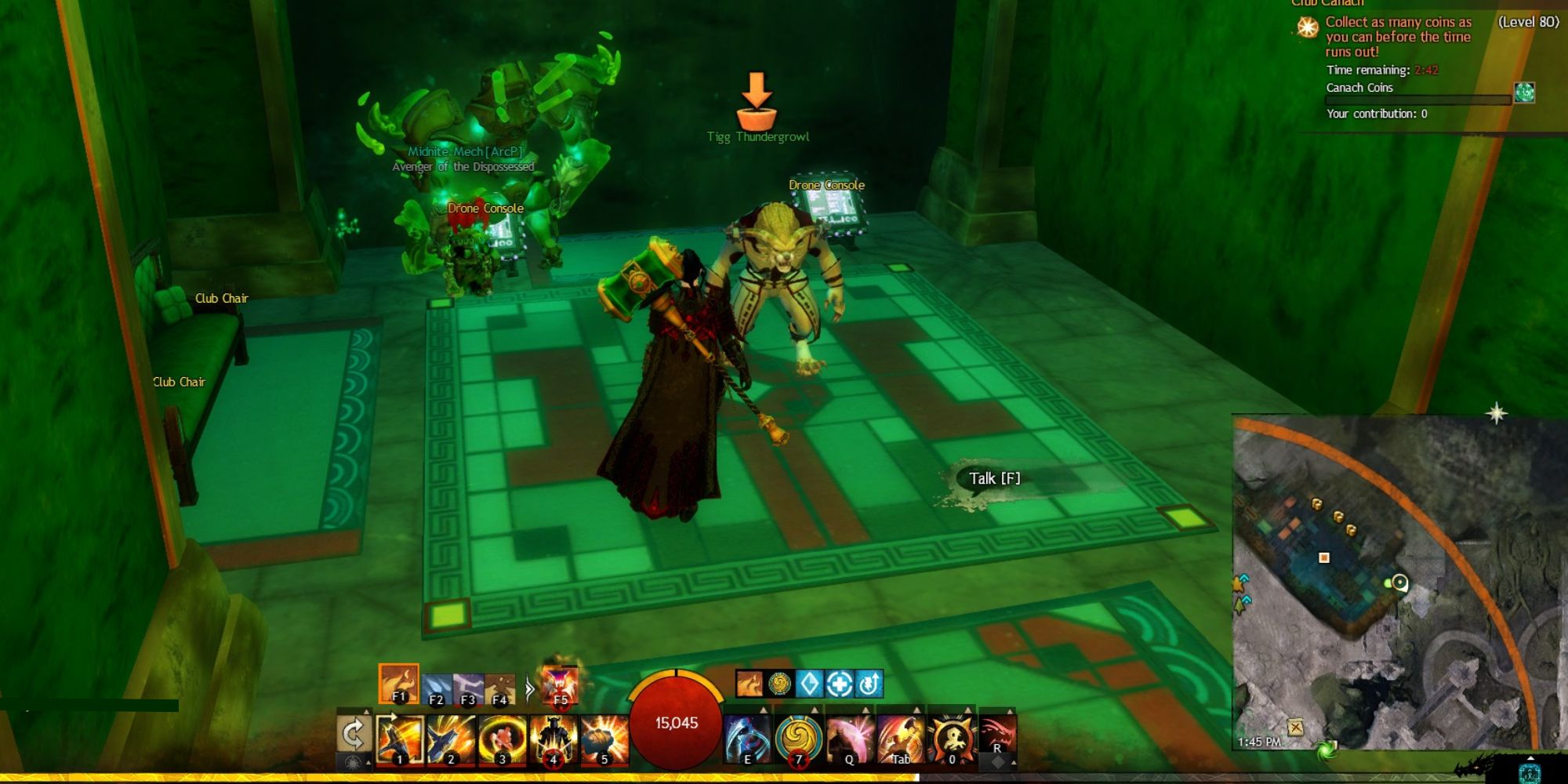 The second event that takes place in Club Canach is a coin-gathering challenge. This event can be started by speaking with Tigg Thundergrowl (or a console behind him) at the location shown above. This is on the righthand side of the club, near the location of the moa race starting line. After speaking with him, you will join the event and have eight minutes to gather as many coins as you can.
Gathering coins for this event is done with your Jade Bot, meaning that you need to have one to participate. With your Jade Bot, you will fly around the club gathering coins. At the end of the event, you will be able to keep all the coins that you collected.
Club Canach Achievements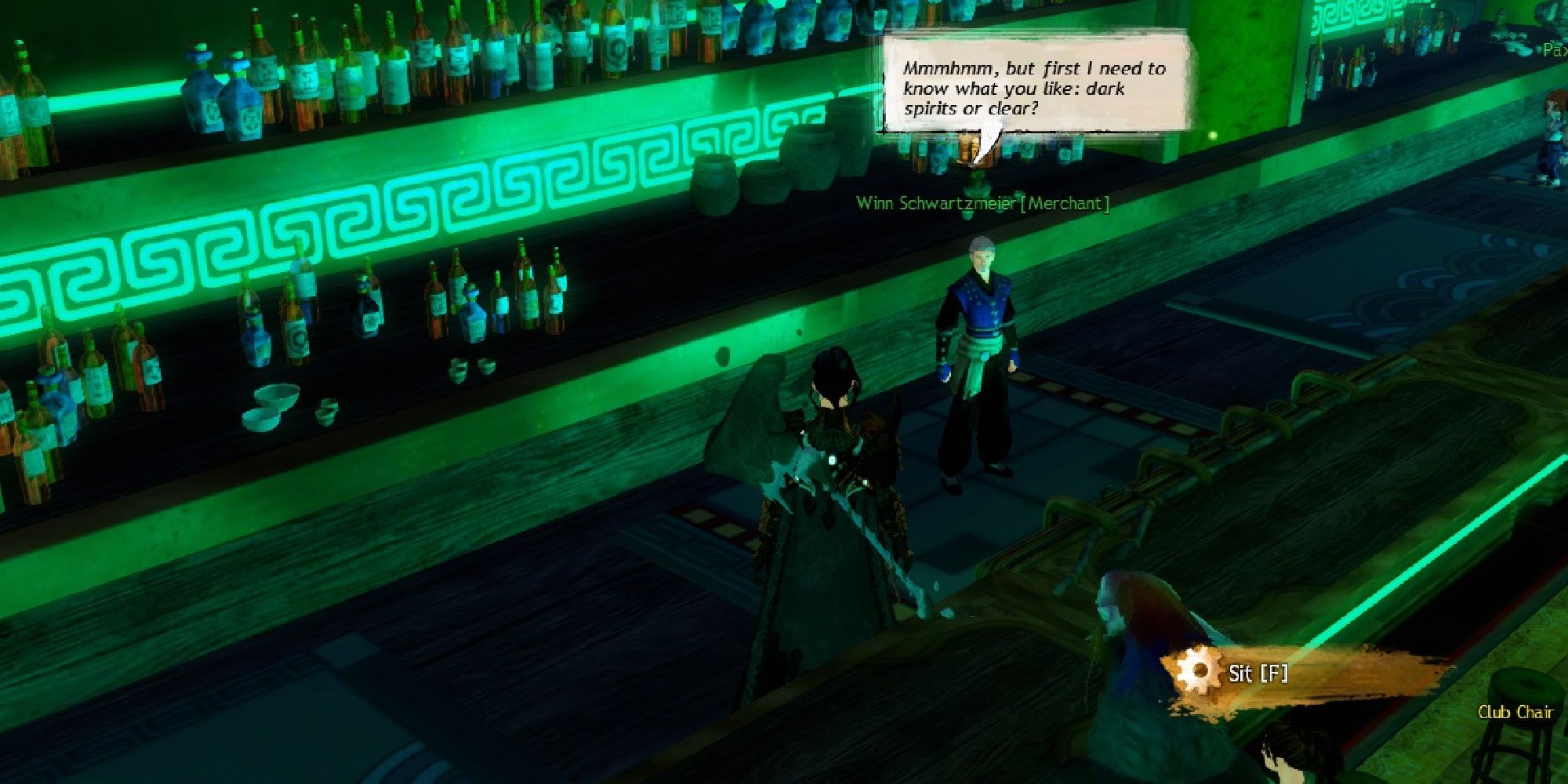 There are three achievements associated with Club Canach. Below, you can check out the achievement, as well as what the requirements and rewards are.
Achievement
Requirements
Rewards
Fan of the Band
Donate to the band's funds.

In total, you will need to put 5,000 Canach coins in the tip jar near the stage in Club Canach.

3 Achievement Points
'Jazz Connoisserur' Title

Winn's Favorite Patron
Tip Winn.

Upon speaking with Winn, you can tip him.
In total, you will need to tip him 50 gold.

3 Achievement Points
'Winn's Favorite' Title

Lucky Guess
Pick the winning moa racer in Club Canach.

In total, you will need to pick the correct moa five times.
The winner of the race is random, so there is no strategy for picking the winning moa.

3 Achievement Points
How To Obtain Canach Coins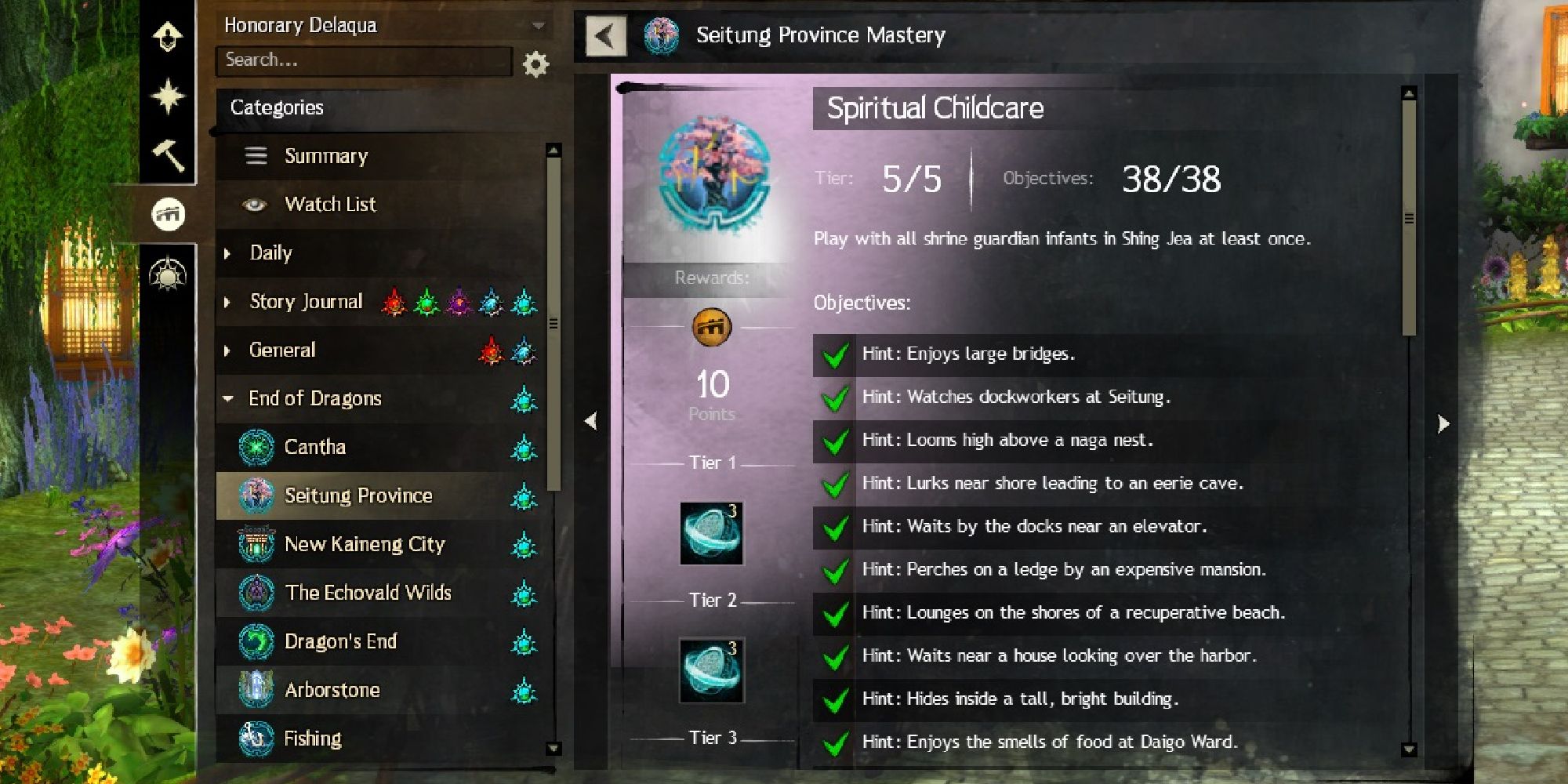 Canach Coins are rewarded by participating in the "Canach Says" consoles and coin-gathering event mentioned above.
Additionally, you can find Canach Coins inside Shrine Guardian chests on any map after unlocking the Commercial Hub mastery for Arborstone. Shrine Guardian chests are associated with the following achievements. After successfully finding the Shrine Guardian Infant, you will open a chest that contains a variety of treasures, including Canach Coins.
Spiritual Childcare
Little Foxes in the Big City
What Did the Shrine Guardians Say?
Dead Play
That's all there is to know about Club Canach. Next time you are visiting Arborstone, be sure to swing by and listen to the jazz band!
Source: Read Full Article