343 Industries has detailed Halo Infinite's second season, which will run for six months and will add co-op to the campaign mode in August.
Halo Infinite's second season, Lone Wolves, is nearly upon us and 343 has finally detailed some of the content that players can expect to see. As was the case with the game's first season, Lone Wolves will be another six-month-long season, starting on May 3 and ending November 7.
The roadmap reiterates some of the content we've already been told about, such as game modes like Last Spartan Standing, Land Grab, and King of the Hill, as well as two new maps, Catalyst and Breaker, for Arena and Big Team Battle respectively. Two narrative events are also planned for the season, one running between May 3 to May 16, and another coming a bit later from July 19 to August 1. A new Fractured event, Entrenched, will also take place between May 24 and May 30.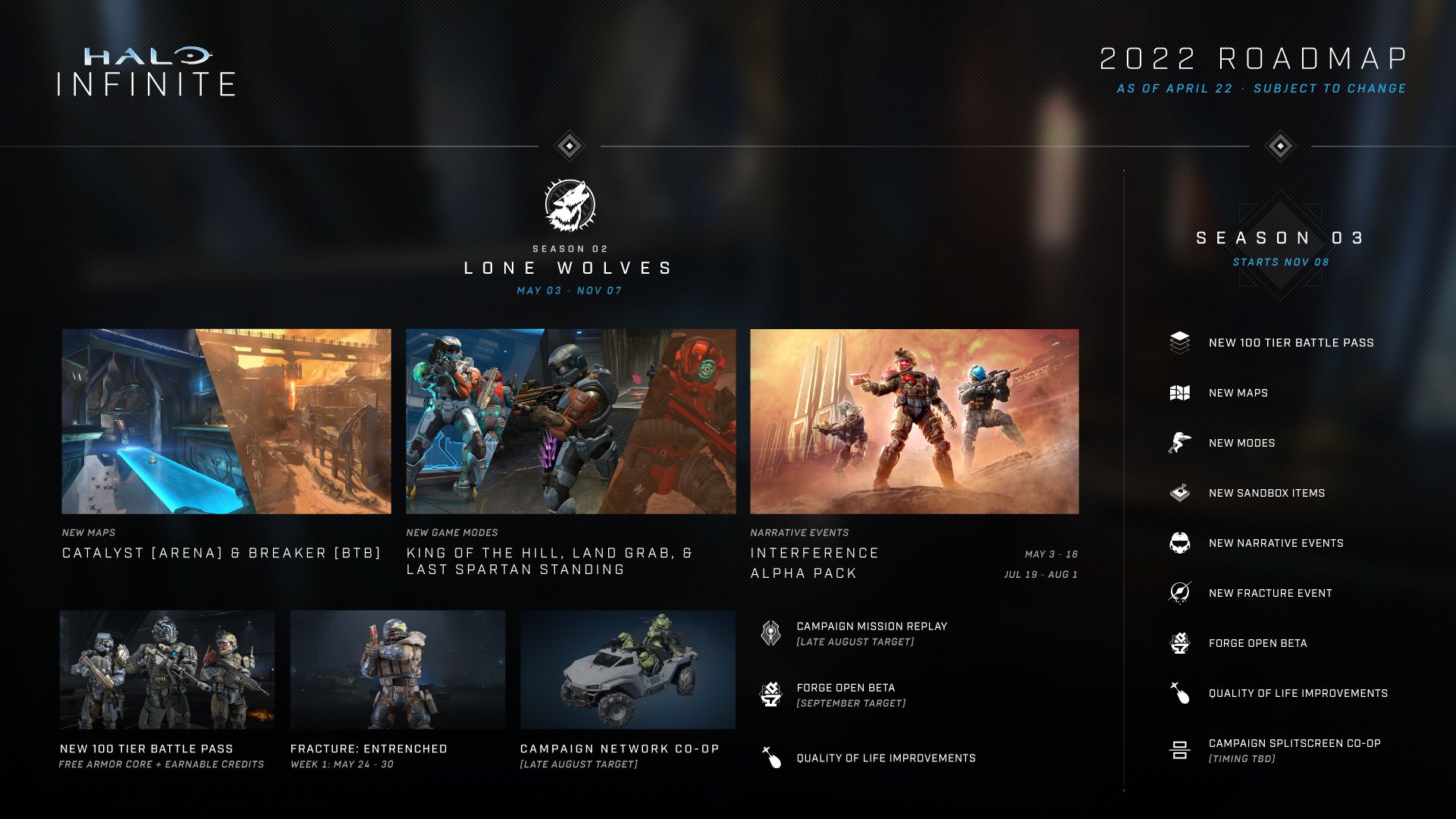 By far the most interesting part of the roadmap is the mention of release window targets for cooperative play and Forge. Network co-op is planned for release in August, while Forge beta testing begins in September. It's important to note that these are both just targets right now, which means there's no guarantee that they'll actually debut on the planned dates.
The roadmap also reveals some of the plans for the game's third season, which begins on November 8. According to the roadmap, we can expect to see new maps, new modes, new sandbox items, new narrative events, and a new fracture event, which are all to be expected from a new season.
However, it also mentions that the Forge open beta will continue running from its planned September release into the game's third season, implying that it'll be in open beta for at least a few months. The roadmap also indicates that couch co-op is planned to be added at some point in the third season, although there's currently no estimate included.
Source: Read Full Article