Osprey Games recently announced Jackals: Bronze Age Fantasy Roleplaying, the next tabletop roleplaying game in their quickly-growing RPG library. Jackals will bring you sword and sorcery roleplaying of the myths, cultures, and history of the Ancient Near East during the historical Bronze Age, and is currently scheduled to be published on February 4, 2021.
Jackals is the fifth tabletop RPG to be included in the Osprey Roleplaying library, with the most recent Righteous Blood, Ruthless Blades announced this past August, and currently listed with a December 10, 2020 publication date. Osprey Games is the gaming arm of military history and warfare book publisher Osprey Publishing, with its gaming mechanics featuring accurate elements from military history while at the same time blending plenty of fantasy roleplaying to make a top-notch gaming world.
Jackals looks as if it'll hold true to that same expected Osprey blend as it allows us to roleplay during the times of "the Iliad, the Epic of Gilgamesh, and the Old Testament". The RPG will be set "in the land of the Zaharets, known as the Land of Risings" between the Plains of Aeco and the Vori Wastes. Here, the city-states of Ameena Noani and Sentem command and control the land along the great War Road. As a Jackal, commonly known throughout the land as "adventurers, explorers, sellswords, and scavengers", you'll be able to wander the Land of Risings and other places, such as the Hulathi ruins, "the Hannic mansions sealed beneath the mountains", Keta (in the north), Gerwa (in the south), and the corrupted ruins of Muadah in the far east.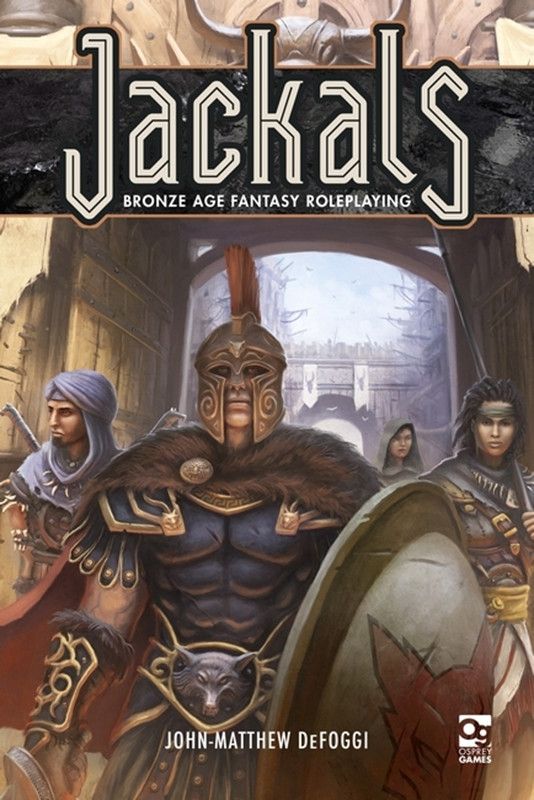 As its gaming engine, Jackals will use the OpenQuest system created and published by D101 Games and used in other tabletop roleplaying games such as the River of Heaven and The Company. D101 Games recently completed a successful Kickstarter adventure to fund the OpenQuest Third Edition, and while the Jackals announcement doesn't specify, this is the edition it will most likely be using.
Jackals is currently available to preorder from the Osprey webstore for $35 (hardback). And for a brief closer look, you can check out the available 7-page Jackals preview PDF for free.
Source: Read Full Article