Britain-based Crit Happens Dice has launched its very first Kickstarter adventure to fund the creation of the DnD 5e Herbalism Kit: Healing Potion Dice Rollers product. The project has a $2,677 goal, and as of this writing, has 27 days left to go.
The DnD 5e Herbalism Kit is a fifth edition game handout for your players, consisting of four full-sized Healing Potion dice rollers. The four bottles vary in size according to the Healing Potion strength they represent, with the standard Healing Potion being the smallest, and up to the largest Supreme Healing Potion. Each bottle also contains the proper amount of d4's needed to roll for the amount of healing received from each potion when your character drinks one in-game.
What's super neat about these crafted potion bottles is that each bottle is sized to allow the full amount of d4's to lay flat within. So, you can roll for healing the traditional way, by popping the cork and rolling the dice in your dice tray, or you can simply give each bottle a healthy shake, set it upright, and count the easily-readable dice there. This gives you two great benefits, in that you don't have to spend precious game time counting up to see if you have the correct amount of dice to roll, and you don't have to worry about losing any of your rolled d4 healing dice and finding it later that night as you walk barefoot on the way to the restroom.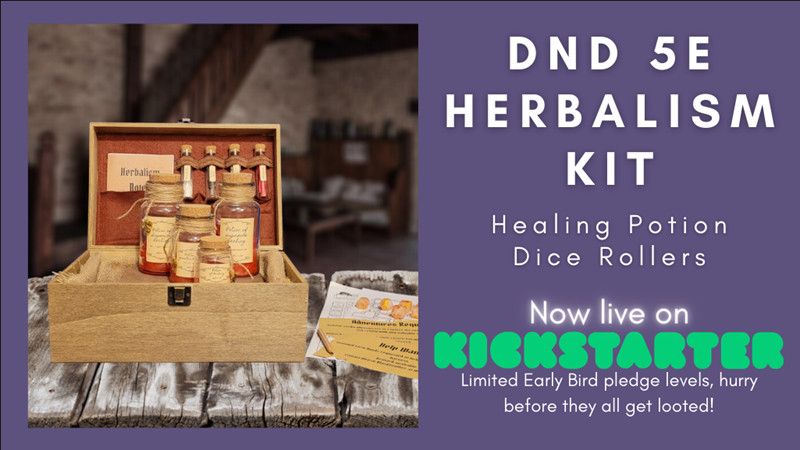 The DnD 5e Herbalism Kit is also more than just four bottles of dice. It is a full kit, complete with the four Healing Potion bottles, four small vials containing herbs, and an "A6 Herbalism Notes booklet with information on the herbs included, how herbalism can be useful to your DnD adventures and healing potion information." All this comes in a presentation box with a hessian fabric interior to keep the bottles snug and safe.
The project has six reward tiers ranging from £5 (about $7) up to £50 (about $67). There's also an Early Bird Level 6 reward tier that will get you a hand-stained presentation box with all the contents, plus "an A6 faux leather bound 80pg loose leaf notebook for you to scribble your own notes and refill as you need." This tier has a limited number of slots, though, so hurry and claim one if you want it.
Source: Read Full Article