Board game company USAOPOLY (The OP) recently announced The Shining: Escape from the Overlook Hotel, an at-home escape room game based on that Stanley Kubrick classic horror movie of horror movies, The Shining. The game is available now on The OP webstore for $29.99, fireman's ax and typewriter not included.
The Shining: Escape from the Overlook Hotel in one of The Op's Coded Chronicles line of games that feature "a series of at-home escape room-style activities". The games set you in iconic franchise settings involving "a unique storyline mechanic that reveals codes, which players then use to cooperatively unlock different parts of the board." In this game, you take on the roles of Wendy and Danny, and must work together to escape from or overcome the haunted lodge's murderous caretaker Jack. You can obtain helpful items from within The Overlook, and "shine" objects to reveal information and clues that will help you escape. You have to acquire the correct tools in order to advance the plot and make your way out of The Overlook to safety.
The game components include "4 narrative Journals, 4 Room Tiles, 44 Clue Cards, 11 Secret Envelopes, 1 "Act 2" Envelope, 2 Character Standees, and 1 Hotel Guest Guide." The Shining is The OP's second Coded Chronicles game following the premier title Scooby Doo: Escape from the Haunted Mansion. The series is being created by Jay Cormier and Sen-Foong Lim (Junk Art, D&D: Rock, Paper, Wizard), with graphics by digital artist Rob Lundy (Dungeon Roll, Eminent Domain).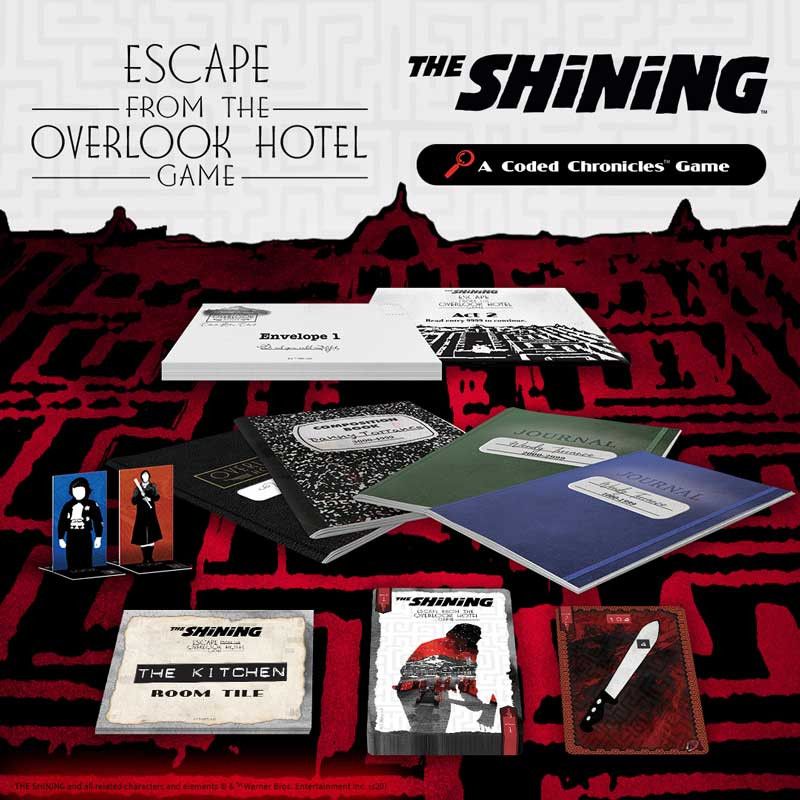 The announcement post links to the Let's Play The Shining: Escape from the Overlook Hotel video over on the Dicebreaker YouTube channel. The notice comes with a SPOILER ALERT as Dicebreakers Wheels, Lolies and Johnny play through a session of The Shining game.
This isn't the only game product The OP carries based on The Shining. In The OP's webstore you can also find a The Shining Dice Set, consisting of six six-sided dice with various images from the movie on the dice faces, "including axe-wielding Jack, Danny, REDRUM, typewriter, maze, and the Grady twins in black and white." There is also The Shining "Come Play With Us" 1000 Piece Puzzle featuring a blood red and black image of the Grady twins, perfect for hanging on the wall at the end of a long hallway once it's complete. Or, you know, not.
Source: Read Full Article