Fans of Mortal Kombat just got an interesting hype piece confirming the leaks rumoring the return of one of the game's most well-loved characters, the cannibalistic Mileena. In an ad post on her Instagram, Megan Thee Stallion revealed an epic cosplay of the character and teased gameplay footage to be released shortly.
25-year-old Stallion is an American rapper from Texas, most well known for her recent song WAP, performed with Cardi B, which made quite an impact with its release in August of this year. Though previously unconnected to the Mortal Kombat series, it's very clear that Stallion is a huge fan given her dedication to the cosplay.
In the video, posted on November 4, Stallion sports Mileena's classic pink and black skimpy unitard and gauntlets, duel-wielding her signature sai as she dances around the screen. What really steals the show, though, is the fantastically gory prosthetic piece that's revealed when Stallion removes her mask. It's a half-face toothy nightmare, complete with grotesque gums and jagged edges that are made even more disturbing when Stallion runs her teeth over them. Thanks! We hate it. (But also, we love it.)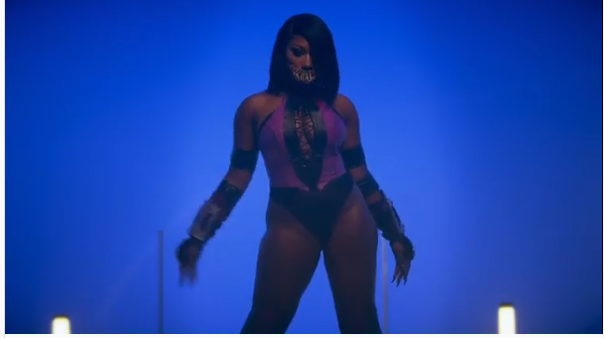 This horrifying facial feature is explained as a part of the character's backstory as being a result of her Tarkatan bloodline and the diabolical workings of Shang Tsung, who brought her back from the dead as part of a dark experiment. She's a clone and palette swap of Princess Kitana and was introduced in the second Mortal Kombat game in 1993. She's been a fan favorite ever since for her dark story and deadly efficiency, although her sexy outfits are probably a factor for some fans as well.
Related: I Need Mileena To Kiss Me With Her Scary Demon Mouth
Stallion hypes up the game in the caption, saying "I just wanted to stop by real quick and let y'all know that thee b**** is BACK" followed by several fire emojis. She teases that gameplay footage of Mileena in the new release of Mortal Kombat 11 Ultimate is going to be released soon and finishes out by tagging the official Mortal Kombat account and using #ad.
The official gameplay trailer for Mileena in Mortal Kombat 11 Ultimate dropped today on the PlayStation YouTube channel, with the game's signature graphic style. Pre-orders for the expansion, which includes Mileena, Rambo, and Rain, are open now.
Source: Read Full Article