Quick Links
The Renown Track And Its Rewards
With every new World of Warcraft expansion comes more reputations to grind, but this time, in World of Warcraft Dragonflight, the four new reputation systems are known as Renown systems. Of the four new factions added is the Dragonscale Expedition, a diverse group of explorers made up of many different races across both the Alliance and Horde, working toward the pursuit of knowledge above all else.
The Dragonscale Expedition's Renown can be earned in a variety of ways, including but not limited to weekly and semi-weekly content. However, while this is one of the slower Renown grinds, Jewelcrafters and Tailors should aim to progress their Renown sooner rather than later thanks to the designs and patterns they offer.
How To Gain Renown
You can earn Renown with the Dragonscale Expedition in quite a few ways, all of which will be mentioned here. That said, some of these options require more explanation and will have their own sections later.
| | |
| --- | --- |
| Main Story Quests | You may have already done these on your main, but they're a great source of reputation for your alts. |
| Side Quests | Another source of good Renown. However, note that the Draognscale expedition has side quests across the entire Dragon Isles, not just the Waking Shore. |
| World Quests | Each world quest offers reputation for a specific faction, so check which ones reward reputation with the Dragonscale Expedition. |
| Cartographer's Flag | There are Draongscale Expedition flags set up across some of the highest peaks of the Dragon Isles. You can interact with each one only once, but they each give 250 reputation. This system is unlockable at Renown six when you get access to the Expedition Supply Kit (found in the Dragonscale Basecamp). At the supply kit, you can research the Cartographer's Flag and unlock it instantly. |
| Dragon Isles Artifacts | There is a multitude of ways to get this infinitely grindable currency, which will be addressed in its later section. |
World Quests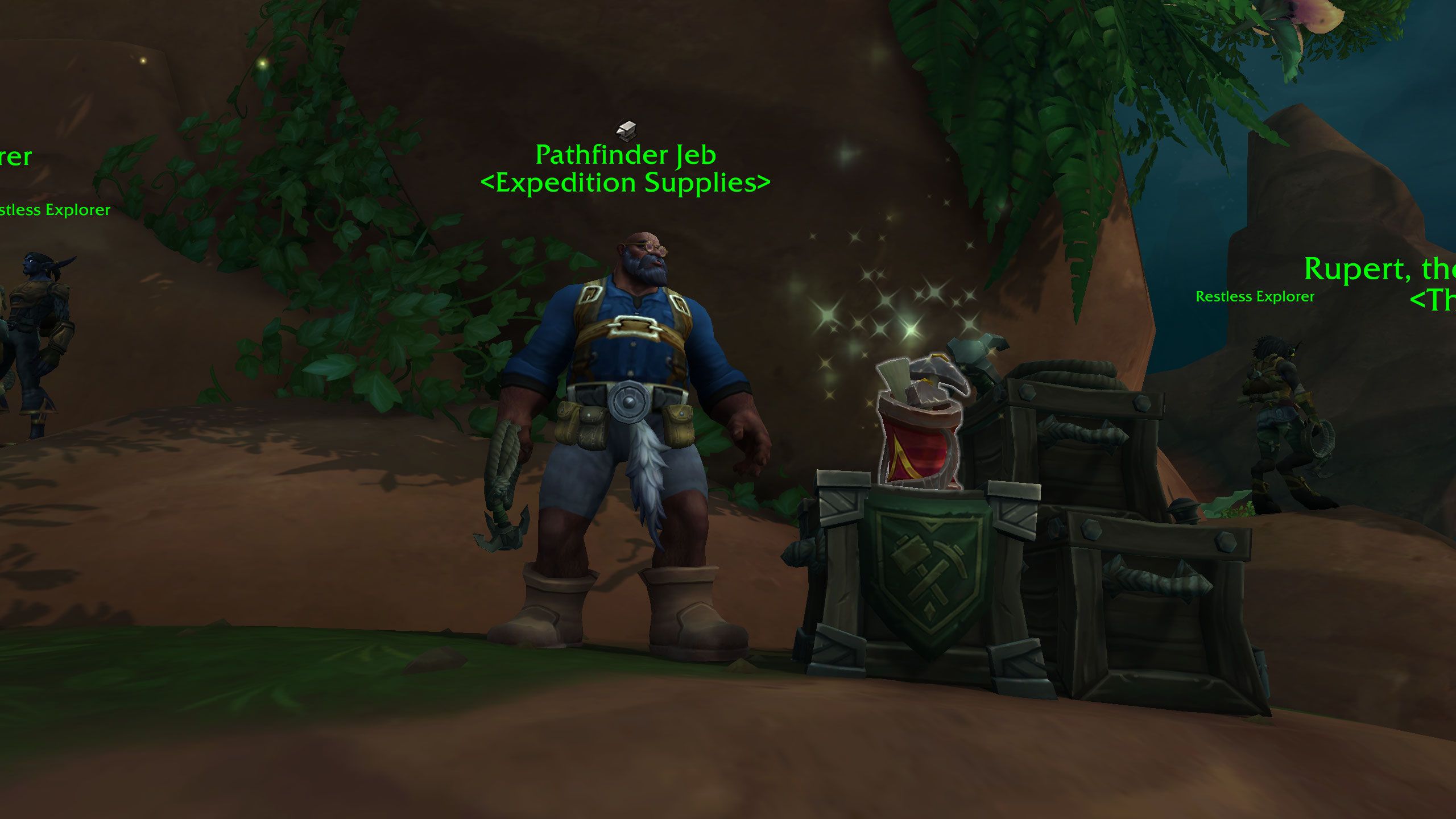 In addition to the usual world quests that spawn that can contribute to your Dragonscale Expedition Renown gains, there are a few specific types that are unlocked as you progress their Renown:
At Renown six, you unlock Rock Climbing world quests. This has its own progression system that you can progress as you gain more Renown.
At Renown eight, you unlock Cataloging world quests. This is essentially just taking pictures of wildlife.
These world quests are more like minigames, and are on semi-weekly timers just like most of the others, so be sure to do them when you see them.
Dragon Isles Artifacts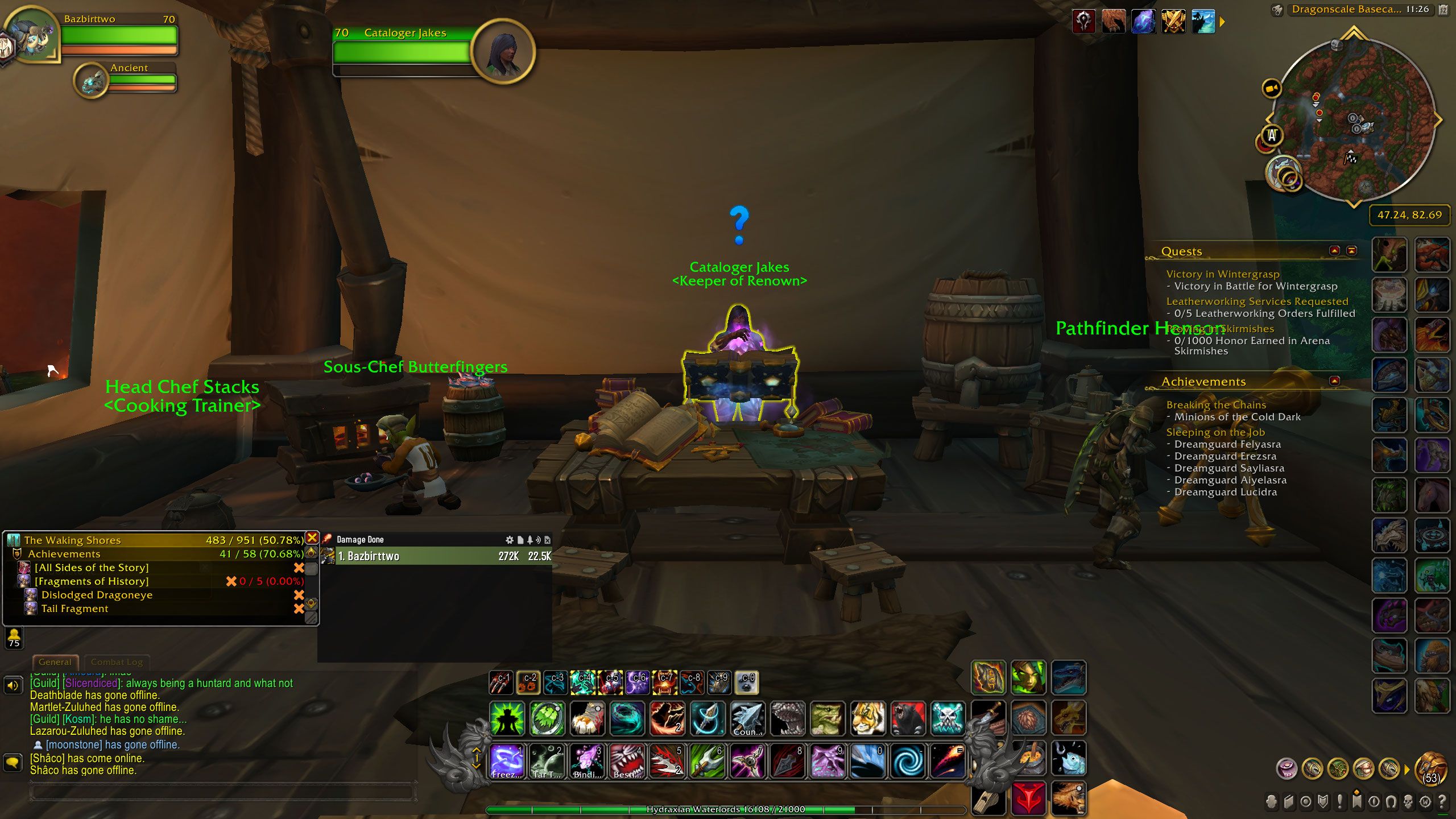 While there are a few ways to get Dragon Isles Artifacts, each one is turned into Cataloger Jakes in the Dragonscale Basecamp for only 15 reputation, so get ready for a big grind. Here are some ways you can pick these artifacts up:
| | |
| --- | --- |
| Disturbed Dirt | These mounds spawn all over the world and are unlocked at Renown level five with the Dragonscale Expedition. Each one gives you one to three artifacts (among other things), but you need Small Expedition Shovels to dig up these dirt mounds. Each shovel has five charges and can be bought from Pathfinder Jeb at the Dragonscale Basecamp for 15 Dragon Isle Supplies per shovel. |
| Magic-Bound Chest | These are discoverable once you hit Renown 16, and like the Disturbed Dirt mounds, yield one to three artifacts. |
| Obsidian Citadel Key Farm | This grind can get you many different rewards, but they can also get you Dragon Isle Artifacts. When you turn in Restored Obsidian Keys, the strongboxes and caches you get in return have a chance to drop artifacts, among all the other rewards. |
| Community Feast Event | Though the big soup event at the Tuskarr village of Iskaara doesn't give you any artifacts for completing tasks, the Supply-Laden Soup Pot weekly reward has a chance to give you some. |
| General Treasures | There are plenty of types of treasures scattered about the Dragon Isles, namely the Expedition Scout's Pack, which can drop small quantities of artifacts. |
The Renown Track And Its Rewards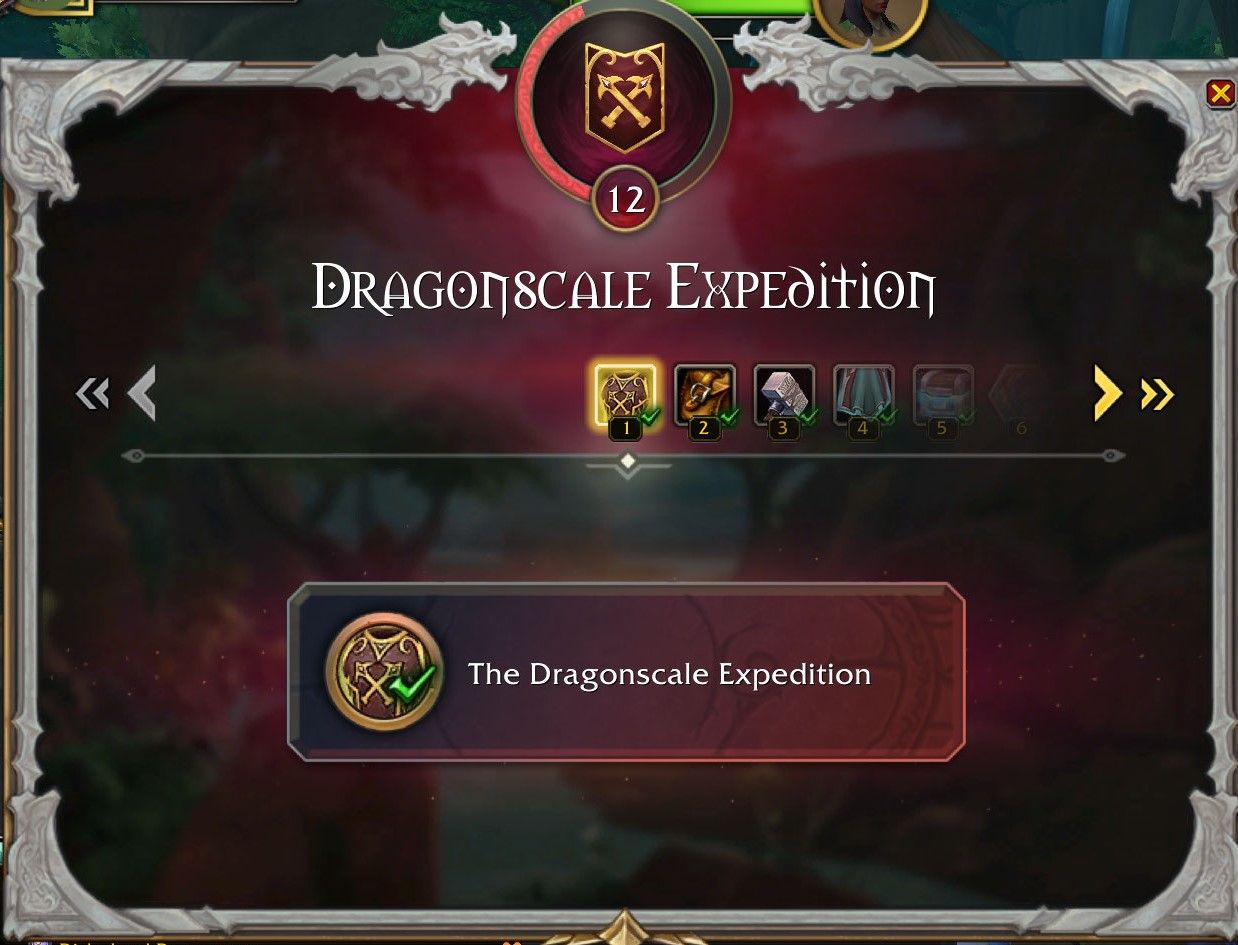 Before we take a look at the rewards you get at each Renown level, three things need to be addressed first:
2,500 reputation is needed to progress a single Renown bar.
All the Dragonscale Expedition Renown reward NPCs are found in Dragonscale Basecamp in the Waking Shores.
You will only have access to the profession recipes on this reward track that correspond to your chosen professions. For example, in order to buy a Jewelcrafting design, you need to be a Jewelcrafter. Otherwise, you can't.
Renown Level

Reward(s)

Reward(s) Explained

Account Wide Unlock?

1

The Dragonscale Expedition

The Dragonscale Expedition Renown track is unlocked for you.

Yes

2

Expedition Scout Packs

Unlocks the ability to loot Expedition Scout's Packs.

Yes

3

Simple Expedition Tools

Unlocks cosmetics for weapons to be bought from Rae'ana.

Yes

4

Dragonscale Expedition Cloaks

Unlocks cosmetics for cloaks to be bought from Pathfinder Jeb.

Yes

5

Buried Treasures

Unlocks the ability to loot Disturbed Dirt mounds.

Yes

Expedition Blacksmithing I

One blacksmithing formula is made available at Boss Magor.

No

6

Expedition Climbers

Unlocks rock-climbing world quests.

Yes

Expedition Supply Kit

Unlocks your Expedition Supply Kit through Pathfinder Jeb.

Yes

7

Ancient Waygates I

You unlock the Waygate system as a whole, and you can open your first Waygate.

Yes

Advanced Expedition Tools

Unlocks more cosmetics for weapons to be bought from Rae'ana.

Yes

8

Cataloguing the Expedition

Unlocks cataloguing world quests.

Yes

Ancient Waygates II

You can open another Waygate.

Yes

9

Drakewatcher Manuscripts I

Three Drakewatcher Manuscripts are made available at Rae'ana.

Yes

Wayfinder's Compass

Toy – Wayfinder's Compass.

Yes

Expedition Enchanting I

Two enchanting formulas are made available at Boss Magor.

No

Expedition Engineering I

Two engineering schematics are made available at Boss Magor.

No

Expedition Jewelcrafting I

Four jewelcrafting designs are made available atBoss Magor.

No

10

Ancient Waygates III

You can open another Waygate.

Yes

Bonus Supplies I

You have an extra 25 percent chance to loot more Dragon Isles Supplies from opening treasures in the Dragon Isles.

Yes

Word of a Worthy Ally I

Up to Renown ten, your alts gain 100 percent more reputation from all sources.

Yes

11

Animal Specialist

Two pets from Granpap Whiskers.

Yes

12

Expedition Equipment I

Item level 376 gloves available from Pathfinder Jeb.

No

13

Questline: A Mystery, Sealed

Unlocks a new questline.

No

Expedition Cooking I

One cooking recipe is made available at Boss Magor.

No

Expedition Jewelcrafting II

Two jewelcrafting designs are made available at Boss Magor.

No

14

Dragonscale Expedition Ensembles

Unlocks ensemble cosmetics to be bought from Pathfinder Jeb.

Yes

15

Ancient Waygates IV

You can open another Waygate.

Yes

Drakewatcher Manuscripts II

Three Drakewatcher Manuscripts are made available at Rae'ana.

Yes

Expedition Engineering II

Two engineering schematics are made available at Boss Magor.

No

Expedition Inscription I

One jewelcrafting design is made available at Boss Magor.

No

Expedition Jewelcrafting III

One jewelcrafting design is made available at Boss Magor.

No

Expedition Tailoring I

Four tailoring patterns are made available at Boss Magor.

No

16

Magical Treasure Chests

Allows the finding of Magic-Bound Chests across the Dragon Isles.

Yes

17

Ancient Waygates V

You can open another Waygate.

Yes

Researching in Comfort

Three toys made available at from Rae'ana.

Yes

Expedition Tailoring II

Two tailoring patterns are made available at Boss Magor.

No

18

Bonus Supplies II

You have an extra 25 percent chance to loot more Dragon Isles Supplies from opening treasures in the Dragon Isles (50 percent total).

Yes

Expedition Equipment II

Item level 389 pants available from Boss Magor.

No

19

Banners of the United Factions

Two toys made available at Cataloger Jakes.

Yes

Dragonscale Expedition Tabard

Dragonscale Expedition Tabard made available at Cataloger Jakes.

Yes

Expedition Inscription II

One inscription technique is made available at Boss Magor.

No

Expedition Tailoring III

One tailoring pattern is made available at Boss Magor.

No

20

Ancient Waygates VI

You can open another Waygate.

Yes

Explosive Archaeology

Expedition Explosives from Pathfinder Geb.

Yes

Word of a Worthy Ally II

Up to Renown 20, your alts gain 100 percent more reputation from all sources.

Yes

21

Jeweled Whelpling Treasure Maps

Special treasure maps from Boss Magor that leads you to items to create a Jeweled Whelpling.

Yes

Quack-E Quack Modulator

Quack-E Quack Modulator made available at Pathfinder Jeb.

Yes

Expedition Engineering III

Two engineering schematics are made available at Boss Magor.

No

Expedition Inscription III

One inscription technique is made available at Boss Magor.

No

Expedition Tailoring IV

One tailoring pattern is made available at Boss Magor.

No

22

Drakewatcher Manuscripts III

Three Drakewatcher Manuscripts are made available at Rae'ana.

Yes

23

Ancient Waygates VII

You can open your final Waygate.

Yes

24

Questline: In The Eyes of the Titans

Unlocks a new questline.

No

25

Intrepid Explorer

Title – Intrepid Explorer.

Yes

Skitterflying

Unlocks two mounts to buy from Granpap Whiskers and the chance to loot another mount from Expedition Scout's Packs.

Yes

A Heroic Reward

A Primal Infusion can be bought, which can be utilized to increase a crafted gear's item level to 395.

No
Source: Read Full Article