Portalarium recently upgraded its multiplayer fantasy roleplaying game Shroud of the Avatar with Update #405 Play Release 83, and finally, players can tame and ride horses in-game. The newly added Mount System allows SOTA players to ride any of the 16 mounts added to the game, and also adds four new mounted skills to the Tactics Skill tree.
Along with the new mounts and Mount System, Update #405 adds a new PvE Adventure Scene called The Breach, the monthly Login Reward, a teleporter upgrade for player-owned towns, as well as multiple quality of life game improvements.
The New Britannia Mount System comes out of the gate with 16 available mounts, and Portalrium says there are "many additional varieties coming in the near future". The initial horse selection includes Appaloosa, Black Unicorn, White Unicorn, Skeleton, Zombie, Nightmare, Ghost, and others. Mounts can be found roaming throughout New Britannia, where you can attempt to tame them to make them one of your pets. Mounts will also be available to purchase with Crowns of the Obsidians through the Crown Store.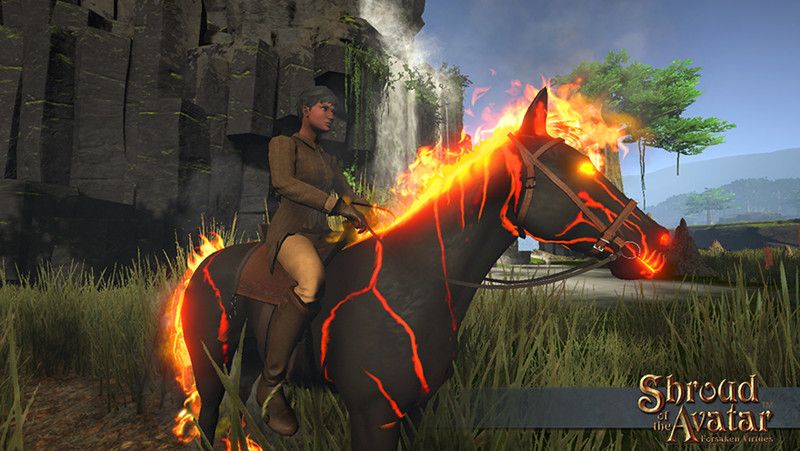 While riding your new mount across New Britannia, you'll be able to use skills from the four new Tactic Skill Tree:
Horsemanship (+Mounted Speed, +Mounted Carry Capacity)
Horse Gallop Speed (+Mounted Sprint Speed)
Horse Carry Capacity Focus (-Mounted Speed, +Mounted Carry Capacity)
Horse Speed Focus (+Mounted Speed, -Mounted Carry Capacity
After taming your mount, SOTA Episode Two Access holders will soon be able to ride to the shores of the Naryad Channel to participate in The Breach, the new incoming PvE Adventure Scene modeled after the PvP Dysborg Ruins scene. Here you'll go up against "four guardian elemental mini-bosses", two of who are highly resistant to magic, while the other two are highly resistant to physical damage. You most definitely need a team to take on this Scene, as all four bosses " must be slain at nearly the same time" in order to successfully complete the Scene. The Breach Adventure Scene is still undergoing testing on the Public Test Server, but "is nearing release and will become available in early R83" according to Portalarium.
The full list of details can be found in the Avatar's Update #405 post on the SOTA website.
Source: Read Full Article