In all my years of collecting Pokemon cards, no single set has ever had as much hype behind it as Shining Fates. It's really the perfect storm. The popularity of vintage unboxing among streamers and content creators has led to an incredible amount of renewed interest in the hobby. Pokemon cards have become so popular over the last six months that big-box retailers like Target and Walmart are completely unable to keep the shelves stocked and card sharps are charging outrageous premiums for packs — and that's just for a normal set like Vivid Voltage.
Shining Fates is something else entirely. Its name comes from the combination of 2019's Hidden Fates and 2017's Shining Legends, the first two sets to feature a large collection of shiny Pokemon. Hidden Fates was the first set to use the Shiny Vault as a separate catalog of cards within the Hidden Fates core set, and Shining Fates continues this tradition with over 100 new shiny Pokemon to find, with an average of about one every four packs.
Shining Fates is very much a sequel to Hidden Fates — a set that has proven to be the most highly sought-after sets in at least a decade — but improves on it in a number of ways. Not only is the Shiny Vault bigger this time, but the set also features a wider variety of rarity types. Between shiny cards, V, VMAX, Full Art, Rainbow, Gold, and Amazing Rares, it's never been more exciting to open up a back of pokemon cards.
The Pokemon Company sent us one of each product type from the Shining Fates set to unbox. We opened them on stream (below), but if you'd like to know more about each product and what they offer, here's a breakdown of all the different types of Shining Fates products and our best pulls from each.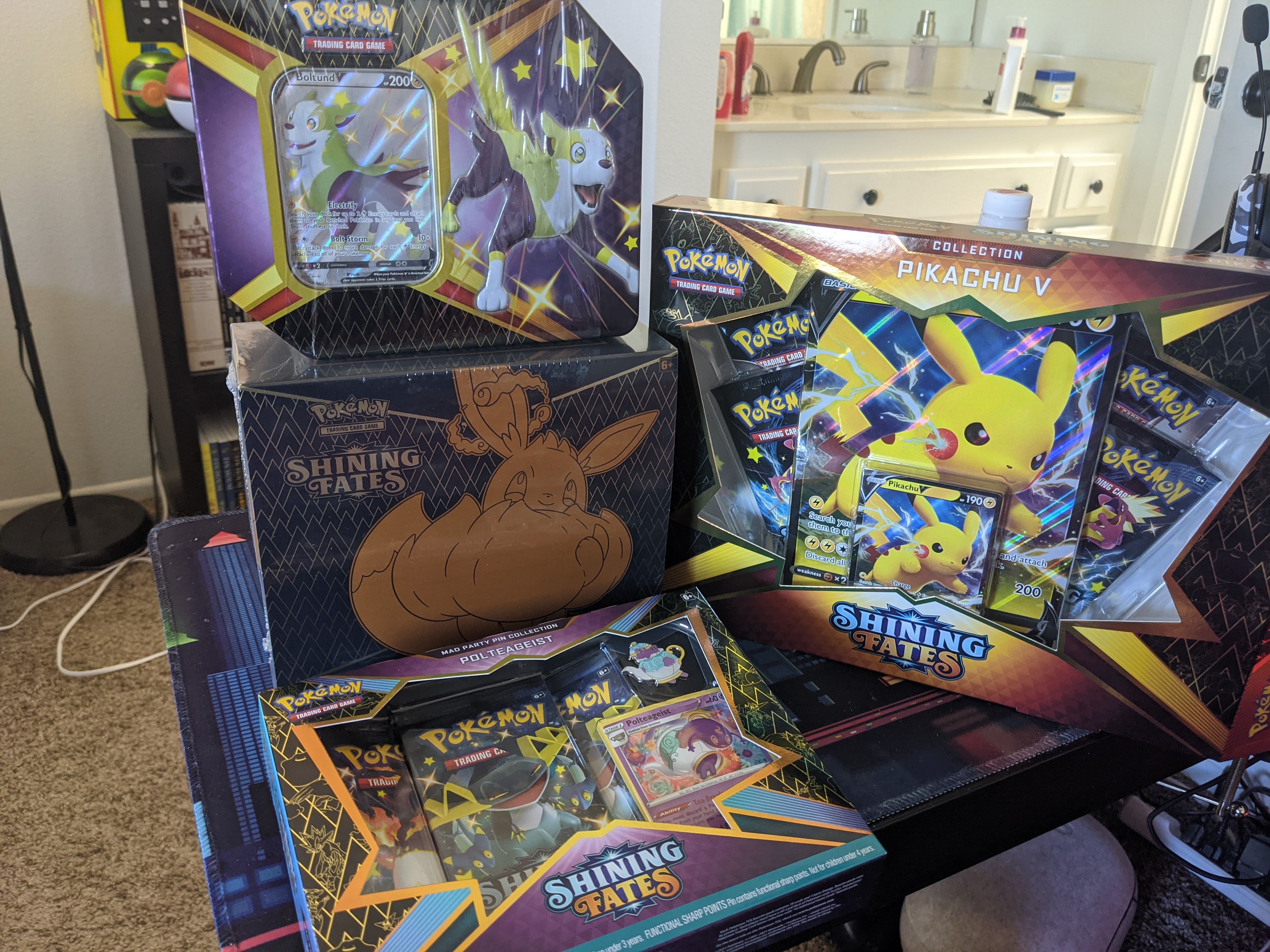 Shining Fates Mad Party Pin Collection
Each of the four Mad Party Pin Collections comes with a pin, a promo card, and three Shining Legends packs for $14.99. In our Polteageist pack, the promo card was pretty warped, as promo cards often are, but can probably be flattened out with a heavy book.
Within these three packs, we found a Shiny Swanna and a Shiny Appletun, which are pretty great odds. These Mad Party Collections are some of the best sets to collect because there are four types and they each come with a unique pin and promo card. You can get all four for $60, which is only $10 than the Elite Trainer Box. As a pin collector, I'm pretty impressed with these pin collections, even if the promo card was in rough shape.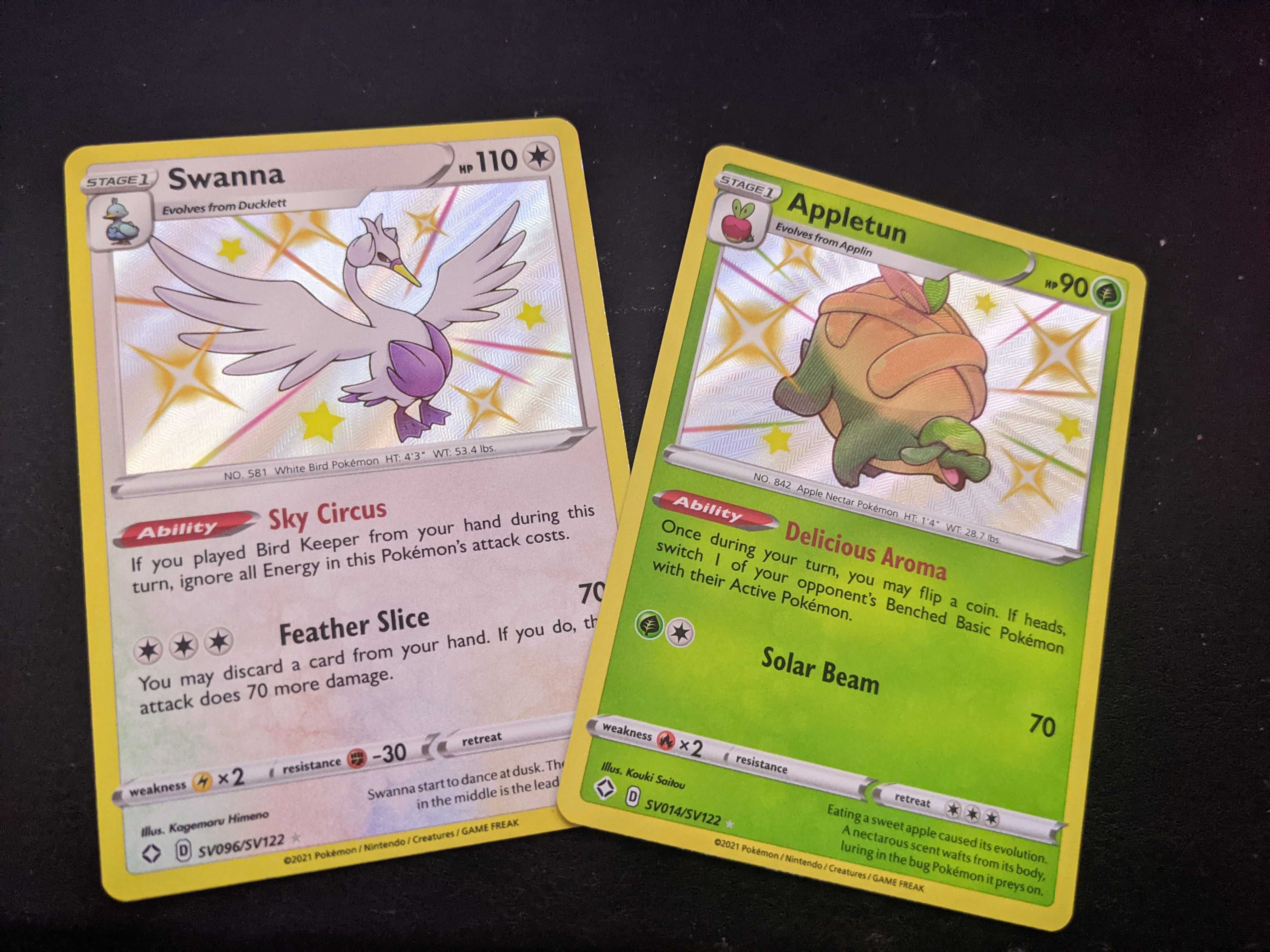 Shining Fates Tin
There are three different tins available for Shining Fates. Each one comes with six packs and one shiny V promo card for $29.99. Tins (including the Hidden Fates tins) typically only come with four packs, so I appreciate the six-pack tins because it means you get to open more packs even if you were only able to purchase one tin.
The only problem I have with the tins is the way that the promo card is packaged. I opened the Shiny Boltund V, which is a gorgeous card, but when I pulled it out of the plastic it was completely wrecked. Multiple creases on the card and damage on the back decrease the value of the card to nothing and make it useless to play with. This has been an occasional problem with promo cards for years, and I wish they were better protected, especially products like this that are so hard to get.
From the Shining Fates Tin, we pulled Shiny Rillaboom V, Cinderace VMAX, and Shiny Koffing.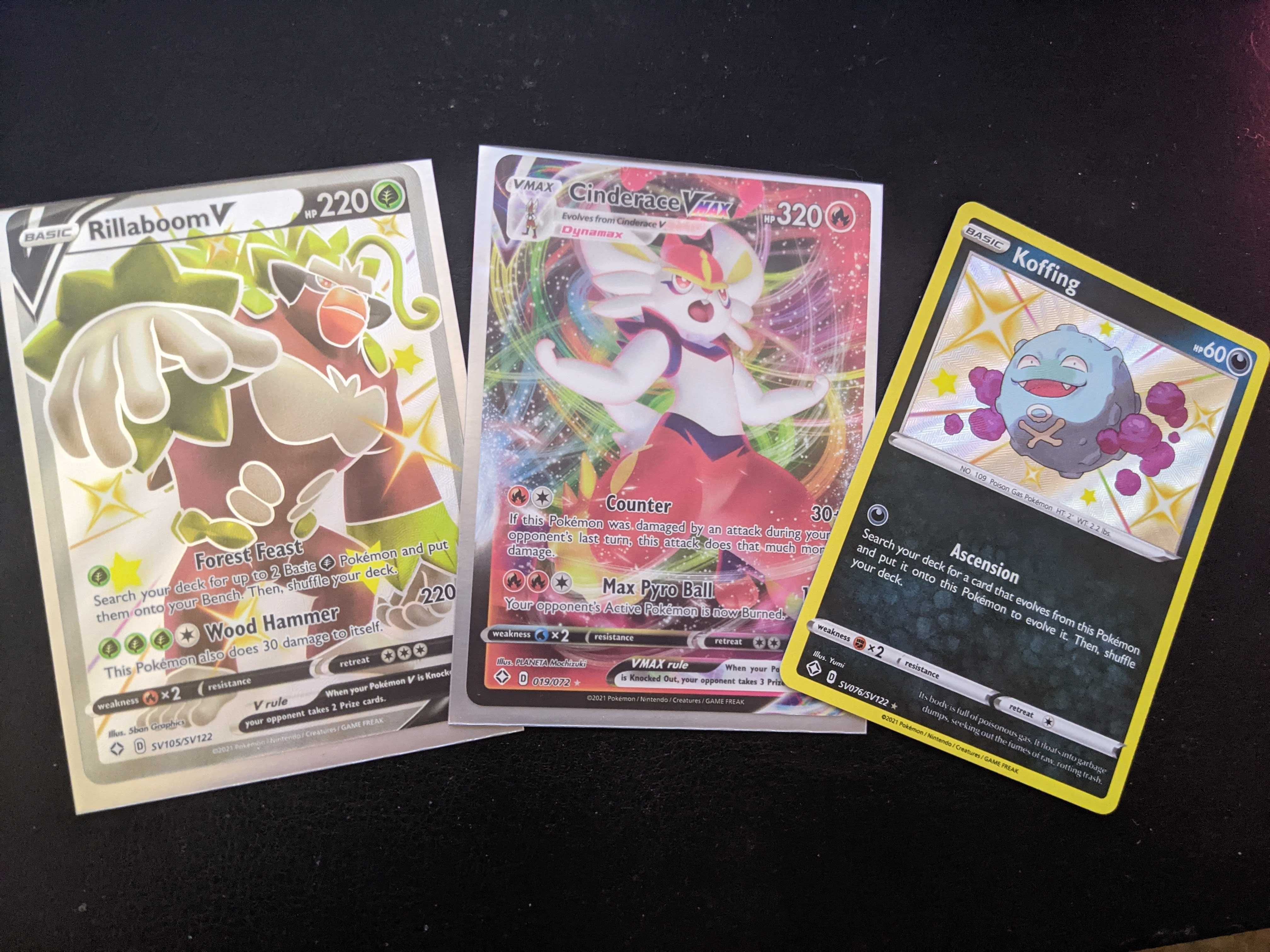 Shining Fates Elite Trainer Box
As with any set, the real value is in the Elite Trainer Box. For $49.99, the Shining Fates ETB comes with ten packs, 60 sleeves, play materials like counters, tokens, and energy cards, and an Eevee VMax promo card. Unlike the tins and pin collections, the promo cards that come in ETBs are typically plastic wrapped and in good condition when you open them. The extra add-ins are great, but for collectors, it's just the standard stuff one would expect from an ETB plus a promo card. Packs are $5 each no matter which bundle you purchase, so don't feel like you need to get the ETB.
From our ten ETB packs, we pulled Shiny Grookey, Cramorant V, Morpeko V, and Amazing Rare Kyogre.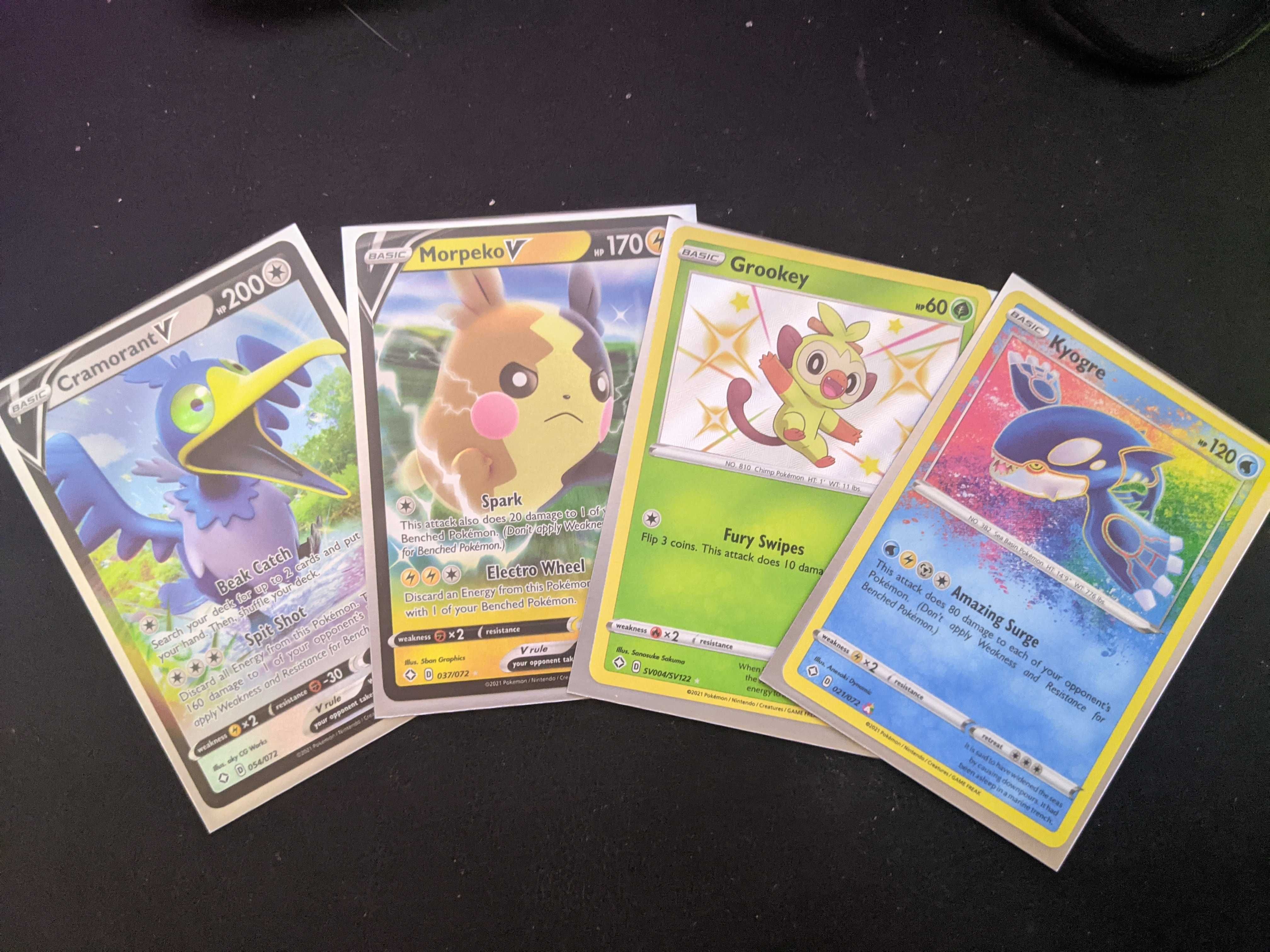 Shining Fates Pikachu V
The Pikachu V box is the one that will probably be most readily available to most collectors. The box comes with four packs, a Pikachu V promo, and a jumbo version of the same promo. It may not be as flash as the Shiny tins or the pin packs, but this four-pack box for $19.99 will likely drive the set for the next 12 months.
From my Pikachu V box, I pulled Shiny Nickit, Shiny Barraskewda, Full-Art Skyla, and Shiny Eternatus VMAX. An unbelievably lucky box that further solidifies my love for four-pack collections like this.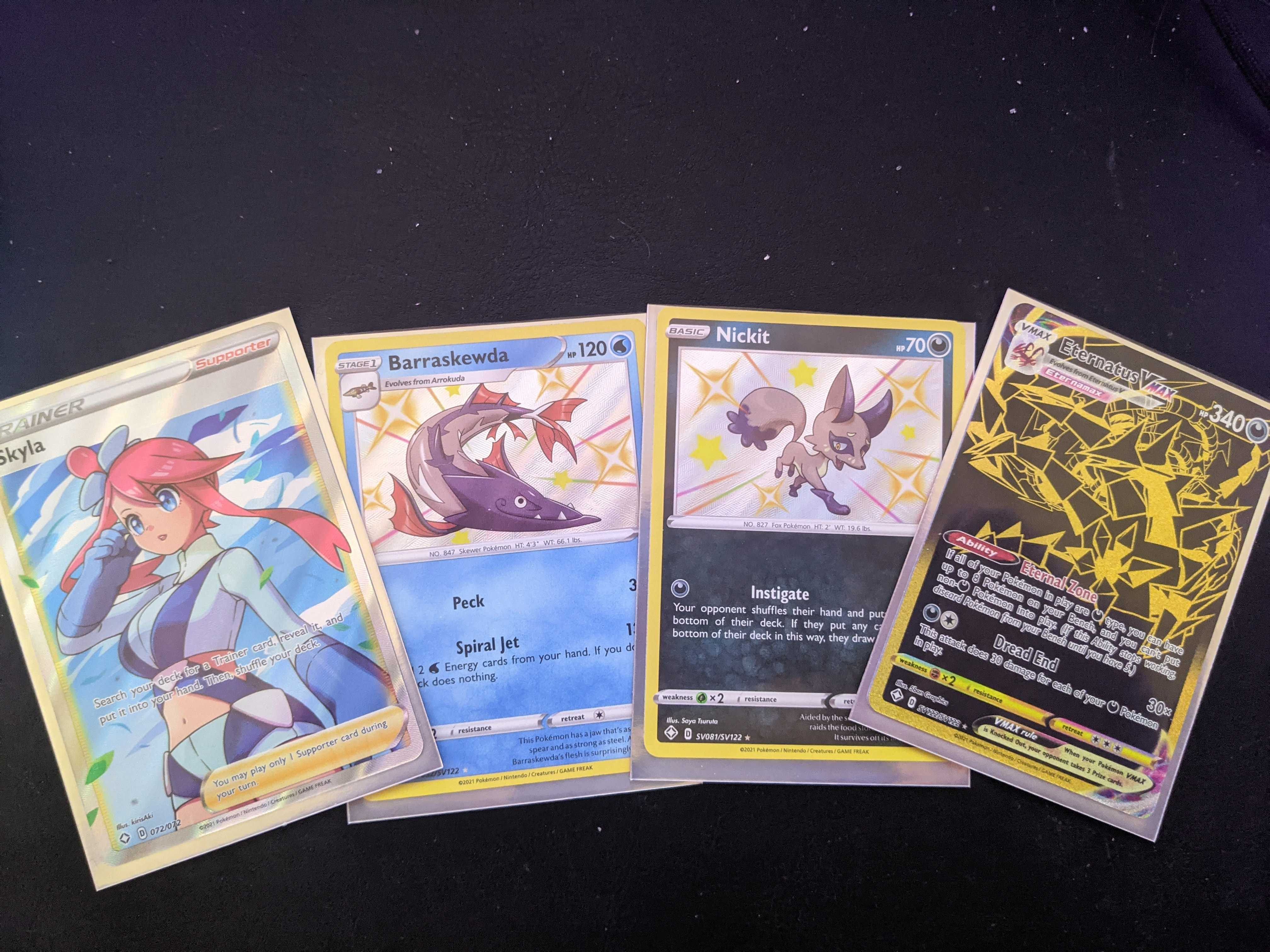 I have a strong feeling that Shining Fates is going to be supported for a long time. Hidden Fates was still appearing in stores and on the Pokemon Center website more than a year after it originally released. It may be hard to find today, but Shining Fates has the potential to keep the excitement going long after the streamers have moved on. The amount of variety and chase value in this set makes every pack exciting to open, and if we're lucky, Pokemon will keep this set in print for a long time. It totally lives up to the hype, even if the promo cards are casualties of poor packaging.
The only problem with Shining Fates is finding the products in stock. Scalping is a big issue right now simply because the cards are so popular this year. Look for retailers and card shops that enforce a buyers limit and check infrequently. These products aren't impossible to find, but they're much harder than they ought to be. I hope Pokemon floods the market with Shining Fates even if it diminishes the second-hand market. They're beautiful cards, and the more people that can get their hands on them, the better.
The Pokemon Company provided TheGamer with Shining Fates samples for this review.
Next: 1st Edition Set Of Pokemon Cards, Including A Charizard, Sells For $666,000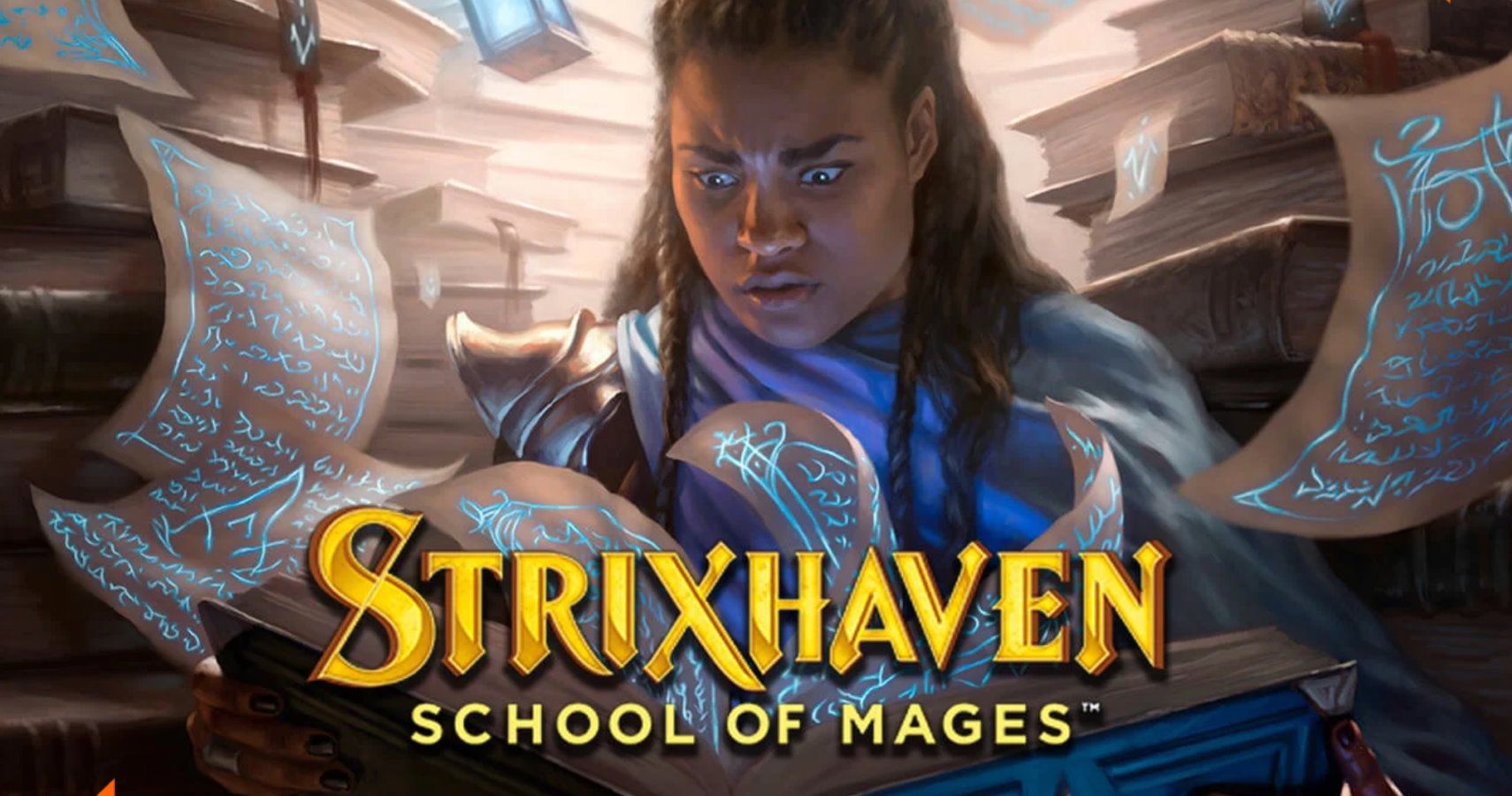 TheGamer Originals
Pokemon
Pokemon TCG
Eric Switzer is the Livestream News Editor for TheGamer as well as the lead for VR and Tech. He has written about comics and film for Bloody Disgusting and VFXwire. He is a graduate of University of Missouri – Columbia and Vancouver Film School. Eric loves board games, fan conventions, new technology, and his sweet sweet kitties Bruce and Babs. Favorite games include Destiny 2, Kingdom Hearts, Super Metroid, and Prey…but mostly Prey. His favorite Pokémon is Umbreon.
Source: Read Full Article